Bali is known for its jungled volcanic mountains, iconic rice paddies, beaches, coral reefs, surf and Hindu culture. Now a Mecca for tourism and travelling surfers the Hindu culture has not been lost and still remains prevalent throughout the island of the gods today. It's not only the vast range of reef breaks that are spread along the coastline of Bali that makes it so special but the incredibly patient, accepting and tolerable Balinese people that greet millions of foreign visitors in search of Bali surf every year.
Travellers, surfers and expats see the island as a truly magical place. Most cannot bear to leave and make it their home. As for the unlucky ones forced back to reality, they are drawn back year after year in search of the next surfing odyssey, chasing the swell of their dreams. It really is no wonder that so many people travel to Bali in search of the ultimate surfing adventure, wave perfection and pumping barrels.
Surfing in Bali is most commonly known for its perfect barreling left-hand reef breaks, however, there is also a vast range of world-class right-hand reef breaks. The long list of famous surf spots means no shortage of waves for experienced surfers. There is also plenty of mellower surf spots for intermediate surfers and beach break options for beginner surfers.
If you're planning on coming to Bali on a surf trip then this is the most up to date and in-depth surf guide for not only you but anyone else that may be coming to lap up the best beaches in Bali rather than surfing. Learn all the tips you need to surf Bali such as where to stay at each surf break, what the waves are like, how to get there, how to get in and out of the surf at each spot and much much more.
Access Our Exclusive Members-Only Content
Unlock the Spot Finder, all Spot Guides, Member Perks and more.
Here's the deal: there's always surf in Bali. While it absolutely pumps certain times of the year, it's rare that there's an unrideable wave on the island. And if there is, it's just an excuse to take a layday. There's plenty of fun to be had on land.
Bali's reefs and beach breaks lap up the swell in the dry season between April and October. Swells are pushed up from the south-west across the Indian Ocean and the trade winds blowing from the south-east are favourable for the breaks on the southwest coastline. During the wet season when the trade winds switch to the northwest the surf spots on the eastern coastline of Bali light up during irregular swells in comparison to the dry season.
While the mountainous north rises to 3,031 m (9,944 ft) at the top of Mount Agung, the south narrows into a flat landscape of white sand beaches with areas of cliffs that drop into ocean reef and spectacular white sand beaches. This little piece of Indo is a unique and breathtaking destination – it offers a delightful variety in geography, culture, and waves.
Surfing in Bali is geographically divided by region. To the north are spots like Batu Bolong, Kuta, and Kedungu. To the East are beaches like Keramas. Due west lies the beautiful Bukit peninsula, home to spots like Uluwatu. Each area offers a unique beauty – from the people that visit, to the landscape, to the waves. It's worth visiting all of Bali to get a true grasp at how diverse and incredible the landscape is.
Padang Padang Rights (Baby Padang)
Padang Padang proper is a barreling wave that roars.  Padang Padang Rights is the polite little sister suitable for novices when it's waist to head high.  There's a channel that allows for easy paddle-outs from the beach, something that most other waves in Bali don't offer, which foregoes one of the more frustrating aspects of surfing for the beginner surfer who can't duck dive to get to the outside.  Catching the right brings you straight back to the channel and to a quick paddle back out, which is great for beginners.
Kuta Beach
Kuta beach is Bali's most famous and therefore crowded break, where tourism thrives. Waves break in peaks for the whole 2km of the beach. There's a lot of space for surfers and it's pretty ideal for beginners to get their footing.
Since it's a popular beach to learn, there's no shortage of board rentals or instructors.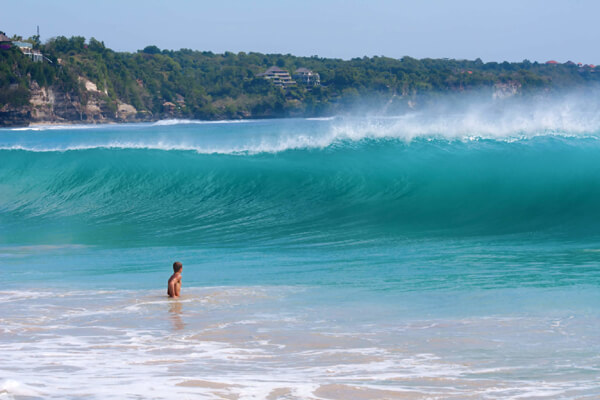 Dreamland
The only non-reef spot on the Bukit peninsula. It offers a sand bottom which is good for beginner folks, but is also a misleadingly powerful wave.
Dreamlands is good for beginners only in the right conditions.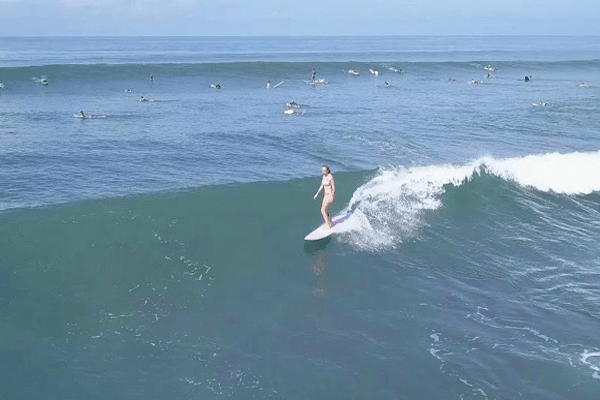 Batu Bolong
Lovingly known as 'Old Man's,' Batu Bolong is right in the heart of Canggu, a hipster's paradise. It's a nice, beginner-oriented waves that breaks on a volcanic reef. Many refer to it as a longboarders dream.
It's worth noting that this wave can get very crowded and very polluted. Watch out for flying boards and plastic bags.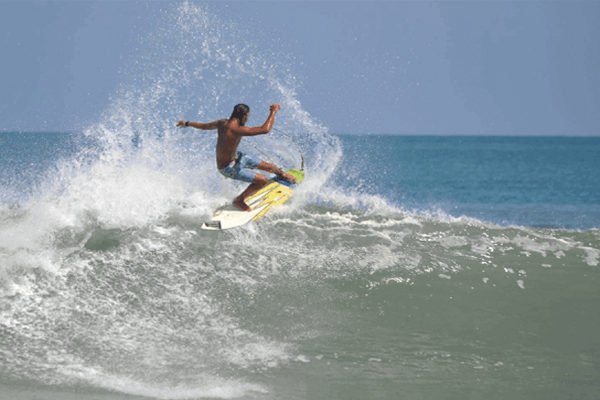 Kuta Beach
On a bigger swell at low tide, this wave can be hollow and dredging, offering the potential for barrels. You'll be rubbing elbows with expert surfers and the rogue pro.
Balangan
Balangan is a rather challenging wave, not overly so, with a mellow line-up, which can push the intermediate surfer without being exclusively difficult. It can close out and occasionally barrel but is usually a steady, medium-fast left break. Choose your peak and tide accordingly. While Balangan can be surfed on all tides it is the more experienced surfers that only surf it on low tides and big swells.
Airports Right and Left
When you fly into Ngurah Rai International Airport, you may notice a few surfers in the water. Airports Right and Left, breaks only accessible by boat, are a novel alternative to the beaches of Kuta. It can get a little crowded, but when it's good, it's great. From 2 – 4 feet, you can expect Airport Rights to break for nearly 100 meters with the odd barrel or two.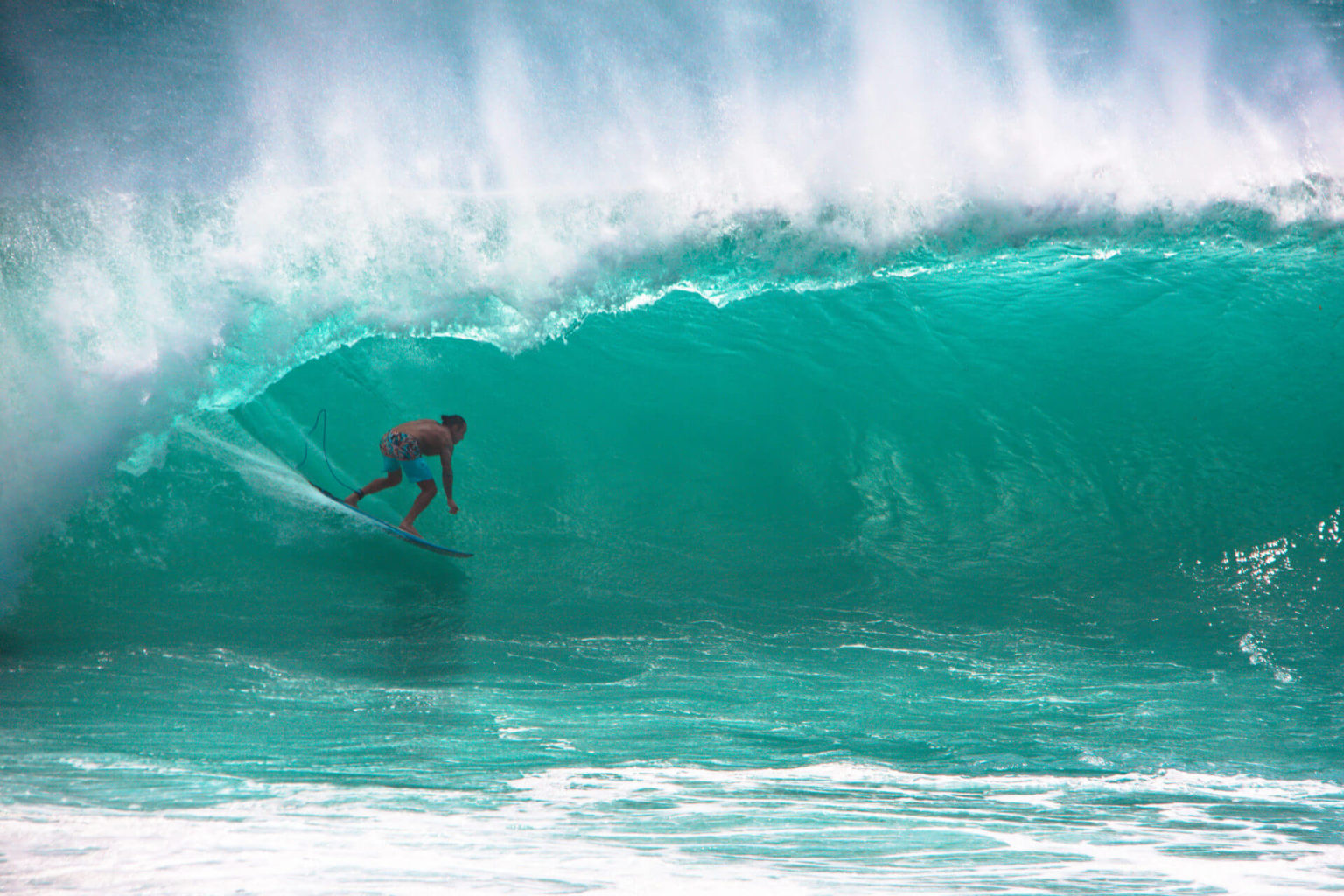 Padang Padang
At low tide, this wave is gnarly. Suited exclusively for expert and pro surfers, the wave breaks on a shallow and sharp reef and through an intense barrel. Fringed by Banyan trees, Padang Padang is a legendary spot for scenic barrels. It's a Bali barrel machine and regarded as one of the best lefts on the planet. To properly work, it needs a major swell, and there's a high injury and wipe-out potential…have fun.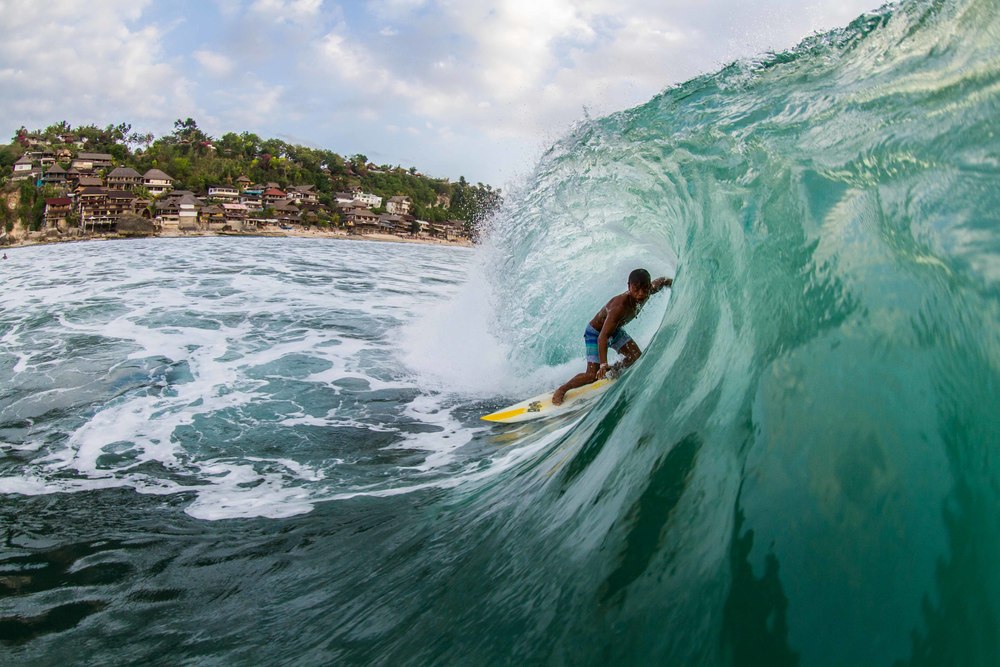 Bingin
As a challenging left over a sharp reef, Bingin is a beauty. It's a tight takeoff zone with an intense energy. This wave works best on a mid and low tide. When it's shallow, it can be very sketchy, but very thrilling.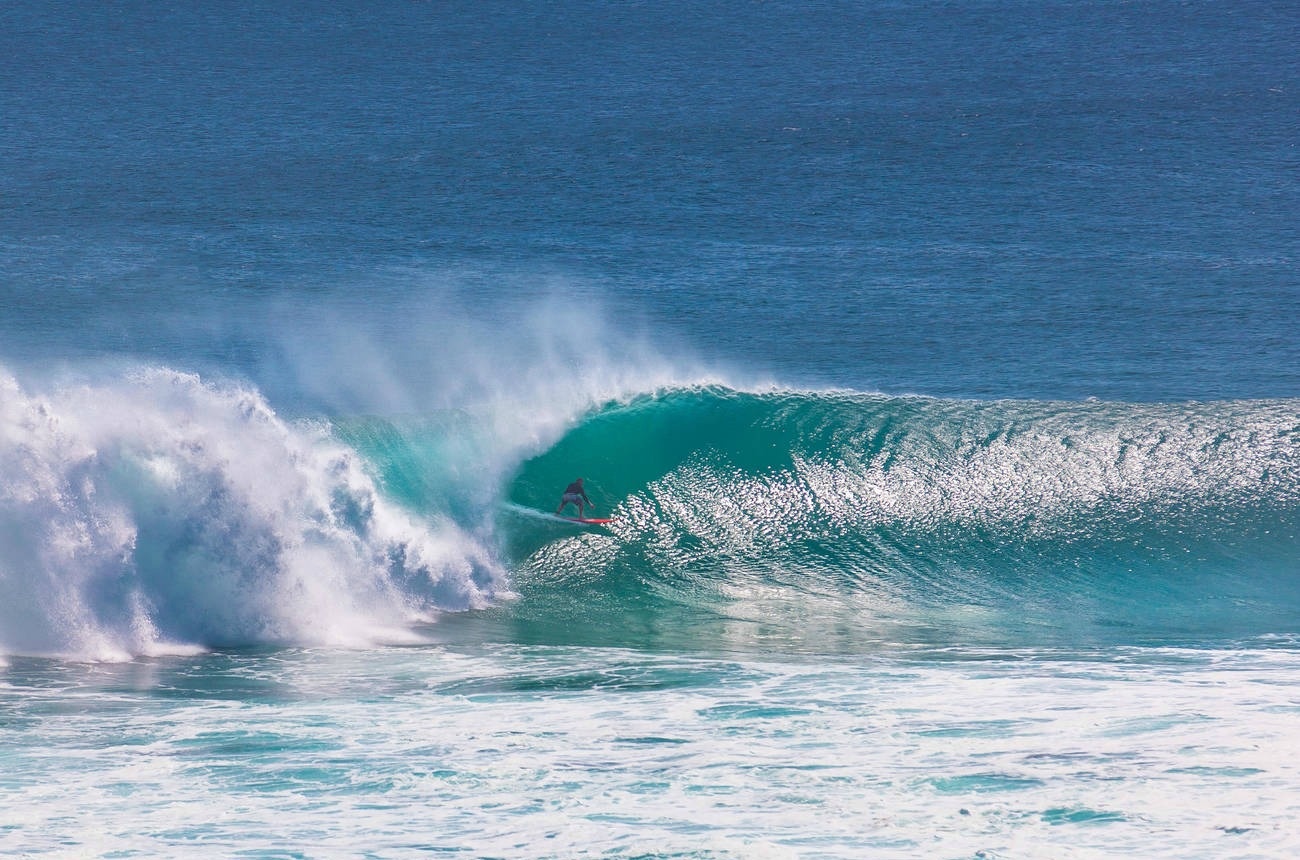 Uluwatu
As a wide reef, Uluwatu consists of five main peaks. These spots include 'The Peak' (known as the most consistent wave in the world), Racetrack, Outside Corners, Temples, and The Bombie. All are heavy and for expert to pro surfers only. You don't want to be caught out here if you're not 100% confident.
When is the best time of year to surf?
There are more waves to surf in the dry season (April to October) than the wet season (November to March). That's not to say that there's no fun to be had in the wet season – wet season offer less crowded lineups, cheap flights, and less traffic. And besides, if you're jumping in the water for a surf, you're getting wet anyways.
Wet season also just means that it rains sometimes – often days will be somewhat sunny, water will be glassy, and there are plenty of good times to be had. Some days will be full of torrential downpours and flooding, but hey, it's all about perspective.
Is it safe to surf in Bali?
The ocean is a powerful force – regardless of where you are. The surf in Bali is both predictable and wild, safe and dangerous. It's all about where you choose to surf.
As a rule of thumb, stick to your comfort level. If you're eager to explore new spots, go with others or hire a guide. The sharp reefs, strong tides, and rough ocean can make surfing in Bali a thrilling adventure. It's not unheard of for people to drown or seriously injure themselves in the water.
Bali is the most developed and tourist-friendly island in Indonesia. Millions of tourists pass through. There are plenty of hospitals and competent doctors, which means that if you were to injure yourself, there are facilities and knowledge.
In addition to the sea, the water in Bali (especially around Kuta and Seminyak) can become seriously polluted. In 2018, Bali declared a garbage emergency, referencing the amount of plastic pollution. If you have a cut or are sensitive to bacteria, keep cautious and check pollution levels. Surfers can become seriously sick because of the pollution in the water.
Where should I surf in Bali if it's too big?
It 100% depends on your attitude. If you're looking for thrills, expert surfers eager for a challenging wave will find their fill at Outside Corners, which comes to life at the 8-10 ft mark. Step-up boards are required. This is considered a legitimate big-wave spot in the Bukit.
Kuta or Canggu is a safe bet for more user-friendly waves when the surf is too big anywhere else. Even if it's large, there are amenities a'plenty and it's relatively sheltered.
What are the best waves in Bali?
While there are hundreds of opportunities for waves throughout the island, the highest concentration of consistent, picturesque, and readily accessible breaks are on the Bukit Peninsula. Dramatic steep cliffs, impressive temples, and white sand beaches dot the area.
How much does it cost to surf in Bali?
Surfing is one of the more delightful activities in life because it can be relatively cheap. If you're flying a board over, expect to hand over some of your hard earned money for board fees. Other than that, you're golden. Bali is an island that caters to surfers – scooters, chartered transportation, and accommodations have appropriate space for your quiver.
Beginners will find that there's a big market for surf camps, rentals, and guiding. Pricing differs based on your location, the time of year, and how gullible you are.
Expect to pay at least $4 for a board rental, $35 for basic accommodation, and $30 – 35 for surfing lessons. This ranges drastically based on what type of trip you're looking for and where you choose to spend your time. Hotspots like Uluwatu and Canggu tend to be a bit more pricey. Kuta can be a bit cheaper but lacks overall quality outside of the water. Keramas, a little bit further from the rest, has reasonable pricing and decent quality rentals.
Where should I rent a board?
Board rental shacks line popular beaches like Batu Bolong. While the boards on the beach aren't the best quality, they are still rideable. Most formal board shops offer rentals, though at a slightly higher price.
If you're staying on the island for a while, it's worth negotiating long-term rentals. Often you'll find that you can haggle the price pretty low.
That being said, it might be easier to just buy a board. Independent and international shapers provide the island with a wealth of rideable goodies. From the high-end boards at Drifter in Uluwatu, to the brick and mortar Chilli Surfboards outpost in Canggu, boards in Bali are cheaper than the mainland, and just as good. There's also dozens of internationally recognized and respected shapers. Check out DHD at the White Monkey Surf Shop, Luke Studer, and Peter Mills.
What you need to know about surfing Bali's East Coast?
Further away from the crowds of Denpasar, is the East Coast, a coastline rife with black sand beaches to the north, white sand beaches to the south, modest fishing villages, and pumping waves. It's here that you'll find spots like Keramas, Sanur and Nusa Dua. The East Coast is the place to be during the wet season – mostly comprised of right handers, you'll find consistent and relatively uncrowded waves.
How to get to Bali?
Bali is well-connected by air via Ngurah Rai International Airport (Denpasar International Airport) with excellent connections internationally and from many other cities across Indonesia. If you are flying into Bali and plan to park your car at your departure airport, make sure to find the best prices through a comparison website. For travellers coming from Australia or New Zealand, Flyparks is a great resource. Whether you are looking for Brisbane Airport parking, Sydney or Wellington, Flyparks makes it easy to find the best prices.
THE SURFERS FIRST AID KIT
The essential tools every surfer needs for first aid