Medewi Bali is an off the beaten path, sand bottom left point break that can break for up to half a kilometre.
Known as one of the longest rides on the island, you won't be disappointed you made the trip.
What kind of wave is Medewi?
Medewi has a Southern California feel is it tumbles and crumbles nearly a kilometre down a thickly forested black sand left point and beach break. Sometimes steep, with a long shoulder, Medewi is a workable wave that will leave goofy footer's salivating. While you're not likely to spend much time in the barrel, this is easily one of the longer rides on the island.
Don't be discouraged by Medewi's growing popularity, a 2 to 3-hour drive from Kuta, you're likely to avoid crowds and find some space for yourself. If you do find Medewi crowded on an off day, the neighbouring area is littered with river mouths waiting to be surfed and explored. The swell here is generally bigger than Kuta but smaller than Balian.
Wave difficulty:
Medewi: Beginner,Intermediate
Booties:
Medewi: Recommended for some
Surfboard type:
Medewi: Shortboard or longboard
Hazards:
Medewi: Cobblestone barnacles
Best swell direction:
Medewi: SW
Best wind direction:
Medewi: N
What tide is best:
Medewi: Mid to high tide
Best tide movement:
Medewi: Low to high tide
Wave consistency:
Medewi: Consistent
Best time of year:
Medewi: All year round
Lineup vibe:
Medewi: Friendly locals
Other names for spot:
Medewi: Correctly pronounced "Mer-Day-wee"
How do you get in and out of the surf?
There are three sections along the point where Medewi breaks. Try your luck wading through the cobbles and look for a break in the sections where you can make your way outside. You're likely to step on a few barnacles attached the numerous cobbles along the beach so consider throwing on a pair of booties before you head outside. Once outside, it's a leisurely paddle to the point.
What is the beach like?
Medewi beach is a beautiful and idyllic beach where you're sure to find plenty of locals. Medewi surfing has been embraced by the local and international surfing community alike and most notably has been featured in international surf comps. While it could be a bit cleaner, the long stretch of black sand and rocky shoreline is as picturesque as it is appetizing to surfers. Visitors have compared Medewi beach Bali to a bygone era with secluded, quiet, sleepy villages, gorgeous views, and ultimate relaxation.
Cheapest Price Range – Medewi Secret Surf Camp
Friendly family run homestay style accommodation, Medewi Secret Surf Camp is 12 minutes walk from the surf at Medewi. It's not the most ideal location however still well within walking distance and if you are hiring a scooter which most surfers do then you only a minute from checking the surf and getting wet. Great for extended stays in Medewi if you are on a budget.
Affordable Price Range – Medewi Beach Inn
The Medewi Beach Inn offers beachfront accommodation with spacious rooms, free wifi, Infinity pool, spa, and dining options. Considering Medewi surf is best in the morning before the wind picks up, it's great to consider spending the night leading up to your surfing session as close to the break as possible. You're not likely to find much of a party but you're sure to rub elbows with some of the locals and find some time to relax and enjoy the scenery. As far as Medewi surf accommodation goes The Medewi Beach Inn is a great option that is also very affordable and owner-operator Edi will certainly ensure you have a great stay!
Mid Price Range – Bombora Medewi Wave Lodge
At Bombora Medewi Wave Lodge you'll be sure to find yourself kicking back beachside, in the pool, or in the bar where you can easily keep tabs on the surf conditions. Adjacent to the beach, Bombora Medewi Wave Lodge offers a comfortable and luxurious experience. Unlike your average Medewi surf accommodation, the Wave Lodge offers package experience deals ranging from massages to fishing, and trekking to diving. A step up from your traditional surf trip, Bombora Medewi Wave Lodge is the kind of place you can get your waves in and enjoy absolute beachfront luxury.
Find deals on places to stay in Medewi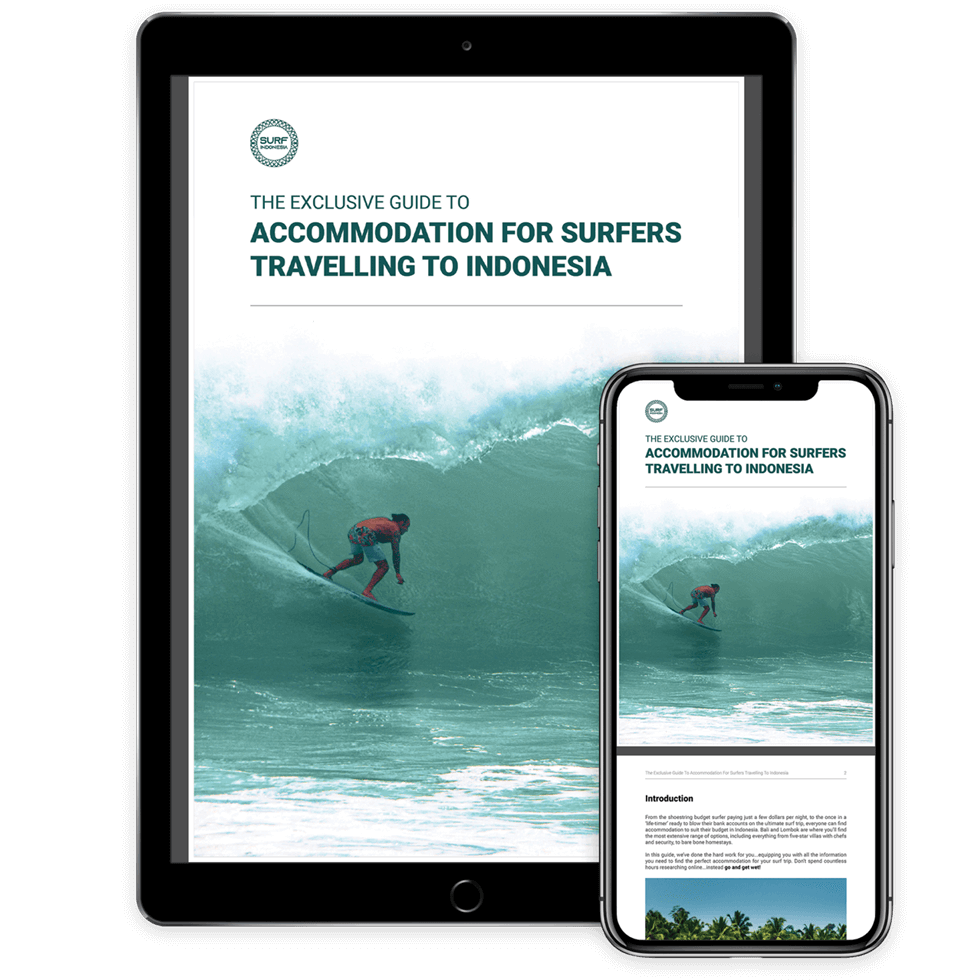 Download for free
The Exclusive Guide To Accommodation
For Surfers Travelling To Indonesia
$12.99 Free

🔍  65-page accommodation guide
🛖  Types of accommodation
🏄‍♂️  Perfect for any budget
✈️  How to book short or long term
🏝  Locations and recommendations
Is there food nearby?
There are restaurants in some of the neighbouring hotels and plenty of spots to check out in the town. Just a short walk from the surf break, Mai Malu offers classic comfort food with an Indonesian twist. Continue through the town and you're sure to find your local grocer or street food.
What else is there to do in the area other than surfing?
In Medewi, surfing is definitely the largest drawcard for the town. You can find plenty of local businesses that will offer boat tours to local islands and other recreational activities. You will also find a few Hindu temples like Pura Rambat Siwi and Pura Perancak which are just walking distance from town. This is a great place to stretch your legs and take some photos. People watching as you explore the town can be a great way to spend your time outside of the water. I recommend finding the time to observe local Balinese in their daily routines.
What else
do I need
to Know?
There are plenty of accommodation options in Medewi Bali. When the surf's good it's best to make a hotel reservation prior to arrival but if you find something you like more in your price range don't hesitate to try something new. It's not necessarily the best place for kids as the beach nearly disappears at high tide, however, tide pools at lower tides can be a great attraction for kids equipped with closed-toed shoes.
Where is Medewi?
Medewi is located about a 2 to 3-hour drive North West of Kuta and a 3-hour drive from Ngurah Rai International Airport. That being said, it's not far as the crow flies but Bali traffic stops for no man.
How to get around?
Walking or scooter is highly recommended as you're sure to encounter traffic wherever you may go. A private car from Kuta runs for about 500.000Rp or approximately $50 AUD.
Is there parking fees?
No parking fees at the general "carpark" area just past Medewi Surf Cottages and Bombora Medewi Surf Lodge.
How to get there?
Depending on your choice of travel, you can either make your way towards Krambitan via North Kuta or head inland through Denpasar. Either way, you'll find yourself in Tabanan eventually and continue northwest toward Selemadeg before heading coastward and following signs for Balian first. I recommend leaving Kuta to make your way towards the Kerobokan Rd, past the Canggu turn off and continue straight. This will lead you towards the major West to East highway and eventually Krambitan. Follow signs for Gilimanuk to head West.Eventually, you'll notice signs for Balian as you make your way towards large hills off to your right. Once you arrive in Balian continue West along the coastline to Medewi. The coast will be in sight the remainder of the way, you might find a peak or two worth a session along the drive.