Surf Indonesia
The #1 Online Guide to Surfing Indonesia
Regions of Surf in Indonesia
We provide the most comprehensive and up-to-date guides on hundreds of surf spots throughout Indonesia.
Access decades of local knowledge and plan the ultimate surfing adventures.
Immerse yourself in the rich culture and natural beauty of Bali, Lombok, Java, Sumatra, the Mentawai Islands and more.
Experience a country that offers both world-class waves and accommodations that are authentic and affordable.
Goldmines waiting to be discovered
Next level info for the ultimate search for pumping waves throughout Indo! Incredibly detailed, ideal for surfers of all levels and covers all styles of accommodation. Key travel companion to make life breezy on the search.
Super helpful hub of information. These guys are very much on the ball. The spot guides enabled us to score epic waves in Lombok while also accommodating my friend who had a bit more of a beginner skillset. Essential for a great trip!
Epic Guide to Indo. Perfect for working out where you should be going too before you paddle out and realise it's a lot more than you can handle. The travel info is a huge help to find airports unheard of by regular travel agents.
Game changing. Saved me hours of time scrolling through endless google pages. Including answers to questions, I hadn't even asked yet. 
The main season for surf travel in Indonesia is the dry season (April to October) with consistent groundswells and offshore winds producing world-class waves on the western facing coastlines.
The offseason is during the wet season (November to March) when the trade winds switch and swells are more inconsistent. This is when you'll see the waves on the eastern coastlines breaking at their best.
Throughout most of Southeast Asia, you don't have to look far to find perfect surf and this website enables you to make informed decisions through decades of knowledge.
Where do you want to surf next?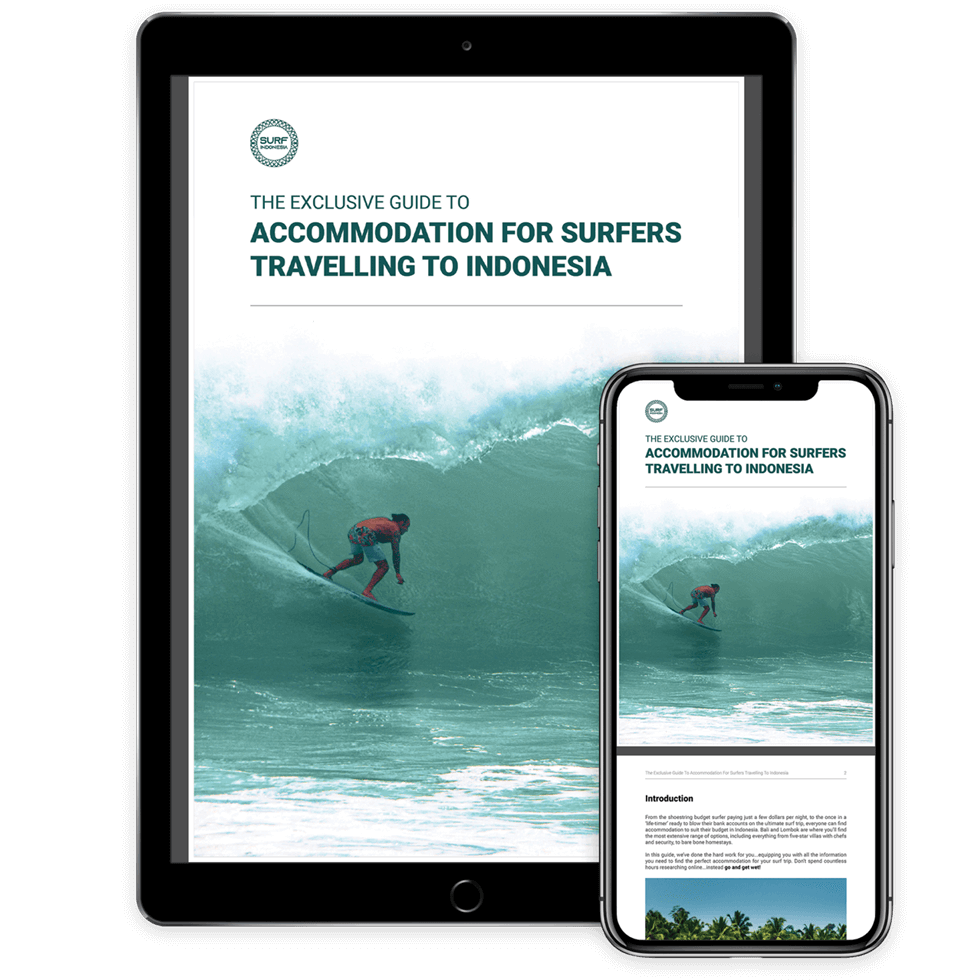 Download for free
The Exclusive Guide To Accommodation
For Surfers Travelling To Indonesia
$12.99 Free
5-Star Reviews & FREE for a limited time