Kuta is located just north of the bottleneck of the Bukit peninsula on the western side of Bali.
Once a quiet fishing village, Kuta was one of the first cities in Indo to be significantly affected by tourism. Today, Kuta is a bustling tourist destination for travellers all over the world. Kuta reef is one of a number of breaks in the surrounding area of Kuta including Airport reefs and if you're willing to make the trip Canggu. Kuta's airport makes it easy for this to be your first session in Bali and breaks well in any condition from 3 feet to double overhead. Due to its close proximity to such a bustling tourist destination, Kuta reef consistently tends to be one of the more crowded waves in Bali so if this is your first session don't be discouraged.
What kind of wave is Kuta Reef?
Kuta Reef can break in 50 to 200-metre walled-up bowls ripe for maneuvers and a few barrels. Before surfers began pushing south into the Bukit peninsula, Kuta reef was considered one of the better breaks for big dry season swells. It tends to pick up a bit more swell than airport reefs and the beach breaks in the area. A fun and accessible wave, crowds are a mix of travelling surfers, expats, locals, and unfortunately the occasional beginner being pushed into a wave. Considering crowds are typically an issue, bring your patience to the line-up and consider praying for serenity. On the bigger days, you can get caught high and dry between take-off and your bottom turn so if you're the beginner mentioned above know your limits and stick to the beachie. One other note: it's easy to get ambitious and move to close to the first peak where the wave isn't makeable. Locals better versed in the local geography will drop in on your every time so chill out and wait your turn in the line-up.
Booties:
Kuta Reef: Personal preference
Surfboard type:
Kuta Reef: Shortboard
Hazards:
Kuta Reef: Push-in surf schools and shallow reef
Best swell direction:
Kuta Reef: SW
Best wind direction:
Kuta Reef: E
What tide is best:
Kuta Reef: Mid to high tide
Best tide movement:
Kuta Reef: Rising mid tide
Wave consistency:
Kuta Reef: Consistent
Best time of year:
Kuta Reef: Dry Season; April – October
Lineup vibe:
Kuta Reef: Busy but relaxed
Other names for spot:
How do you get in and out of the surf?
The paddle out to Kuta Reef usually takes about 20 minutes plus depending on your physical condition. The distance is about 800 metres offshore so if you're not up for a long pre and post-session paddle, it's worth it to hire a local boat driver to give you a ride. Heads up: don't forget to book your boat trip back or you'll need to make the paddle back to shore. Boat drivers will typically drop you in the channel and you can paddle over to the peak. You can find boat drivers on the beach at Discovery Kartika at Low tide or at the end of Jalan Kartika Plaza.
What is the beach like?
As mentioned above, Kuta reef is located about 800 metres from the beach so you most likely won't be hanging out on the sand scoping surfers. If you do plan on hanging out on the beach, or you happen to be traveling with a non-surfer Kuta Beach is where you can relax in the sand.
Considering Kuta is home to an airport and its relative proximity to the Bukit peninsula, there are a number of places to choose from as far as surf accommodations at the southern end of Kuta where you can catch a boat out to Kuta Reef. Take a look below for some options to choose from.
Cheapest Price Range – Angkul Angkul Beach Inn Kuta
Angkul Angkul Beach Inn offers an ideal location for surfers arriving or departing in Kuta for a fraction of the price other places may offer. They've received some mixed reviews from travellers for cleanliness but most comment that the location and price were well worth any shortcomings. Two blocks to the beach, a short taxi ride to the airport, and a handy launchpad for heading north or south in search of surf.
Mid Price Range – Kuta Reef Apartments
Kuta Reef Apartments are a great accommodation option for multiple couples or families wanting to stay in the area to surf Kuta Reef. Traditionally 2 bedrooms with bathroom, ensuite, living room and kitchen. It's a great option to stay in a home away from home and splitting the cost with another couple makes it a very affordable option. Part of the Aston Kuta Hotel & Residence you can use their facilities as well!
Mid Price Range – Grand Inna Kuta
The Grand Inn Kuta is a Western-style modern step-up from your typical surf hotel. It has the feeling of royalty with terraced rooms, sea-turtle adorned staircases and beachfront location. Even the pool has a feeling of luxury with river-rock islands adorned with palm trees and foliage. A great choice for families, couples, and independent surfers looking for a clean and comfortable stay in Kuta.
Luxury Price Range – Hard Rock Hotel Bali
The Hard Rock Hotel Bali has the feeling of a Las Vegas mogul located beachfront near primo surf. If you're looking to stay in Kuta for a couple of nights with a large group or family, this is definitely a great choice. Mostly western style, you can enjoy modern accommodations and luxuries from spas to movie theatres and kids play areas to waterslides. The price is a big jump from the other options in Kuta, of which there are many, but if comfort and entertainment are what you're looking for you couldn't choose much better.
Luxury Price Range – Discovery Kartika Plaza Hotel
Out of all of the surf focused accommodations on this list, the Discovery Kartika Plaza Hotel has the strongest feeling of a classic Bali resort and is the closest place to stay to a jekung boat ride out to Kuta Reef unless you sleep on the beach! The pool is located on the beach, restaurants overlook the ocean, decor and architecture are in classic Indonesian style, and near-perfect reviews online. Most travellers can't find fault in this hotel and use it as a private refuge from the greater hustle and bustle of Kuta, or a launchpad for starting your next surf adventure. Definitely enough to do and see here to keep non-surfers happy while your shredding in the line-up. Great for couples, honeymooners, and families.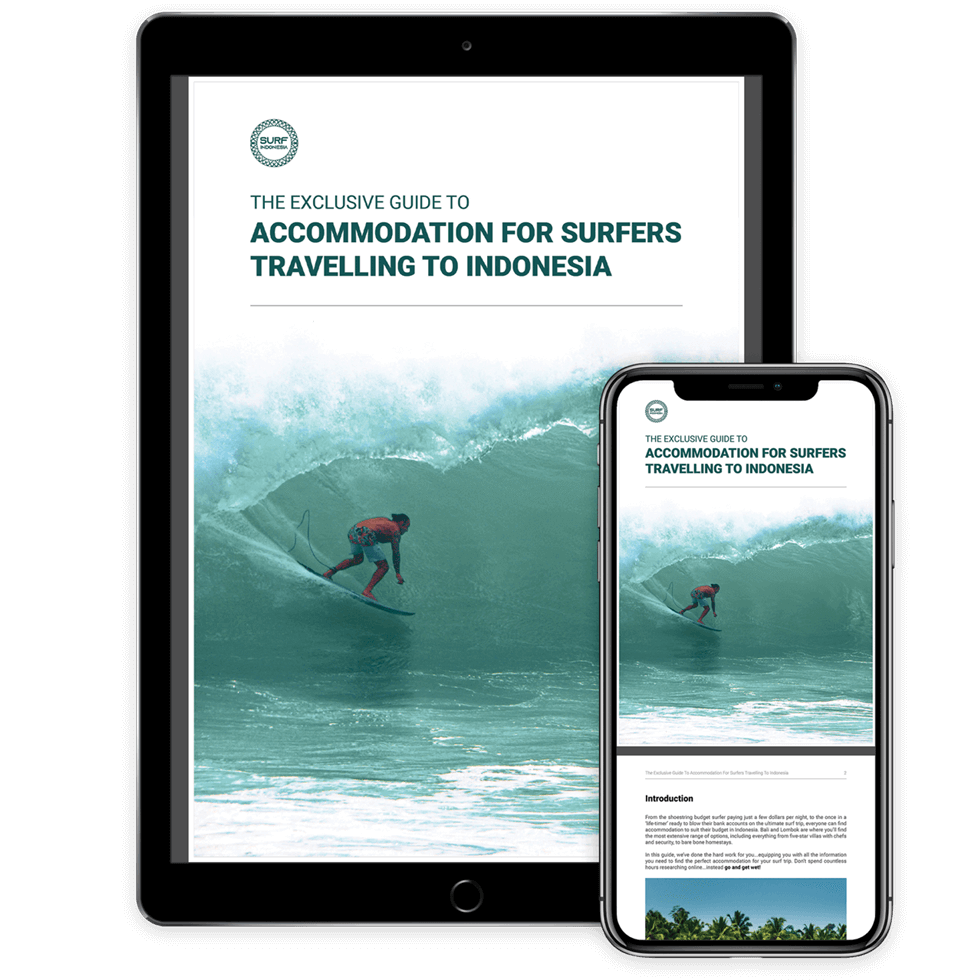 Download for free
The Exclusive Guide To Accommodation
For Surfers Travelling To Indonesia
🔍  65-page accommodation guide
🛖  Types of accommodation
🏄‍♂️  Perfect for any budget
✈️  How to book short or long term
🏝  Locations and recommendations
Is there food nearby?
Kuta is full of warungs, cafes, restaurants, and general places to be fed. Take a look at some of the spots on our list for recommendations to satisfy your next Kuta Reef post-surf hunger.
Segara Asia offers classic Balinese cuisine, live music, and a comfortable atmosphere for kicking back and enjoying some amazing food. Located beach-side, you can enjoy the pool, swim up bar, or live music while still keeping your eyes on the peak. This is a great place to start off your evening with cocktails while enjoying the sunset or stay for an authentic dining experience. Be warned; bring your appetite for adventure, there may likely be smells, tastes, or ingredients that you're not familiar with so don't hold back and enjoy the ride.
Boardwalk Restaurant offers a high class, comfortable, and surf focused ambience and experience. Again, your feet couldn't be much closer to the beach than standing in the Boardwalk restaurant. They offer a wide array of cuisine but tend to focus towards Mediterranean, Western, and Latin dishes. Food, drink, and the environment gets high reviews from travellers and surfers alike.
The Wharf Restaurant is another beachfront and beautiful restaurant with a mix of Western and Asian inspired dishes. No pool but you're literally steps from the waterline. Known for its pizzas and live music, The Wharf Restaurant is great for surfers, couples, and families.
What else is there to do in the area other than surfing?
Water Park – Waterbom Bali gets amazing reviews from travellers of all ages. Great place to take the family for a run around between surf sessions. While you can enjoy your usual waterslides and lazy rivers, Waterbom offers a unique look into Bali's ecosystems with an emphasis on environmental responsibility and conservation. If you're surfed out and looking for a good time, Waterbom is definitely worth a visit.
Kuta Square Shopping Mall The Kuta Square Mall is your typical shopping centre with everything from designer clothes, skin products, perfumes, and surf clothing. If you need some money exchanged there are a few ATMs as well. Great place to grab an extra pair of boardies just in case. There are a few warung style restaurants connected to the mall as well if you're looking for a cheaper place to grab some food.
Kuta Theater
While it may seem a little odd to catch a flick on a surf trip, never underestimate the debilitating power of sunburn. After hours of shirtless paddling on the open ocean, your back might need a break from the UV annihilation. Kuta theatre is a great place to watch a film and relax after you've surfed to your heart's desire.
Bali Sea Turtle Society The double overhead sea turtle sculpture is a great place to grab your novelty selfie, but in actuality, the Bali Sea Turtle Society has much more to offer than the odd photo. With the ever-present threat or climate change, plastic pollution, and ocean acidification, it's good to remind ourselves that there are still good people in the world working to preserve our playground: the ocean. The Bali Sea Turtle Society offers volunteer opportunities protecting and releasing baby sea turtles. Your kid, if you have them in tow, will never forget the experience of holding and releasing a baby turtle. Stop by for a visit and see what you can do to help protect the places where we play.
Vihara Dharmayana Kuta is one of the main religious venues in Kuta and it sits in a leafy backstreet, but you will still be able to spot it from afar thanks to its ornate roof. One of the greatest aspects of Bali, aside from its abundance of near perfect waves, is its culture. You won't experience the hospitality or history in Bali anywhere else in the world so take the time to visit a temple or two.
What else
do I need
to Know?
If the crowd at Kuta Reef is too much to handle, there's a second reef known as "Kuta Reef Middles", "Middles" or "Second Reef" about 50 meters to the south towards the airport reefs. This is a shorter and sometimes smaller left but can be lots of fun, especially if you're beating the crowd. As I said before, don't forget to book your boat-trip back. Worst-case scenario: wave your board in the air and cross your fingers someone's gracious enough to pick you up.
Access Our Exclusive Members-Only Content
Unlock the Spot Finder, all Spot Guides, Member Perks and more.
Where is Kuta Reef?
Kuta Reef is located about 800 metres out to sea from the southern end Kuta. You can paddle out but it's worth it to take a boat. The going rate is around 50,000Rp per person.
How to get around?
Kuta is a big enough town that you can get around by taxi, scooter, or on foot. If you're looking to explore any more of the country it's definitely worth it to hire a scooter or a car. Traffic is typically extremely heavy in Kuta so scooters are helpful for weaving through more heavy intersections and saving a lot of time.