The Surfers First Aid Kit
🔥ON SALE FOR A LIMITED TIME🔥
Sick of first aid kits that don't step up to the mark?
Surf Indonesia has created the ultimate surfing first aid kit to provide you with the essential tools you need for basic first aid and cutting out the fillers you don't. Tried and tested by surfers to meet the needs of surfing, not only in Indonesia but around the world, so you don't get stuck with a stock standard first aid kit that doesn't provide you with much useful or worse, nothing at all!
Clean Wounds Thoroughly
The first step in treating a reef cut or any cut is also the most important, any reef-related wound no matter how small has to be thoroughly cleaned removing any foreign debris that will cause infection. The soft sterile wound cleaning sponge and saline solution enable you to clean the wound thoroughly to ensure any coral dust and spores are removed decreasing the likelihood of infection and delays in the healing process.
Remove Foreign Debris Easily With High Precision Tweezers
When you are treating wounds yourself you need all the help you can get. High precision tweezers make removing foreign debris, remains of reef and coral dust from your wound a lot easier and less painful.
Heal Reef Cuts Faster With Soluble Hemostatic Gauze
This revolutionary cellulose-based material accelerates the blood clotting process and is a must-have item in every surfing first aid kit. When the gauze contacts with blood it quickly transforms into a stiff gel, which fills wound voids, seals capillary ends and activates the clotting system saving you days or weeks of recovery time.
Prevent Infection Without Using Damaging Antiseptics
Triple antibiotic ointment is an effective formula that contains three active antibiotic ingredients to help stop the growth of bacteria and reduce pain and inflammation. While commonly used antiseptics such as lime, hydrogen peroxide, iodine or rubbing alcohol into the wound does work to kill bacteria they can also damage the tissue, irritate the wound and delay the healing process.
Cover Wounds Effectively
The Adhesive Stretch Dressing is a wide area adhesive dressing that is especially suitable for use on frequently mobile and highly contoured parts of the body where most reef cuts occur. It provides a bacterial barrier that is permeable to air and water vapour with an excellent long term skin/wound friendly adhesion. It can be applied directly over the top of the wound, with or without gauze and minimises any disturbances of blood circulation to speed up the healing process of reef cuts.
Remove Sea Urchin Spines Quick & Easy
Sea urchin spines have a tendency to wander into the worst parts of the body (your feet 99% of time), regardless of how well you protect yourself. With a purpose built splinter probe you can easily remove spines as soon as possible.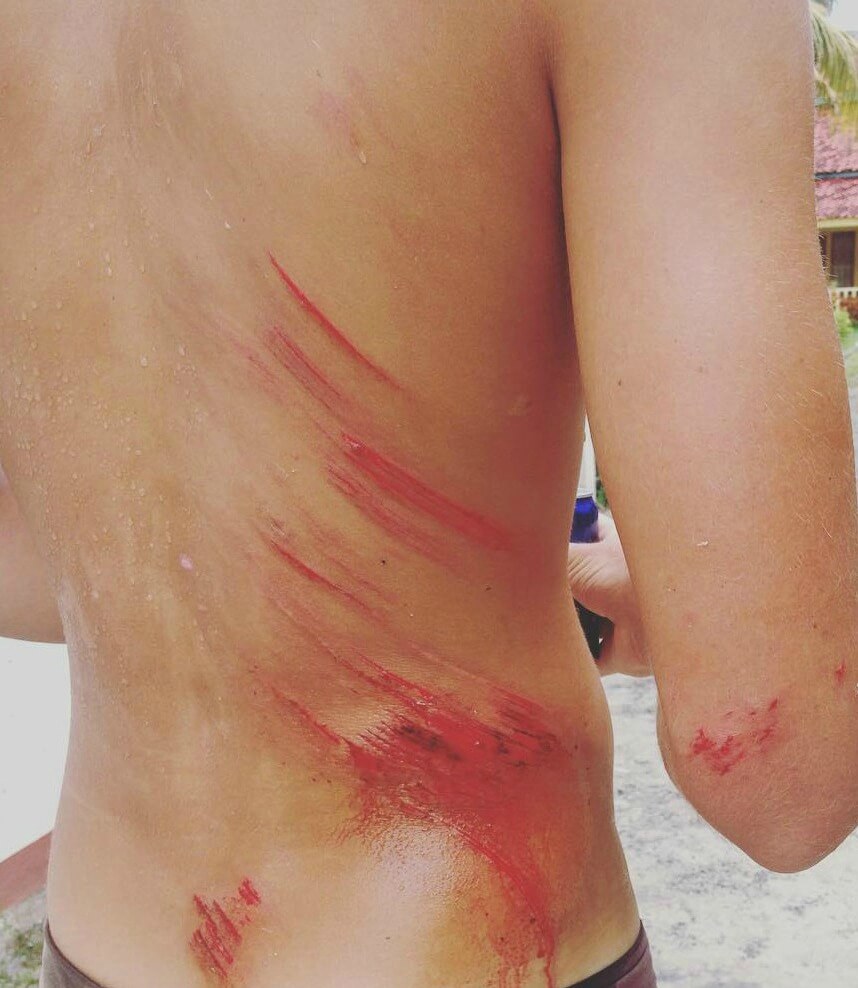 Have you found yourself hobbling around in search of a first aid kit?
There's nothing more frustrating! Not being prepared only makes an injury worse, the recovery process much longer and more complicated.
Unfortunately, most surfers aren't prepared to treat themselves with basic first aid.
Reef cuts and infections are a big deal…reefs contain unusually nasty bacteria and toxins. Foreign debris and coral spores embed themselves in the skin and tissue, acting as a source of infection, increasing pain, inflammation and prevent your wound from healing.
Reef cuts, in particular, are difficult wounds to heal, even the smallest, harmless-appearing cut or rash has a high chance of developing into a serious infection if not treated properly. Not having a first aid kit on hand can place you at serious risk.
Surf assured that you are prepared with The Surfers First Aid Kit.
I've travelled to Indo a bunch of times in the past with no first aid supplies and been caught out with reef cuts that could have been an easy fix if I was prepared. This kit is perfect for the everyday battler like myself (with a limited first aid knowledge) who is bound to cope a few battle scars to get patched up and back out there!
Love it. Well stocked and easy to make sense of
Bought this not sure if I would use it much but wanted to have all bases covered. Used it more than 5 times while tripping around Bali with a few reef scrapes. Absolutely worth the investment, jam packed with the essentials and more. Highly recommend carrying one in your board bag wherever you go, I will be from now on!
I have put myself in the predicament of travelling without a first aid kit on surf trips in the past and I can tell you first hand there is nothing worse than hitting the reef and then having to track down a first aid kit. Big fan of the adhesive stretch dressing as it stays on even after getting back in the water. Be prepared and get yourself one of these kits before your next surf mission.
Arrived in good time, well packed and presented, thankyou.
Bought for a friend. Arrived in good time and looks great.
Great first aid kit for treating reef cuts. The hemostatic gauze works wonders on kickstarting the blood clotting process and the splinter probe makes life a hell of a lot easier when removing sea urchin spines. All in all this first aid kit is full of items you will end up using and is must-have for travelling to Indo.
Super handy surfers first aid kit to have on hand for treating reef cuts and many other things while travelling.
Mine travels with me everywhere. The kit is thoughtfully packed utilizing every bit of space so it's easy to travel with.
Before going to Indonesia I wasn't sure whether I was being overly cautious by buying this reef cut kit. I can honestly say it's one of the most important things I brought with me. In my first 3 days of surfing I already cut up my foot and I'm so glad that I had my own personal reef cut kit. Reef cuts are nasty, even small ones get badly infected and when I cut mine it wouldn't stop bleeding. When this happens you don't want to rely on anybody else or the facilities they have here (which are limited). The kit has everything you need, and more importantly it's got instructions online as to exactly what to do.
Best kit on the market, there are 3 items in the kit that were a real game changer for me, firstly the triple antibiotic ointment cleared up the cut really quickly. The second was the hemostatic gauze, stopped the bleeding with one application, covered with the adhesive stretch dressing allowed me to continue surfing everyday.
Best first aid kit I've used yet. Has everything you need for surfing Indian Ocean coral. Very glad I had it this last trip in June '22, wicked reef cuts on my foot, had plenty of antibiotic, gauze, and tape. Cleaned wounds carefully, back in the water, no shark bait!
Compact enough to travel with easily. Has all the important items you need without the bulky fillers you don't. Everything is of great quality and in general the kit has been very well thought out. My order was shipped the same day but it did take almost three weeks to arrive. All in all great product and good service.
I usually pack my own first aid supplies in a snaplock bag but never really have everything I need. The surfer's first aid kit has it all. When you open it you can tell the guys at Surf Indonesia have thought about each item with great care and experience. Would recommend to anyone.
Highly recommend. Don't travel with out one. At some point you will end up with some sort of reef cut. No matter how small all reef cuts need to be treated to avoid further complications. This first aid kit is perfect for reef cuts and more. Make sure you get yourself one.
The compact size impressed me, it easily fits into my backpack or board bag. Despite its small size, it is packed with all the essentials. Its focus on surf-specific injuries with soluble hemostatic gauze, jellyfish sting relief, sea urchin spine splinter probe, etc shows that Surf Indonesia truly understands the unique challenges and risks surfers face. This was my second purchase. I hope they make something available to restock the kit in the future.
Came very quickly, been looking for a good first aid kit and looking at all the reviews I opted for the surf Indonesia first aid kit. Very comprehensive everything you need for a tropical surf trip where you are surfing reefs, case it comes in is great aswell, very happy with the purchase. Cheers
Tidy, well packaged kit with everything you need. The stainless tweezers and scissors are good quality too. Even a bit of spare space for you to add your own additions. Delivery was super quick too, only took a couple of days to arrive in NZ.
Your Purchase Is Protected By Our 30-Day Money-Back Guarantee.
The ocean isn't risk-free, but luckily our money-back guarantee is! Purchase this surfing first aid kit risk-free…
Delivered to your door.
Inspect the first aid kit.
Not satisfied?
Send it back unused and we'll issue a refund.
Surf assured that you are prepared with The Surfers First Aid Kit.
In The Surfers First Aid Kit You Get:
20x Isopropyl Alcohol Wipes
10x Iodine Wipes
5x Non-Stick Gauze Pads
3x Triple Antibiotic Ointment
3x Soluble Hemostatic Gauze
3x 10cm Butterfly Stitches
2x 15ml Saline Solution
1x Sports Tape
1x 10m Adhesive Stretch Dressing
1x Soft Sterile Wound Cleaning Sponge
1x Stainless Steel Scissors
1x High Precision Tweezers
1x Sea Urchin Spine Probe
1x Razor
6x Sting/Insect Bite Relief Wipes
30x Cotton Bud Swabs
1x improved Travel Case for easy packing
ON SALE FOR A LIMITED TIME
We ship all orders the next business day (at latest)
Orders are shipped from New Zealand

WOULD YOU LIKE A REFILL FOR YOUR KIT?
Restock your kit with…
3x Soluble Hemostatic Gauze
3x Triple Antibiotic Ointment
3x Non-Stick Gauze Pad
3x 10cm Butterly Stitches
10x Iodine Wipes
10x Alcohol Wipes
1x Wound Cleaning Sponge
Get a refill with your kit so you only pay for shipping once.
Limited Time Offer: Get 30% OFF your refill now!
Would you like extra Hemostatic Gauze?
Three pieces are supplied in The Surfers First Aid Kit.
However…
Extra pieces can be purchased with the kit or separately to restock your kit.
Simply click the Add to Cart button to add extra Soluble Hemostatic Gauze to your order. Adjust the quantity in your cart to reflect how many you'd like to order.
Would you like extra Triple Antibiotic Ointment?
Three pieces are supplied in The Surfers First Aid Kit.
However…
Extra pieces can be purchased with the kit or separately to restock your kit.
Simply click the Add to Cart button to add extra Triple Antibiotic Ointment to your order. Adjust the quantity in your cart to reflect how many you'd like to order.