Dreamland Beach Surf Spot
Once a tranquil and sleepy beach town, today Dreamland Beach in Bali causes visitors to recall John Milton's Paradise Lost.
Nestled beneath a barrage of development from luxury hotels and condos to golf courses sprawling from Balangan to Bingin, Dreamland Beach is a common haunt for modern tourists hoping to experience a Bali that today is becoming tougher and tougher to find. All this being said, Dreamland is still a beautiful stretch of beach on the Bukit peninsula. If you're not staying in one of the beachfront hotels you'll need to shell out a bit of cash to access the 100-metre long mix of (super) soft sand, exposed rock, blue/green crystal clear water, and heavily vegetated exposed cliffs.
What kind of wave is Dreamland Beach?
Surfing Dreamland Beach can be great for surfers of all ages and abilities. As a result, you'll run into heavy crowds in and out of the water at times. Best at low tide, dreamland offers a quick left-breaking open face and short right shoulder off of the peak. Unlike other
spots in Bali
, Dreamland breaks over a deep mix of submerged reef and sand which won't require you to rock booties. Quick and dumpy on a high tide, Dreamland leaves much to be desired for experienced surfers during small swells. Your best bet is to surf Dreamland when well overhead, it can barrel on the outside however it is better suited to beginner and intermediate surfers making the step up from the likes of Kuta Beach.
Surfboard type:
Dreamland: Shortboard, Fish or Soft top
Hazards:
Dreamland: Inexperienced surfers, exposed rock
Best swell direction:
Dreamland: SW
Best wind direction:
Dreamland: SE
What tide is best:
Dreamland: Low tide
Best tide movement:
Dreamland: Mid to low
Wave consistency:
Dreamland: Consistent
Best time of year:
Dreamland: Dry Season; April – October
Lineup vibe:
Dreamland: Mellow but crowded at times
Other names for spot:
Dreamland: Pantai Cemongkak
How do you get in and out of the surf?
A short paddle from the beach will get you into the line-up. Look for channels on either side of the peak to paddle out in.
What is the beach like?
The beach is a mix of soft white sand and exposed rock tidepools. While the beach is beautiful, there are constant buses of tourists arriving to take photos on the beach and dip their toes in the water. This might not be the best spot for die-hard surfers looking to surf their brains out but is great for families, beginners and intermediate surfers.
The majority of places to stay in Dreamland will set you back a bit as they are located beachfront and geared towards higher-end tourists. It's always an option to stay in Bingin and make the paddle over to Dreamland, especially for beginner/intermediate surfers who may have a tough time getting waves at Bingin. Take a look below for some of the different accommodation on offer.
Cheapest Price Range – Taman Asih Dreamland Beach Homestay
Taman Asih Dreamland Beach Homestay gets high marks from surfing travellers. As mentioned previously, if you're not staying on the beach, it can be a long jaunt to arrive at dreamland. Travellers typically need to drive to a paid parking lot, catch a bus, and then walk down to the beach. Travellers at Taman Asih Dreamland Beach Homestay have the perks of being a quick two-minute walk down to the beach. With small cottages on offer at the homestay, decent food, and views of the neighbouring vegetation, this is a great place for the budget-conscious couple looking for a quiet place to rest your head.
Mid Price Range – Klapa Resort
Travellers visiting Dreamland give Klapa Resort mixed reviews onTripAdvisorr. Some say the rooftop pool and ocean views gave them the perfect Bali resort experience while others complain about false advertising, and heavy crowds on dreamland beach. If you're an experienced luxury traveller, this might not be your first choice, but if you're familiar with accommodation in Bali and looking for a clean, comfortable, and beautiful place to stay (walking distance from the beach) Klapa Resort will keep you happy.
Find deals on places to stay at Dreamland Beach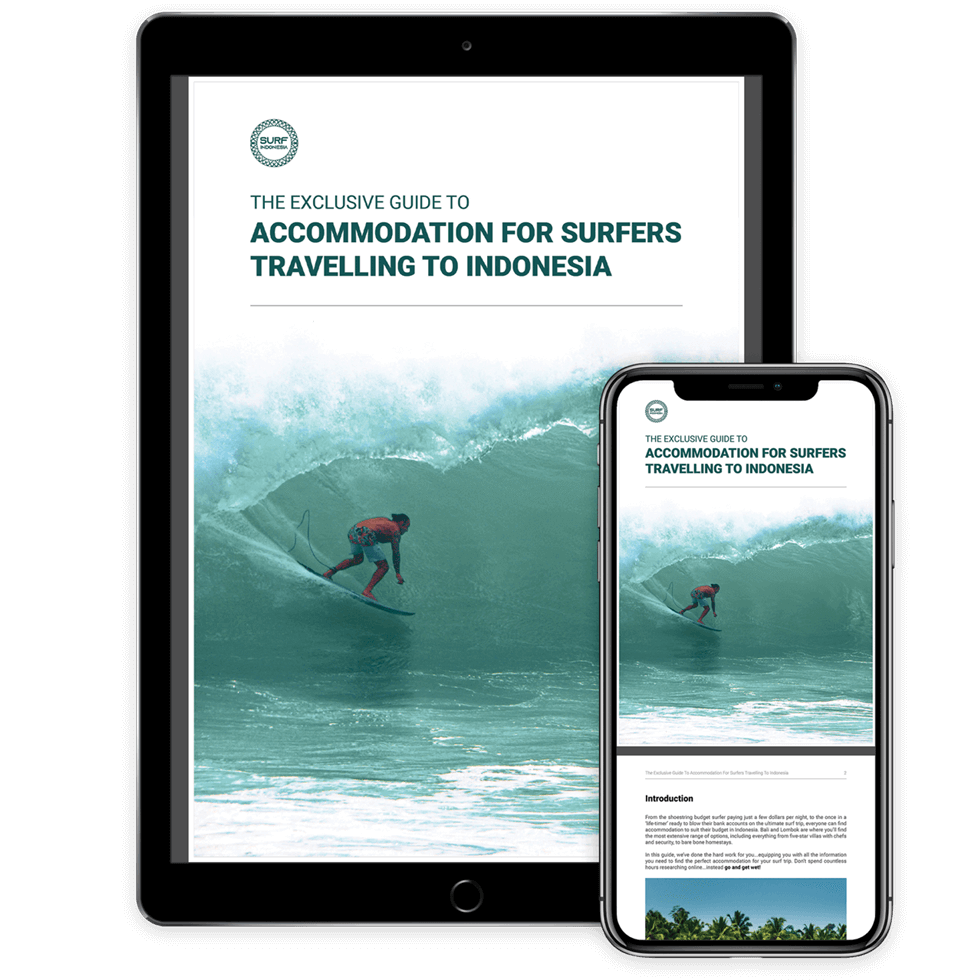 Download for free
The Exclusive Guide To Accommodation
For Surfers Travelling To Indonesia
$12.99 Free

🔍  65-page accommodation guide
🛖  Types of accommodation
🏄‍♂️  Perfect for any budget
✈️  How to book short or long term
🏝  Locations and recommendations
Is there food nearby?
You can always make your way to the local Warung but if you're looking for something a bit more high-end, there are a number of restaurants in neighbouring hotels and areas.
El Kabron Spanish Restaurant & Cliff Club offers spectacular views and a trendy vibe. A picturesque restaurant located high on the edge of a rugged cliff overlooking the Indian Ocean and surf breaks of Dreamland, Bingin and Impossibles. This superb restaurant serves up tasty tapas and authentic Spanish and Mediterranean cuisine. A great spot for a cocktail and sunset.
What else is there to do in the area other than surfing?
Dreamland is a great beach for swimmers, bodysurfers, and boogie boarders alike if you're looking to stay away from a pop-up. In addition, there's a number of golf courses in the neighbouring area such as New Kuta Golf course pictured here which has spectacular views of the Bukit Penninsula as you're driving a few golf balls.
What else
do I need
to Know?
Bathrooms are also paid so be sure to bring cash.
Where is Dreamland Beach?
Dreamland is a part of Ungasan Village in the South Kuta District of the Badung Regency of Bali's Bukit peninsula. The beach is surrounded by resorts that cover a lot of land area where recent luxury resorts are still being built and golf courses have been developed.
How to get around?
Having a scooter or car is recommended in this part of Bali. Traffic isn't so hectic in this area and you'll want to have some wheels to get around the peninsula.
Is there parking fees?
If you're not staying at one of the beach access resorts or hotels parking fees cost 5,000Rp. There is a bus from the resorts in the area to the beach and large tour groups visiting the area as well. If you heading there to surf just park up at the parking lot and it's a short walk to the beach.
From Ngurah Rai International Airport take Jalan Airport Ngurah Rai to Jalan By Pass Ngurah Rai.
Continue on Jalan By Pass Ngurah Rai then turn right onto Jalan Uluwatu 2 (signs for Uluwatu).
Continue on Jalan Uluwatu 2 and turn left onto Jalan Raya Uluwatu.
Continue on Jalan Raya Uluwatu for approximately 5.3km then turn right onto Jalan Griya Alam Pecatu and continue straight to your destination at Dreamland Beach in approximately 4.4km.