Locally known as Labuan Sait Beach, Padang Padang is one of the waves in Bali that keeps surfers coming back.
Considered one of the best lefts on the planet, Padang Padang is typically a notch all experienced surfers are looking to carve into their belt. Situated on the Bukit peninsula, SE trade winds blow offshore into walled-up, barrelling perfection. Due to the advancement in surf forecasting, on the best days, you can expect to see professional surfers in the line-up, fresh off the plane. Even for experts and professionals, a great day at Padang Padang could be the barrel of your life, it could leave you with a broken board, or it could leave you in the hospital. Long story short: know your limits. Padang Padang is worth the trip, even as a spectator, so take a look below for surf tips and recommendations on the top surf accommodations in the area.
What kind of wave is Padang Padang?
Padang Padang is known as a long, hollow, and steep wave that breaks over a sharp and shallow section of reef. Often called the pipeline of Bali, on a great day surfers can expect to sit pretty deep in the barrel for up to 50 metres or so. Padang Padang is a little finicky, and while it can still be fun year-round under a myriad of conditions, the orchestra of wind, swell, period, and tide must all be playing in synchronicity to break in perfection. Expect big crowds, as this is one of the more popular waves in the world, both in the line-up and on the cliffs overlooking the break. Ideal conditions tend to pop up under a long period west swell, offshore winds, and a rising mid-tide.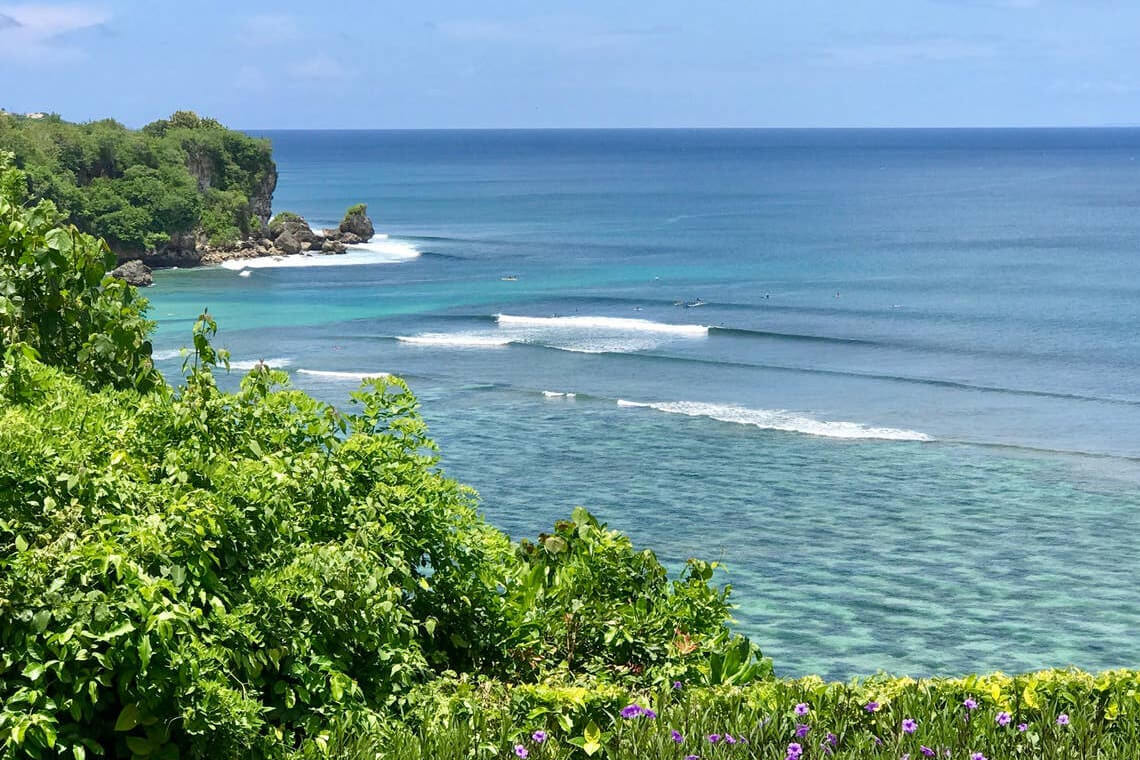 What kind of wave is Padang Padang Right?
Padang Padang Rights also known as Baby Padang, is the polite little sister suitable for novices when it's waist to head high. There's a channel that allows for easy paddle-outs, something that most other waves in Bali don't offer, which foregoes one of the more frustrating aspects of surfing for the beginner surfer who can't duck dive to get to the outside. The channel is to the right of the wave so catching the right brings you straight back to the channel and to a quick paddle back out, which is great for beginners.
Wave type:
Padang Padang: Reef Break

Baby Padang: Reef Break
Wave difficulty:
Padang Padang: Experienced

Baby Padang: Beginner
Wave direction:
Padang Padang: Left

Baby Padang: Right
Wave bottom:
Padang Padang: Reef

Baby Padang: Reef
Booties:
Padang Padang: Personal preference
Padang Padang Right: Personal preference
Surfboard type:
Padang Padang: Rounded pin shortboard to step-up
Padang Padang Right: Short board or longboard
Crowd factor:
Padang Padang: Crowded

Baby Padang: Crowded
Hazards:
Padang Padang: See below
Padang Padang Right: Crowds and reef
Best swell direction:
Padang Padang: W
Padang Padang Right: SW
Best wind direction:
Padang Padang: SE
Padang Padang Right: SE
What tide is best:
Padang Padang: Mid to high tide
Padang Padang Right: Mid to high tide
Best tide movement:
Padang Padang: Rising
Padang Padang Right: Rising
Wave consistency:
Padang Padang: Inconsistent
Padang Padang Right: Consistent
Best time of year:
Padang Padang: May – September
Padang Padang Right: Year-round
Lineup vibe:
Padang Padang: Intense
Padang Padang Right: Friendly
Other names for spot:
Padang Padang: Pantai Lubuan Sait
Padang Padang Right: Baby Padang
Most Common hazards
You can encounter just about every hazard you can think of at Padang Padang. From a large number of photographers swimming in the lineup to thick crowds of surfers. Pay special attention to the shallow reef on the end section, currents which can drag you over the end section of reef as the water sucks out, the heavy lip, barrels clamping down and of course the crowds!
How do you get in and out of the surf?
From the beach, you'll see the break off to looker's left. The channel forms on the far end of the shoulder on looker's right. Paddle out at the channel and stay clear of the break until well outside. Once even with other surfers in the line-up, start at the shoulder, watch a few surfers, and wait your turn. There are a few more paddle battles at Padang Padang than you might expect other places in Bali but remember never to fight in the line-up, or it will be your last session in Bali.
What is the beach like?
Padang Padang is an open white sand beach surrounded by cliffs on either side and rock formations protruding from the sea. There are a few warungs where you can grab a bite to eat on the beach and inside of the reef is a great place for a dip with friends. There's a small entrance fee at Padang Padang Beach of 10,000Rp. From the parking lot at the top of the cliffs, you're likely to see monkeys swinging through the trees as you pass through the temple halfway down the stairs. Might be worth it to stop for a quick prayer/blessing before paddling out in the gnarliness of Padang Padang.
Considering Padang Padang's popularity within the surfing community and its recognition from the professional surfing community, there are quite a number of accommodation options to choose from in the immediate area of Padang Padang Beach. Take a look below for some recommendations on where to stay.
Cheapest Price Range – Bombora Surf Camp
In the heart of Padang Padang you'll find Bombora Surf Camp. This thriving surf camp is set on beautiful grounds with fantastic rooms for a surprisingly affordable price considering what you get. Just a short 10-minute walk from Padang Padang Beach or a minute by scooter, you also have a great range of restaurants nearby to keep you fuelled up between surfs. If you're after a great social environment and some good times then Bombora Surf Camp is a great option to check out. Perfect for solo travellers and small groups.
Cheapest Price Range – Padang Padang View by Bukit Vista
Location, location, location. Situated just above the Padang Padang bridge with epic views over the ocean and the waves at Impossibles. You'll be hard-pressed to find such an affordable accommodation option with as incredible views as this one. Not to mention the easy access to Padang Padang Beach, simply walk across the bridge, down the stairs and you're there! You'll get free WiFi throughout the property, AC, all-time terrace views from your room and free private parking for guests who drive.
Mid Price Range – Bukit Surf Villa
The Bukit Surf Villa is an EPIC villa set up for groups of up to 15 people, making it an affordable option for an epic place to stay while visiting Padang Padang. Featuring an outdoor swimming pool, a bar, BBQ, beautiful gardens, a shared lounge with a flat-screen TV with satellite channels, dining area, pool table, kitchen with a fridge, an oven and a stovetop, 6 bedrooms, and 3 bathrooms with a hot tub and much more. Expect easy access to Padang Padang and a central location to access the surf north and south along the coastline of the Bukit Peninsula.
Mid Price Range – PinkCoco Bali
Located right in the middle of Padang Padang on the main street with great restaurants across the road and neighbouring the property. PinkCoco Bali's spacious air-conditioned or fan-cooled rooms feature Asian décor, private balcony with a seating area and free wifi. Each room has a fridge and a private open-air bathroom. There are two pools within the grounds with sun loungers and spacious areas to sunbathe, relax and unwind. Padang Padang Beach is an easy 300-metre stroll downhill.
Mid Price Range – Padang-Padang Inn
Padang-Padang Inn offers modest, simple, clean, and comfortable surf accommodation. Built as a high rise with an attached restaurant and pool, Padang-Padang Inn gives the feeling of staying in a condo complex. A quick 6-minute walk to the surf makes it easy and accessible to neighbouring world-class waves. All in All, Padang Padang inn is a great choice for surfers on a budget trying to stay comfortable.
Afforable to Luxury Price Range – Rapture Surfcamp Padang Padang
Rapture Surfcamp Padang Padang is one of a network of four surf camps in Bali, Portugal, and Nicaragua that provide epic surf vacations and surf schools for people from all over the world. Whether you are a beginner looking for a surf school or a more experienced surfer wanting to discover new surf breaks, Rapture Surfcamp Padang Padang is there to help you get the very best from your surfing experience.
Luxury Price Range – Suarga Padang Padang
Suarga Padang Padang is the luxury spot in Padang Padang for couples and honeymooners looking to surf. Committed to environmental sustainability, Suarga Padang Padang is constructed almost entirely from locally sourced and recycled wood and bamboo. Overlooking the ocean, you can keep your eye on the peak while watching fisherman wade through the inner reef and sip a cappuccino. With everything from basic rooms to villas, Suarga Padang Padang offers quick and easy access to the ocean for when the conditions are right and the privacy that families, couples, and surfers dream of.
DEALS ON PLACES TO STAY IN PADANG PADANG
Is there food nearby?
Om Burger – When thinking of the cuisine in Bali you may have images of acai bowls, kale smoothies, and avocado toast. Om Burger takes a side step from these more popular millennial, traveller, and aspiring dishes by providing overstuffed and often open-faced burgers. Om Burger is a great place to celebrate your last barrel amongst friends and load up on calories for your next session.
The Mango Tree Cafe offers a wide variety of health-conscious western and eastern inspired dishes. Walking distance from the beach and most accommodations, The Mango Tree Cafe is a nice retreat from the typical warung. Don't forget to try the cheesecake.
Nalu Bowls Bukit – Considering your travelling and surfing in Bali, chances are that you're looking to stay in paddling shape. After a few nights on the bintangs, you might need to recharge your batteries. Nalu Bowls is a great fresh and healthy option for your post dawn patrol surf. A short walk from the beach, Nalu Bowls offers fresh fruit, homemade yogurt, vegan options, and a plethora of smoothies. A great place for a quick bite to recharge before your next session.
Cacho Sunset Grill – There's nothing like surfing that gives you a true hankering for a burrito. Cacho Sunset Grill offers a surf inspired Mexican cantina that will make you feel like your in Baja rather than Bali. Great for families looking to fill up hungry kids and surfers looking for good food on a budget.
Blue Heaven Bali is by far the most luxurious food option on this list. With ocean views, infinity pool, and boutique cocktails Blue Heaven offers the opportunity for a romantic night away. They specialise in weddings so if you're looking for a destination, this should make the list for consideration.
What else is there to do in the area other than surfing?
Thomas Beach
– While you won't find much surf at Thomas Beach, you will find the seclusion and quiet that you miss out on at popular breaks. Thomas Beach is a steep climb down stone steps from the main road above Padang Padang. There is a small break on the outside past the reef that breaks on occasion. Be prepared for a long and steep hike; don't forget your water bottle. Thomas Beach is a great place to relax, play, and explore, especially at low tide when tide pools and rock formations are exposed.
Padang Padang Beach Party – Every Saturday night there is a raving party held on the beach at Padang Padang (Labuan Sait Beach). Beach parties at Padang Padang vary in live music from DJ's to the very popular reggae band Ulu Roots. BBQ dinners, fire dancing and fireworks are also common most Saturday nights. It is a great night and usually a highlight for a lot of travellers especially any night that there is a full moon.
What else
do I need
to Know?
Padang Padang is located a few kilometres between Uluwatu and Bingin. If you check Padang Padang and it's too crowded or just too gnarly, take a look at the breaks to either side.
White Monkey Surf Shop Padang Padang is just up the road from Padang Padang, White Monkey Surf Shop offers board rentals and gear sales. Great place to look for a new surfboard or used boards left behind by a previous surfer.
Access Our Exclusive Members-Only Content
Unlock the Spot Finder, all Spot Guides, Member Perks and more.
Where is Padang Padang?
Padang Padang is on the south-west side of Bali tucked just north of the southernmost bulge of the Bukit Peninsula.
How to get around?
Taxis are not plentiful but can be found in the Padang Padang area. There is a taxi stand at Padang-Padang just north of the bridge and one or two taxis are often sitting there waiting for customers. Otherwise, the best form of transport in Bali is by scooter and you will have no trouble finding one to hire.
Is there parking fees?
Padang Padang parking is 2,000Rp per scooter and 5,000 Rp per car. From the parking lot, you will have to cross the road and then pay 10,000Rp to enter Padang Padang beach.
From the airport or Kuta area head south towards the Bukit Peninsula via Jalan By Pass Ngurah Rai.
Follow signs for Uluwatu as you pass Jimbaran and enter the Bukit Peninsula along Jalan Raya Uluwatu which continues onto Jalan Raya Uluwatu Pecatu.
Follow the signs to Uluwatu and turn right onto Jalan Labuan Sait. This is the main road for Uluwatu and Padang Padang.
Continue along this road until you reach Padang Padang. You'll find the majority of surf accommodations on this same road which leads you to the stairs to Padang Padang beach.