Far from shore, while sipping your Bintang, you may notice what appears to be a perfect right-hander, this is Hyatt reef.
Upon closer inspection, Hyatt reef can be a little shifty, a little sectiony and a little unpredictable. Technically an extension of Sanur, Hyatt reef is one of the 4 different peaks along the 4 kilometres of the reef in Sanur. However, Hyatt reef stands alone in its well-groomed open inside bowls and heavy outside barrels. One of the many breaks in Bali that takes its namesake from a local hotel, Hyatt reef is a long (often hollow) right-hander that breaks quickly over a shallow reef. Typical near-perfect Bali surf, Hyatt reef does not disappoint. On smaller days, expect a long soft shoulder great for everyone from beginners to Kelly Slater.
What kind of wave is Hyatt Reef?
Hyatt Reef is one of the many long right-handers in the Sanur area.  The break itself is broken into three sections: Outer peak, Main Peak, and Inside Peak.  The Outer Peak is another 100-metre paddle from where you'll find most surfers and is known for short, steep, and hollow waves.  On bigger days, a pintail will help you make the steep bottom turn necessary to keep pace and connect to sections further inside.  The Main Peak is located directly in front of the Hyatt Hotel in Sanur. The current is nothing to scoff at but you can expect everything from steep drop-ins, soft shoulders, or open bowls (with barrels) depending on conditions. If you're around on a day when Nusa Dua is about 8ft+ expect Hyatt Reef to be firing.  The inside at Hyatt Reef is typically crowded with surfers of mixed abilities, due to the soft right shoulder in deeper water at the end of the reef.  Dive boats and spectators are to be expected at the end of this section so keep your eyes on a swivel.
Booties:
Hyatt Reef: Optional
Surfboard type:
Hyatt Reef: Short or longboard (conditions depending)
Crowd factor:
Hyatt Reef: Medium Crowds
Hazards:
Hyatt Reef: Currents, reef, boat traffic, distance from shore
Best swell direction:
Hyatt Reef: S
Best wind direction:
Hyatt Reef: NW
What tide is best:
Hyatt Reef: Mid to high tide
Best tide movement:
Hyatt Reef: Rising
Wave consistency:
Hyatt Reef: Sometimes consistent
Best time of year:
Hyatt Reef: Wet Season; October to April
Lineup vibe:
Hyatt Reef: Mellow
Other names for spot:
Hyatt Reef: Pantai Semawang
How do you get in and out of the surf?
Out in front of the Fairmont Sanur Beach Bali Resort where the main channel is, Hyatt Reef is well over 1 kilometre from the beach. Considering it's the longest paddle out to a surf break in Bali, it's best to pay for a boat ride out to the line-up. If you're game for a searing bicep burn, you can make the paddle out through the sections of reef further north, down the reef in front of the renamed Hyatt Regency Bali Hotel which is due to open later this year and where Hyatt Reef is a fraction closer to shore.
What is the beach like?
Previously a black sand beach, today Sanur's beaches are protected by a breakwater built by many of the nearby hotels and resorts. The beach is lined with ground up white sand made from the nearby coral reefs. The beaches in Sanur tend to be quieter than their Kuta counterparts and attract fewer heavy drinking teenagers than other places in Bali.
There are plenty of places to choose from in Bali's oldest resort town. Check below for some of the best accommodation options in the immediate area of Hyatt Reef.
Cheapest Price Range – Agung & Sue Watering Hole II
Classic Bali surf style motel, Agung & Sue Watering Hole II, not to be confused with its counterpart of the same name, is built in a combination of locally sourced and heavily lacquered wood and stone/concrete cobbles. Cheap and basic rooms will give you a comfortable place to rest your head after hours of paddling followed by food and Bintangs. Considering the area surrounding Hyatt reef is heavily populated by high-class hotels and resorts, a cheap stay can be tough to come by. A quick 5-minute walk from the beach, you'll have quick and easy access to the beach and various breaks in the area. If you're looking to spend your time poolside with a cocktail, this might not be your spot, but if you plan to surf your legs off and spend your time exploring Sanur, this could be your ideal accommodation. Keep in mind, don't expect a 5-star hotel for a one-star price. Agung & Sue Watering Hole II is a great choice for single travellers, surfers, and adventurers.
Affordable Price Range – Asoka Hotel & Suite
For a small step in price, expect a great leap in hospitality and comfort. With great reviews from travellers, Asoka is more than your typical surf hostel. Comfortable spacious rooms, great food, and walking distance to the beach. While not exactly the romantic getaway that honeymooners might be looking for, Asoka is a great option for surfers, travellers, and couples on a budget. 5 minutes from the beach, close to shopping and restaurants, Asoka is a great place to crash while waiting for your next adventure or in between daily surf sessions.
Mid Price Range – Sativa Sanur Cottages
Located in the heart of Sanur, Sativa Sanur Cottages are a step up from your typical surf hotel. A clean, comfortable, and quiet atmosphere, Sativa Sanur Cottages is a great choice for couples, families, retirees and surfers looking for easy access to the ocean. While not exactly the lap of luxury, spacious rooms are kept comfortable and clean without the trimmings and trappings of more expensive accommodations in the area. Considering your brisk and beautiful walk through local botanical gardens to near-perfect surf, Sativa Sanur Cottages are a great choice for surfers looking to step up their luxury game without breaking the bank.
Luxury Price Range – Fairmont Sanur Beach Bali Suites & Villa
Located closest to the channel at top of the Hyatt Reef and where you can easily grab a boat ride out to the surf. Clean, modern, and beautiful, Fairmont Sanur Beach Bali is a surfing honeymooner's dream. Villas, spas, and suites are outfitted with ocean views, 5-star food, and the occasional private pool. This is a great choice for the surfer who is looking to keep their spouse and kids happy while piling on hour after hour of surf sessions. The kids club offers a safe place with included childcare for the couple desperate for privacy and bikes for hire are often outfitted with kids seats or trailers. Considering the price, this might not be an ideal location for the single travelling surfer with a backpack in tow but is an excellent choice for couples looking for romance and privacy or families looking to keep everyone neck-deep in stoke.
DEALS ON PLACES TO STAY IN SANUR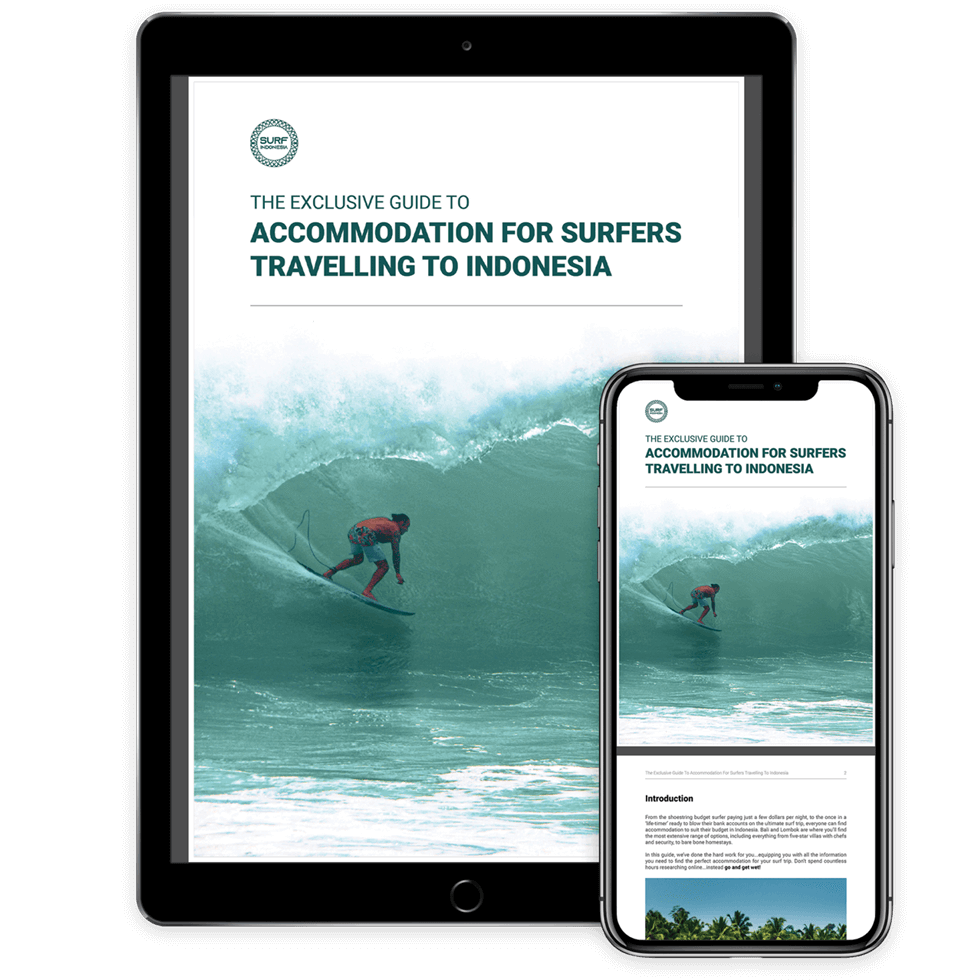 Download for free
The Exclusive Guide To Accommodation
For Surfers Travelling To Indonesia
🔍  65-page accommodation guide
🛖  Types of accommodation
🏄‍♂️  Perfect for any budget
✈️  How to book short or long term
🏝  Locations and recommendations
Is there food nearby?
Being the up-and-coming metropolis that Sanur is, there's definitely plenty of restaurants, warungs, and cafes to choose from. Take a look below for some of our favourites.
Massimo – Italian Restaurant – Intimate decor and atmosphere, Massimo offer Bali-inspired authentic Italian. Be sure not to miss the gelato, celebrated by everyone from 9 to 90. Overlooking the Balinese landscape and boasting the best pizza in town, Massimo is a great choice for anyone who loves great food.
Dusk Blue Restaurant – Bali has developed a culture of cheap, healthy, and flavorful food. Whether inspired by the countless cyber nomads or a combination of surfing yogis, Bali's food culture is here to stay. Dusk Blue Restaurant is a steward of this legacy through providing globally inspired cuisine made with fresh and healthy ingredients. Walking distance from the beach, Dusk Blue offers a comfortable atmosphere with great post surf grinds that won't hang around your midsection during your next session.
Charming – Considering you're literally two blocks from the beach, seafood is always a good option. Charming offers a great selection of fresh seafood dishes inspired by French, Indian, and Balinese traditions. While it might not look like much from the outside, you'll find amazing food, comfortable atmosphere, and the occasional band of travelling singers. Charming is a great choice for surfers with a sophisticated pallet, couples looking for a casual and romantic night out, or families with a taste for adventure.
Lilla Pantai is located smack dab on the sand adjacent to your boat ride out to Hyatt reef. While at most warungs you'll find your typical smoothies and chips, Lilla Pantai raises the bar with a wide array of foods to choose from. The full English breakfast gets high marks from brits on the go and similarly, avocado toast gets raving reviews from vagrant millennials. Lilla Pantai is a great place to check out pre or post surf session where you can enjoy a cocktail beachside.
The Fire Station is a great place for the hungry. You'll fill up on ribs, chicken and onion rings, or ceviche, cocktails, and cheesecake. Large portions, great food, and an energetic atmosphere, The Fire Station is a great place to start your night out before hitting the town and after surfing your face off. Not the first place to please brits on this list, The Fire Station offers a Sunday roast complete with Yorkshire puddings and fish and chips with what looks dangerously like mushy peas. Great for families, groups, singles, and couples The Fire Station is sure to surprise and delight.
Stiff Chilli is just steps from the beach with a casual atmosphere and delicious Italian inspired dishes. Great for families, couples, and single surfers with an appetite. Without breaking the bank, Stiff Chilli offers a comfortable and accommodating ambience complete with live music. Easily accessible from your next surf session, Stiff Chilli is a great choice if you're looking to fill up and relax.
What else is there to do in the area other than surfing?
Power of Now Oasis bamboo treehouse turned yoga studio just steps from the beach in Sanur. Has everything from yoga classes to teacher training and retreats. It's definitely worth a stop if you dig downward dog. For the yogi turned surfer looking for pointers in the line-up, Power of now oasis partners with rip curl school of surf to offer yoga, surf, and SUP packages.
What else
do I need
to Know?
Bali Stand Up Paddle – Arguably the fastest growing sport on the globe, the once Waikiki past-time turned global fitness craze is here to stay. Bali Stand Up Paddle has SUP instruction and rentals for all ability levels. Whether you're just tired of prone paddling, sick of that old dude on the outside stealing your waves, or you just want a leisurely jaunt out on the water, Bali Stand Up Paddle can offer a fun and safe flat water alternative to your next duck dive.
Access Our Exclusive Members-Only Content
Unlock the Spot Finder, all Spot Guides, Member Perks and more.
Where is Hyatt Reef?
Hyatt Reef is located offshore on the south-east tip of Sanur in Bali. The waves at Hyatt Reef are visible on the horizon when standing in front of the old Bali Hyatt Resort which is due to reopen at the end of 2018 under the new name Hyatt Regency Bali.
How to get around?
The southern end of Sanur is a quieter area of Bali in comparison to some areas however the best way to get around is by scooter.
Is there parking fees?
2,000Rp per Scooter
5,000Rp per Car