Approximately 16 kilometres north of Macaronis Resort is a spot known as Bat Caves.
Although the northern half of North Pagai Island isn't renowned for many surf breaks the natural surroundings are something you'd usually only see in a movie. The wave breaks right down the edge of a tiny deserted island for a few hundred metres with cliffs, caves and incredible beaches in the background on the main island of North Pagai. The idyllic surroundings of Bat Caves will entice you to visit whether there is surf or not!
What kind of wave is Bat Cave?
Bat Caves is a long, mellow, uncrowded right-hander with the odd coverup but mostly long sectioning walls for racing down the line into turns and cutbacks. It's great on a mal when its small and super fun on a shortboard with some size. A real shoulder burner when it gets bigger too due to long rides.
Surfboard type:
Batcaves: Any
Best swell direction:
Batcaves: WSW
Best wind direction:
Batcaves: NE
What tide is best:
Batcaves: Mid-tide
Best tide movement:
Batcaves: Outgoing
Wave consistency:
Batcaves: Consistent
Best time of year:
Batcaves: Year-round
Lineup vibe:
Batcaves: Super fun
Other names for spot:
Batcaves: Gilligan's Island, Tanjung, Silabu
How do you get in and out of the surf?
It's a simple paddle in and out from the boat anchorage in the channel.
What is the beach like?
Literally stunning. One to remember and tick off your bucket list.
Your best bet is to rest your head in style at Macaronis Resort. For more on Macaronis check out or
Macaronis surf spots guide
. Surf camps at
Lance's Right
and
Lance's Left
are also great options. Alternatively, your next best option is by surf boat charter operating out of Padang on the west coast of Sumatra.
How consistent is Bat Cave?
Bat Cave picks up a lot of swell, particularly, if the swell is quite west and is more exposed than Macaronis. All in all, it is a consistently fun spot when you compromise on a bit of quality.
Land-based or surf boat charter, what is better?
A surf boat charter gives you better access to waves, with fewer people around to enjoy them… meaning you get a little spoilt. However, if you can't handle days on end cruising the ocean and surfing your brains out, then a surf camp or resort is going to be the better option for you as you can hone in on one break and its neighbouring waves at a time. Find out more on our Mentawai Surf Spots page.
What else is there to do in the area other than surfing?
The boat trip to Bat Caves is just as appealing for non-surfers to experience the spectacular scenery and surroundings, go swimming, snorkelling, exploring or have a picnic and relax on the incredible beach. Across the channel, from Bat Caves, you can check out cliffs that are great for jumping into the ocean, explore the caves and stunning beaches.
What else
do I need
to Know?
You may be able to score a couple of other less known spots between Bat Caves and Macaronis resort as you go past Tanjung Simabai and Sianja on the coastline of North Pagai.
Where is Bat Caves?
Bat Cave is located on a tiny island 200 metres off the coast of North Pagai in the southern region of the Mentawai Islands.
How to get to Bat Caves?
Accessible only by boat it depends on where you plan on staying on land on Sipura Island (Lance's Right, Lance's Left) or North Pagai (Macaronis) or by charter boat. Either way, you'll venture out to any of the Mentawai Islands regions from Padang harbour in Sumatra, including where you'll board your charter boat from if you go that route.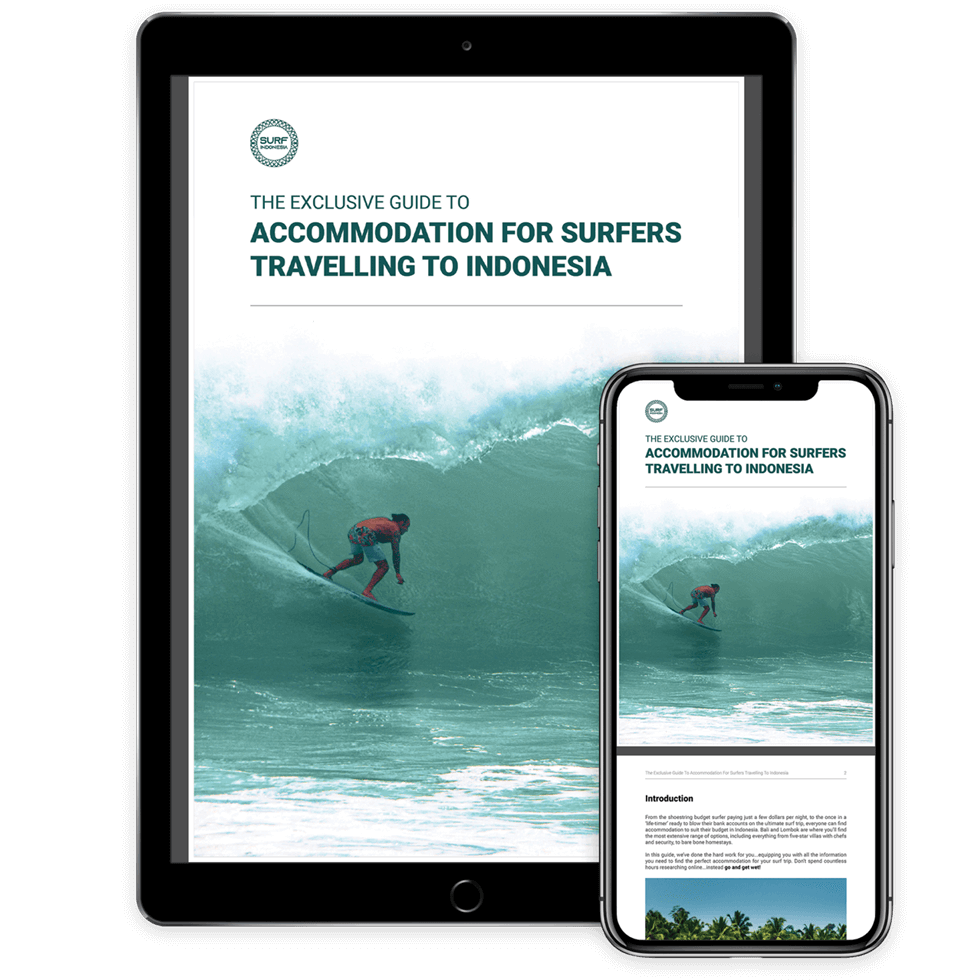 Download for free
The Exclusive Guide To Accommodation
For Surfers Travelling To Indonesia
🔍  65-page accommodation guide
🛖  Types of accommodation
🏄‍♂️  Perfect for any budget
✈️  How to book short or long term
🏝  Locations and recommendations