Lance's Left is a clean and predictable left. 
This reef/point break has plenty to offer surfers looking to ride for upwards of a quarter-mile.  Offering a thick-lipped barrel section up the reef and long, fast walls for big turns with the occasional soft shoulder down the reef towards the inside.  While not exactly forgiving, or gentle by any means, Lance's Left is recommended for experienced surfers.  Keep scrolling to find out when Lance's Left is at its best.
What kind of wave is Lance's Left?
While not exactly the most famous wave in this part of the Mentawais, Lance's Left wraps around the point of Sipura Island via three predictable sections. Each section has its own flare and changes from a heaving barrel to a soft and lumpy walled section. With too much swell you can expect deceivingly unmakeable hollow barrels. For ideal conditions, keep your eye on the forecast for a rising mid-tide coinciding with anything chest high to double overhead. Expert tip: Steer clear of the inside when big and keep your eye out for the keyhole in the reef when paddling out, or in.
Wave difficulty:
Lance's Left: Experienced
Booties:
Lance's Left: Consider rocking a pair of booties if you're hoofing it to the peak
Surfboard type:
Lance's Left: Sharp pin-tail shortboard or step-up
Hazards:
Lance's Left: Shallow reef, hollow waves and big swell
Best swell direction:
Lance's Left: S
Best wind direction:
Lance's Left: E
What tide is best:
Lance's Left: Mid tide
Best tide movement:
Lance's Left: Rising
Wave consistency:
Lance's Left: Ultra-consistent
Best time of year:
Lance's Left: April – November
Lineup vibe:
Lance's Left: Frothing chargers
Other names for spot:
Paddling out at Lance's Left
There's a small keyhole in the reef that you can follow to the line-up if you get caught inside but you'll need to take a few on the head before getting back out to the channel. Definitely best approached from the outside by boat, especially under larger conditions.
What is the beach like?
The beach is truly something out of a movie with a backdrop of idyllic palm fringed beaches and beautiful turquoise waters.
Kingfisher Mentawai
The Kingfisher Mentawai has three Mentawai-style bungalows and is the only accommodation located directly in front of Lance's Left, offering close-up views of this spectacular wave. The design of their bungalows combines the best of the local look and feel with the rigour and comfort that most Western travellers enjoy. Including AC, fans and high-speed internet. The result is an elegant yet strikingly exotic experience. The Resort is designed to accommodate a maximum of 10 guests allowing each guest a luxurious and comfortable stay. The private experience also ensures that the surf doesn't get too crowded. Kingfisher Mentawai gets its name from the amazing acrobatic kingfisher birds which regularly frequent the area. All in all, the Kingfisher Mentawai provides a remarkable experience that never disappoints.
What else do I need to know?
The locals enjoy soccer and volleyball.  If you visit the village you'll see daily volleyball matches and may even get an invite to join in!
What else is there to do in the area other than surfing?
For the culturally curious, the local village provides a window into the lives of a community with an unfamiliar yet fascinating lifestyle. You can get to know your friendly neighbours and hosts by joining in a wood carving or weaving lesson under a palm tree. Other local attractions include waterfalls and as always in this corner of Indonesia snorkeling, fishing, lounging, beach walks and strolling the trails are always a pleasant experience!
As guests of Kingfisher Mentawai, you can always relax in a shaded hammock or catch the breeze in their open-planned restaurant, where drinks and food are available. Meals are prepared using fresh fruits, vegetables, seafood and meats, cooked in a variety of styles including Western, Indonesian, Chinese and barbeques. You will be glad to know that Kingfisher Mentawai consider delicious and plentiful food an integral part of an enjoyable dining experience to ensure even the most ravenous appetites will be satisfied.
Where is Lance's Left surf spot?
Far to the south of the great majority of the Central Mentawai Islands destinations, Lance's Left is just across the bay from Bintangs on the southwest corner of Sipura Island.
How to get to Lance's Left?
When staying at Kingfisher Mentawai in front of Lance's Left you have two options in getting there.
Fast Ferry + Speedboat Transfer (Recommended)
Guests choosing this option will need to arrive in Padang the night before the day of the ferry departure. Kingfisher Mentawai will arrange a hotel for you to stay the night in Padang.
The ferry departs to Tuapejat at 6am on Mondays and 7am on Wednesdays and Fridays. It departs to Sioban at 7am on Sundays.When the ferry arrives in Tuapejat or Sioban, the resort speedboat will be waiting there to pick you up and complete the trip to Kingfisher.
Travel time to Kingfisher 
5 hours via Tuapejat and 4 hours via Sioban. Times are subject to weather conditions. Price: $350 USD/person return trip.
Private speed boat from Padang to Kingfisher.
A great option for bigger groups is a fast boat directly from Padang to the resort. This is the most time efficient option and can be tailored to suit any connecting flight schedules to/from Padang.
The cost to charter the speedboat is $ 4,000.00 USD for the entire boat round trip.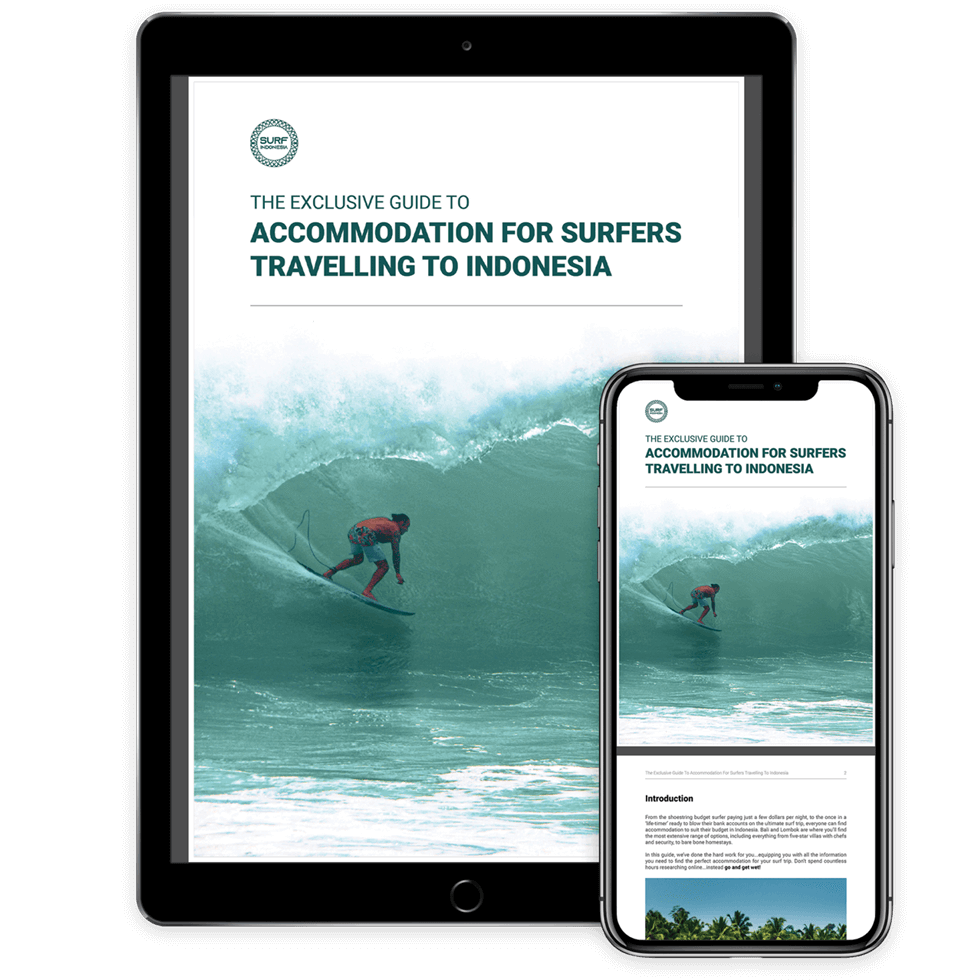 Download for free
The Exclusive Guide To Accommodation
For Surfers Travelling To Indonesia
🔍  65-page accommodation guide
🛖  Types of accommodation
🏄‍♂️  Perfect for any budget
✈️  How to book short or long term
🏝  Locations and recommendations