Ujung Bocur also known as The Point or Karang Nyimbor is Sumatra's most consistent wave.
Situated 30-minutes south of Krui near the small local village Tanjung Setia, Ujung Bocur is not only Sumatra's most consistent wave but the longest left too. Read on to find out about this laid back but core surfing area.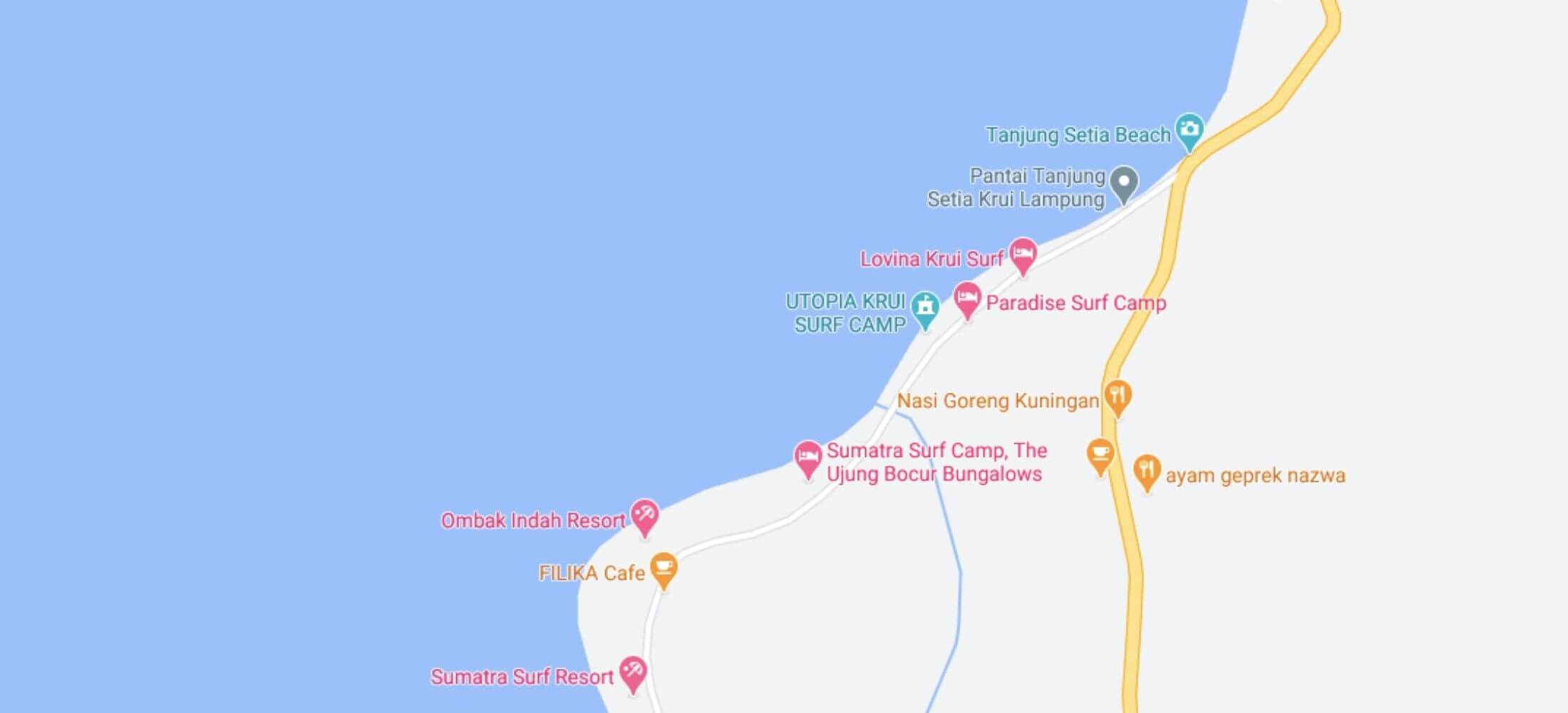 What kind of wave is Ujung Bocur?
This famous left-hand point break, barrels and grinds its way down 200-metres of reef. You'll find hollow sections at the top of the reef and long speed-walls down the reef. South swell sends wide peaks around the reef that don't line up properly missing the reef. While southwest swells line up best. On lower tides, the reef becomes shallow and very often if you straighten out or don't make the section you'll end up being pushed up onto the reef, therefore, booties come in handy on a lower tide. Every now and then you might be lucky enough to see advanced kneeboarders and bodyboarders charging super long but mostly unmakeable barrels up the point. It's epic watching the travel time they get.
What kind of wave is Lani's Reef?
In large south swells peaks that come in wide of Ujung Bocur hit further down the point past the keyhole and onto the next stretch of reef known as Lani's Reef and/or GTs. Here draining left-hand pits spit their guts out. The slabs that drain across this section of reef make great viewing more than anything. But at times you might see a charger out there trying to pick off one good one, every now and then, in between the 99% that shut down. Best on the high tide while wearing plenty of rubber i.e. booties and a long sleeve top that is at least a couple of millimetres thick. It's not really a wave you want to fall on.
What kind of wave is Volcanoes?
On big swells where the bottom of the point meets the main road a wide shifty left and right peak known as Volcanoes can produce some fun waves for the small wave frother! The right is better than the left. The right is fast down the line and longer than the left, while the left is slower and shorter. Good fun without the crowd.
Wave type:
Ujung Bocur: Point Break

Lani's Reef: Reef Break

Volcanoes: A-Frame
Wave difficulty:
Ujung Bocur: Experienced

Lani's Reef: Advanced

Volcanoes: Intermediate
Wave direction:
Ujung Bocur: Left

Lani's Reef: Left

Volcanoes: Left,Right
Wave bottom:
Ujung Bocur: Reef

Lani's Reef: Reef

Volcanoes: Reef
Booties:
Ujung Bocur: Low tide – yes
Lani's Reef: Yes!
Volcanoes: No
Surfboard type:
Ujung Bocur: All rounder or step up
Lani's Reef: Shortboard sharp rails
Volcanoes: Anything
Crowd factor:
Ujung Bocur: Medium Crowd

Lani's Reef: Empty

Volcanoes: Empty
Hazards:
Ujung Bocur: Crowds, reef
Lani's Reef: Slabs, super shallow
Volcanoes: Difficult access
Best swell direction:
Ujung Bocur: SW
Lani's Reef: S
Volcanoes: SW
Best wind direction:
Ujung Bocur: E
Lani's Reef: E
Volcanoes: NE
What tide is best:
Ujung Bocur: Mid tide
Lani's Reef: High tide
Volcanoes: Mid tide
Best tide movement:
Ujung Bocur: Incoming
Lani's Reef: Incoming
Volcanoes: Any
Wave consistency:
Ujung Bocur: Ultra-consistent
Lani's Reef: Inconsistent
Volcanoes: Semi-consistent
Best time of year:
Ujung Bocur: April – October
Lani's Reef: June – September
Volcanoes: June – September
Lineup vibe:
Ujung Bocur: Friendly
Lani's Reef: Scary
Volcanoes: Chil
Other names for spot:
Ujung Bocur: The Point, Ujung Bocur, Karang Nyimbor
Lani's Reef: GTs
How do you get in and out of the surf?
You have two options when paddling out at Ujung Bocur. The first option is the easiest and safest approach.
Option 1. Through the keyhole located at the end of the wave. Be careful coming back in through the keyhole on lower tides. If you float further down the reef with the current and paddle in over the next section of reef where another peak forms you can be left high and dry on a ledge of reef with sets of water pushing you across dry reef. It's not a good feeling and certainly not a good look especially when everyone is hanging out at Lani's for sunset beers and a prime view of you eating reef!
Option 2. Walk out over the reef at the top of the point and time it in between sets for a short paddle dash out back to enter the top of the lineup from behind the peak. Not for amateurs and don't snake those waiting in line!
Ujung Bocur is a long way from anywhere you can get medical treatment. It's also a very common occurrence that a lot of surf camps do not have a simple first aid kit on hand (especially budget surf camps). So it is vital that you are prepared and ensure that you have your own first aid kit with you.
What is the beach like?
On a high tide the beach along the point is almost non-existent. The beach consists of broken down shell, coral and course sand. With the foreshore lined with surf camps almost the entire way along the point you'll find nothing but a core surfing atmosphere.
There are a lot of accommodation options spread along the point at Ujung Bocur. Most are beachfront with great views of the long left-hand waves reeling down the reef while a few are situated across the road without the prime views. Sumatra Surf Resort is often a preferred option. 
Sumatra Surf Resort
Sumatra Surf Resort is located directly in front of Ujung Bocur. Surf all day and wash off in a hot water shower then chill out in the 10×5 metre pool, lookout tower or beach deck while you enjoy a few ice-cold Bintangs, beautiful surroundings, sunsets and prime views of the surf reeling down the point. Each bungalow has a large covered veranda, flyscreens on all windows, mosquito nets, bedside tables, wardrobe, air-conditioning, linen, pillows and bath towels (supplied/changed regularly). While out of the water at you're never short on things to do with a huge common-area building that provides free Wi-Fi, restaurant, bar, pool table, lounge area and Satellite TV. Showing the NRL, AFL, live WSL events including other sports channels and more. Sumatra Surf Resort also caters for beginner surfers with qualified surf instructors and custom surf lessons depending on your experience. All in all,  easy access to world-class waves and superb facilities in a super fun environment at an affordable price.
Cabana Surf and Stay
Cabana is located on the point at Ujung Bocur. Just a few minutes walk to the surf. Cabana has two Ocean View Rooms, one Twin Bedroom, and a Backpacker Sharelodge Room for four people. In total maximum occupancy is ten people. All rooms are complete with a private bathroom and air conditioning. Some rooms are equipped with a balcony. Cabana has experienced staff and provides a great atmosphere for all guests.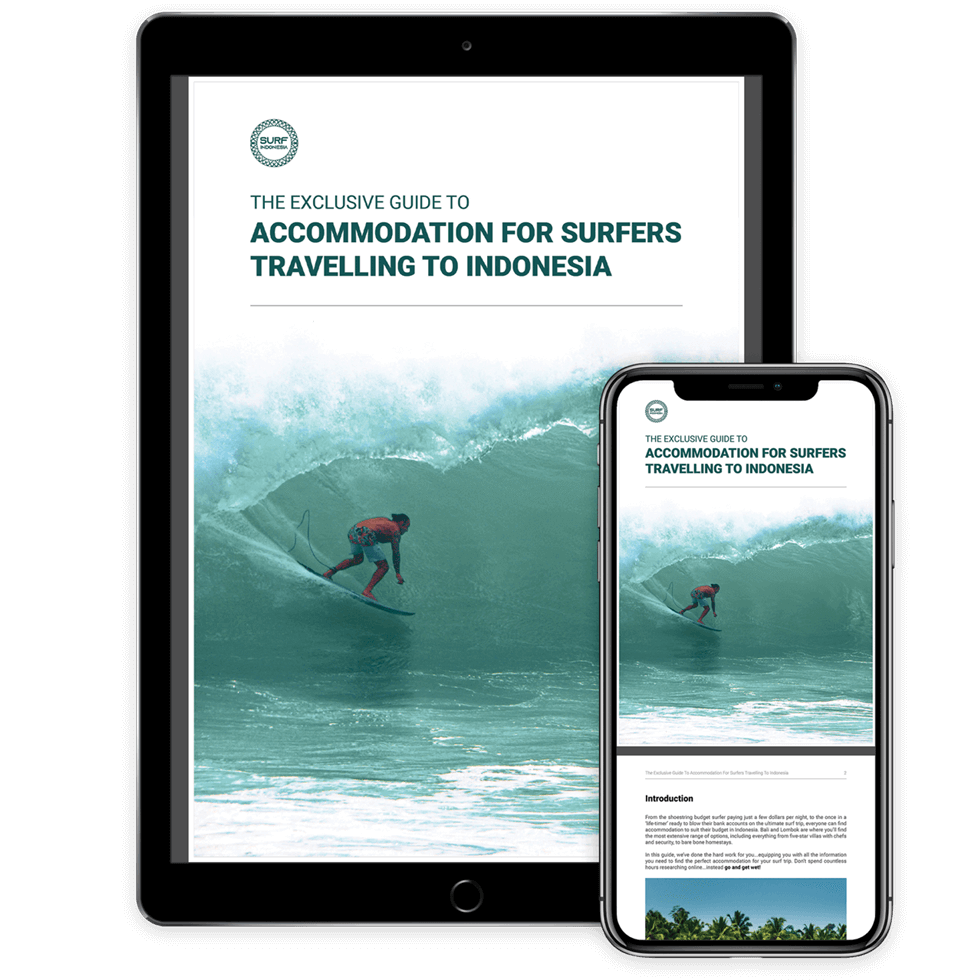 Download for free
The Exclusive Guide To Accommodation
For Surfers Travelling To Indonesia
🔍  65-page accommodation guide
🛖  Types of accommodation
🏄‍♂️  Perfect for any budget
✈️  How to book short or long term
🏝  Locations and recommendations
Nearby waves?
Besides surfing the longest left in Sumatra, you can choose from heaving barrels at Way Jambu 15-minutes south, softer reef breaks like Krui Left 30-minutes north or endless beach breaks at Mandiri Beach 15-minutes away. Not to mention other world-class waves within an hour drive.
Is there food nearby?
Most of the accommodations have 3 meals a day included. The added bonus is that the surf accommodations here go out of their way to prepare good meals for their guests day in and day out. Unlike other remote surfing areas in Indonesia. However Lani's Restaurant on the point is a great go to as outlined below.
Lani's Resto and Room
Owned and operated by a friendly bloke by the name of Deano, Lani's Resto and Room is the spot to congregate as the sunsets and sink the coldest Bintangs on the point. The food is pretty all-time as well, from burgers to Mexican, if you want a change-up from the food being served up in the neighbouring surf camps then call into Deano's and fuel up on some good food and great atmosphere. Another added benefit is how Deano designed the restaurant/bar with open-air walls facing the SE to take advantage of the dry season breeze. Keeping the place nice and cool while you enjoy a Bintang with some surfing on the big screen and a yarn or two. He also has a comfortable room for rent upstairs with epic views over the point!
How to get around?
Scooter or car. The roads are wide open sealed roads in very good condition and the traffic is very low key. Making it very easy to get around and cover some distance with no trouble at all.
What else is there to do in the area other than surfing?
Considering you'll be located in front of the most consistent wave in Sumatra you most likely won't have time to do anything else. Also the fact that it is a fair journey to get to South Sumatra you won't want to venture much further afield than the other world class waves (like Way Jambu in this image) within an hour away. Put your feet up in between surfs, have a beer at Lani's and make the most of the quiet area away from the hustle and bustle.
What else
do I need
to Know?
Access Our Exclusive Members-Only Content
Unlock the Spot Finder, all Spot Guides, Member Perks and more.
Where is Ujung Bocur?
Ujung Bocur is located 30-minutes south of Krui on the point beside the ting village of Tanjung Setia in South Sumatra.
How to get to Ujung Bocur?
Getting to Ujung Bocur is no walk in the park, however, the journey is nowhere near as difficult as it once was which is what kept the crowds away.
To get to Ujung Bocur you'll first fly into Soekarno-Hatta International Airport (CGK) located in Jakarta (West Java). This airport is often called Cengkareng by Indonesians, due to it being located in the Cengkareng district of Jakarta.
From Jakarta it is a short 40-minute flight to Bandar Lampung, in the very south of Sumatra. The airport in Bandar Lampung is known as Radin Inten II International Airport (TKG).
If you are unable to line up your flights to get in and out of Jakarta on the same day, you can spend the night at the Jakarta Airport by booking a capsule hotel at Digital Airport Hotel Terminal 3. The capsules are extremely pleasant to sleep in with air conditioning, tv, power points, and more. Plus they're cheap and easy to access. Some of the Asian restaurants in the airport are great too.
From Bandar Lampung it is a long but very scenic five-hour drive minimum (more likely six hours) over mountain ranges to Ujung Bocur. Most surfers arrange a driver through their accommodation to pick them up from the airport in Bandar Lampung. Once you land and pick up your luggage, wait for your driver in the middle bay of the pick up area outside. If you hang out alongside the airport in the taxi pick up and drop off area you'll be asked continually if you want a taxi so it's best to wait in the middle bay.
It is also great to know that recently, instead of the long five-hour drive from Lampung, there are sometimes a few 40-minute flights from Bandar Lampung to Krui with 'Wings Air' available each week. So jump online and try your luck at flying the final leg to save some restless hours cramped in a car.