Krui is home to a large number of waves situated inside a large protected bay.
Unlike most other waves in South Sumatra the strip of waves that line the southern end of the bay in Krui are a lot more sheltered from the open ocean swells. This makes for some fun conditions for beginner and intermediate surfers most of the time. When the swell is up from the west the surf can turn on for more experienced and advanced surfers. There are well over a dozen world-class waves scattered along the south-west coastline of Sumatra stretching over 100 kilometres. Krui is situated roughly in the middle of this region enabling you to drive an hour north or south for world-class waves exposed to open ocean swells.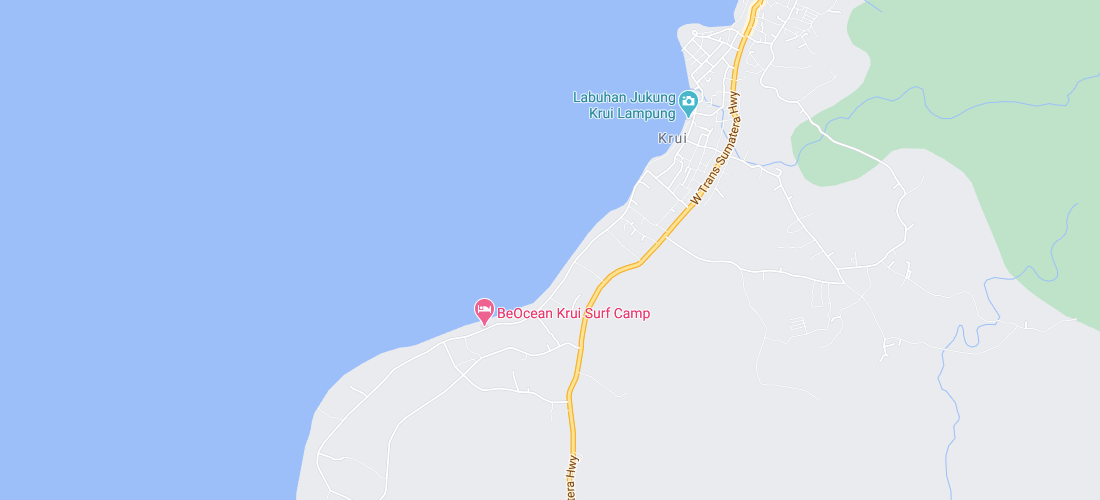 What kind of wave is Krui Right?
Fast and hollow this imperfect right hander provides some fun away from the crowds. In perfect conditions it can produce long rides, however, 99% of the time it throws out unmakeable sections. Look for all time days in a large west swell when waves break clear of the reef. Although it breaks through all tides it is best mid to high tide as often low tide gets shallow and closes out. The end section which breaks over sand can get really fun and rippable in dumpy conditions. Stay away after heavy rains as this surf spot can get very polluted from the river that opens up and empties out into the lineup after rain.
What kind of wave is Krui Left?
Krui Left is often compared to a slightly less perfect version of Bingin in Bali but without the shallow end section. With the right swell Krui Left can produce mechanical barrels otherwise it is mostly a rippable wall great for vertical snaps in the pocket and open face carves. Gets really mellow and slow on the high tide and fast and bowly on the low tide. All in all a super fun wave that appeals to any level of surfer depending on the conditions. Paddle out through the keyhole on the top side of the wave or from the beach on the bottom side of the wave.
What kind of wave is Krui Bowls?
Is good for one turn or a quick barrel and exit before it gets too shallow. Hardly anyone surfs it because the odds of hitting the reef are high. There is always some sort of wave breaking when Krui Left is working, however, it is very fickle in regards to breaking well. Likes a large south swell angle and a high tide. Be very aware of the shallow reef and coral heads in the end section and stay away through the lower tides as it is too shallow.
What kind of wave is The Peak?
Wedgy peak that is perfect for going right. Take off behind the peak and back door the barrel for a short but chunky pit. But make sure you get under the lip on the drop otherwise you will most likely get washed up onto a ledge of sharp reef. Perfect for anyone that loves dredgy barrels!
What kind of wave is Leftovers?
Located in front of BeOcean Krui, Leftovers starts as a wedge that rolls over the reef where you can paddle into a left hand barrel off the drop, sit on the foam ball and get barrelled for a few seconds. If you make it out you'll find a section ripe for a couple of quick turns before pulling off or committing to another barrel that is sometimes makeable on a very shallow end section. Another technical takeoff, that bends around the reef towards the beach. Well suited to bodyboarders and experienced barrel riders
What kind of wave is The Slab?
The Slab, also known as Amy's Left, due to being located in front of Amy's Place is another shallow barrel favoured by bodyboarders due to its critical drop into a throaty left-hand slab. While you'll find advanced surfers that can handle the drop and navigate the tube over shallow reef out there at times as well.
Wave type:
Krui Right: Reef Break

Krui Left: Reef Break

Krui Bowls: Reef Break

The Peak: A-Frame

Leftovers: Reef Break

The Slab: Reef Break
Wave difficulty:
Krui Right: Intermediate

Krui Left: Intermediate

Krui Bowls: Intermediate

The Peak: Experienced

Leftovers: Experienced

The Slab: Experienced
Wave direction:
Krui Right: Right

Krui Left: Left

Krui Bowls: Left

The Peak: Right

Leftovers: Left

The Slab: Left
Wave bottom:
Krui Right: Reef,Sand

Krui Left: Reef

Krui Bowls: Reef

The Peak: Reef

Leftovers: Reef

The Slab: Reef
Booties:
Krui Right: Personal preference
Krui Left: Personal preference
Krui Bowls: Yes
The Peak: Personal preference
Leftovers: Yes
The Slab: Yes
Surfboard type:
Krui Right: Shortboard
Krui Left: Anything
Krui Bowls: Shortboard
The Peak: Shortboard
Leftovers: Shortboard
The Slab: Shortboard
Crowd factor:
Krui Right: Low Crowd

Krui Left: Medium Crowd

Krui Bowls: Empty

The Peak: Medium Crowd

Leftovers: Low Crowd

The Slab: Low Crowd
Hazards:
Krui Right: Shorebreak, pollution
Krui Left: Crowds, wide-sets
Krui Bowls: Closeouts, shallow
The Peak: Going over the falls
Leftovers: Shallow reef
The Slab: Shallow reef
Best swell direction:
Krui Right: W
Krui Left: WSW
Krui Bowls: S
The Peak: WSW
Leftovers: WSW
The Slab: WSW
Best wind direction:
Krui Right: E
Krui Left: E
Krui Bowls: E
The Peak: SE
Leftovers: SE
The Slab: SE
What tide is best:
Krui Right: Mid tide
Krui Left: Low tide
Krui Bowls: High tide
The Peak: Mid tide
Leftovers: Mid tide
The Slab: High tide
Best tide movement:
Krui Right: Incoming tide
Krui Left: Low to mid tide
Krui Bowls: Incoming to high tide
The Peak: Incoming tide
Leftovers: Mid to high tide
The Slab: Incoming to high tide
Wave consistency:
Krui Right: Semi-consistent
Krui Left: Consistent
Krui Bowls: Inconsistent
The Peak: Consistent
Leftovers: Consistent
The Slab: Consistent
Best time of year:
Krui Right: April – October
Krui Left: April – October
Krui Bowls: April – October
The Peak: April – October
Leftovers: April – Octobere
The Slab: April – October
Lineup vibe:
Krui Right: Peace and quiet
Krui Left: Frothing
Krui Bowls: Solitude
The Peak: Backdooring
Leftovers: Mellow
The Slab: Mellow
Other names for spot:
Krui Right:
Krui Left:
Krui Bowls: The Bowl, Keyhole
The Peak:
Leftovers:
The Slab: Amy's Left
How do you get in and out of the surf?
At most spots in Krui there is a very clear channel for you to paddle out through. Check the conditions out for a while and then pick your safest route out.
What is the beach like?
The bay at Krui is home to a long stretch of course and fine sand sections of beach. Unfortunately expect some rubbish.
BeOcean Krui
BeOcean Krui offers quality accommodation in South Sumatra set right on the beach with a variety of world-class reef breaks like Leftovers and The Peak right on their doorstep plus access to numerous waves nearby. Their super comfortable bungalows and facilities are surrounded by beautiful, lush gardens, which includes an infinity swimming pool, stunning views and chilled out vibes alongside with amazing food each day make this your perfect getaway. Ideal for all surfers, couples with a non-surfer partner and families. Get spoilt for choice with a variety of healthy, tasty dishes from breakfast to dinner that ensure you're always charged up with enough energy to surf all day every day! Affordable packages include stress-free surf trips customised to suit your stay with three deliciously healthy meals each day, unlimited self-service water, coffee, tea, wifi, surf guiding and great amenities. Surf photography can be hired on-site as well. Enjoy the freedom and versatility of their open schedule surf trips to provide you with a stress-free stay.
DEALS ON PLACES TO STAY IN KRUI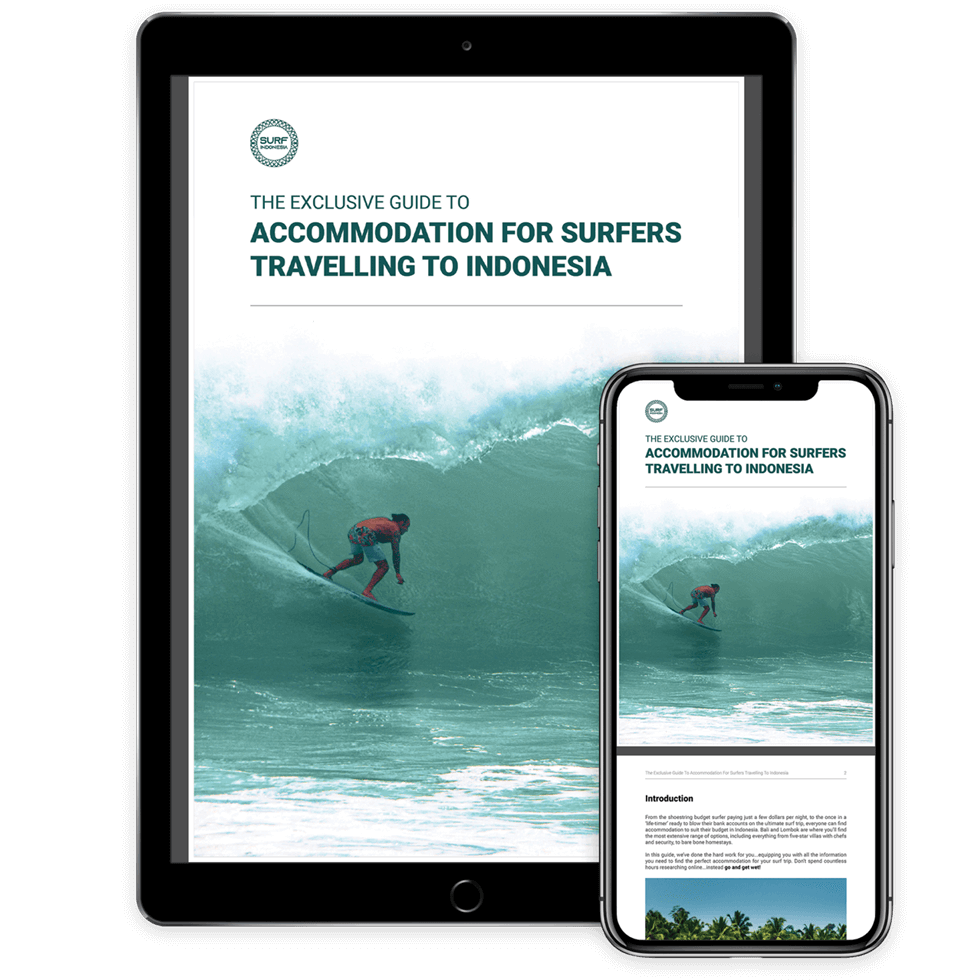 Download for free
The Exclusive Guide To Accommodation
For Surfers Travelling To Indonesia
🔍  65-page accommodation guide
🛖  Types of accommodation
🏄‍♂️  Perfect for any budget
✈️  How to book short or long term
🏝  Locations and recommendations
When is the best time of year to visit Krui?
Krui is sheltered from the open ocean, making it best to visit from April-October during peak swells. Although the waves get really good in Krui they can often be frustratingly small for experienced surfers. However, surf spots south of Krui are exposed to ocean swells and therefore provide some of the most consistent surf in Indonesia.
What are the crowds like?
Crowds are very hit or miss in Krui. At times Krui can be quite crowded and frustrating, while sometimes the crowds can be very light for weeks at a time. It's very difficult to time your trip right when considering how crowded it is going to be, however, generally earlier in the season around April or May you'll have more luck finding less people in the lineup and a good chance of swell
How to get around?
The roads are in great condition by Indonesian standards and the traffic is light so getting around by car is easy. However, the best way to get around is by scooter if you don't mind traveling longer distances of 30 minutes or more by scooter if you plan on venturing outside of Krui for surf.
Is there food nearby?
Sumatra is world renowned for its spices and succulent local dishes.
What else is there to do in the area other than surfing?
Krui is the largest town in the area although nothing like you'll find in Bali. It does have a big central market, lots of small stores scattered around the main streets of the township, pharmacies, local restaurants, a basic surf shop and even an Immigration Office. Krui also has the only ATM machines in the area, so if you are staying outside of Krui and you're in need of cash, you'll have to make the trip.
There is a lot of coastline to explore in South Sumatra so get yourself a scooter and venture along the main road that follows the coastline to see what else you can find.
What else
do I need
to Know?
You can also stay in other areas of surf north and south of Krui.
Mandiri Beach, 20 minutes south of Krui, has some nice villas and beachfront accommodation.
The Point also known as Ujung Bocur is 40 minutes south of Krui and is lined with basic to resort-like surf camps. Way Jambu 'Sumatran Pipe' is 10 minutes south again if you're looking for a real challenge.
Within 60 minutes north of Krui is 'Jennys and Jimmys,' with plenty of long hollow waves for experienced surfers. There are homestays available there too.
Banana Island is a one-hour boat trip from Krui that's definitely worth ticking off your list.
Access Our Exclusive Members-Only Content
Unlock the Spot Finder, all Spot Guides, Member Perks and more.
Where is Krui?
Krui is a small sleepy town located in the heart of South Sumatra's western coastline of surf.
How to get to Krui?
It is no walk in the park getting to Krui, however, the journey is nowhere near as difficult as it once was which is what kept the crowds away.
To get to Krui in South Sumatra you'll first fly into Soekarno-Hatta International Airport (CGK) located in Jakarta (West Java). This airport is often called Cengkareng by Indonesians, due to it being located in the Cengkareng district of Jakarta.
From Jakarta, it is a short 40-minute flight to Bandar Lampung in the very south of Sumatra. The airport in Bandar Lampung is known as Radin Inten II International Airport (TKG).
If you are unable to line up your flights to get in and out of Jakarta on the same day, you can spend the night at the Jakarta Airport by booking a capsule hotel at Digital Airport Hotel Terminal 3. The capsules are extremely pleasant to sleep in with air conditioning, tv, power points and more. Plus they're cheap, easy to access and some of the Asian restaurants in the airport are great.
From Bandar Lampung, it is a long but very scenic five-hour drive minimum (more likely six hours) over mountain ranges to Krui on the southwest coastline of Sumatra. Most surfers arrange a driver through their accommodation to pick them up from the airport in Bandar Lampung. Once you land and pick up your luggage, wait for your driver in the middle bay of the pick up area outside. If you hang out alongside the airport in the taxi pickup and drop off area you'll be asked continually if you want a taxi so it's best to wait in the middle bay.
It is also great to know that recently, instead of the long five-hour drive from Lampung to Krui, there are sometimes a few 40-minute flights from Bandar Lampung to Krui with 'Wings Air' available each week. So jump online and try your luck at flying the final leg to save some restless hours cramped in a car.