Nusa Ceningan is your chance to unwind, relax and kick back in beautiful surrounds away from the crowds.
This little island is connected to Nusa Lembongan by the famous yellow bridge which you can drive by scooter. It is a true oasis away from the hustle and bustle of Nusa Lembongan and Bali with a super consistent surf break and a few small ripples available for stand-up paddleboarding or a big longboard. There is also plenty of fun things to see and do outside of the surf so either way, you'll be stoked you made the journey to Ceningan.
What kind of wave is Ceningan?
Ceningan is predominantly a left-hand point break which picks up a lot of swell as it rolls into Mahana Point. Ultra-consistent, this long left-hander dishes out big bowls in the pocket and wide-open faces, perfect for power surfing when it works well. Unfortunately, strong trade winds from the southeast and currents can easily turn the waves soupy. Although Mahana Point does provide some protection from the winds in the dry season. Ceningan works best on smaller swells where it forms an A-frame which bowls left and right, and is often a spot to get away from thick crowds on Nusa Lembongan. It also makes a great low tide option when all the main breaks on Nusa Lembongan aren't working.
Booties:
Ceningan: Personal preference
Surfboard type:
Ceningan: Shortboard
Hazards:
Ceningan: Currents, random waves, reef
Best swell direction:
Ceningan: SSW
Best wind direction:
Ceningan: E
What tide is best:
Ceningan: Low
Best tide movement:
Ceningan: Rising
Wave consistency:
Ceningan: Ultra-consistent
Best time of year:
Ceningan: Year-round
Lineup vibe:
Ceningan: Mellow
Other names for spot:
Ceningan: Ceningan: Mahana Point, Secret Point
How do you get in and out of the surf?
From Secret Point Beach inside of Mahana Point, it is an easy paddle out. Watch out for the shallow section of reef on the inside of the point after you make your way out through the small lagoon from the beach.
What is the beach like?
Secret Point Beach is a beautiful sandy beach protected from any wind bar an uncommon wind directly from the north which is never usually very strong anyway. It's a perfect spot for sunbathing, relaxing or simply just hanging out.
Are there other spots to surf on Nusa Ceningan?
Sometimes you can find small lines of sets rippling through the channel between Nusa Ceningan and Nusa Lembongan. It is best timed on a rising low tide with the incoming push on a stand-up paddleboard. Even if you don't score a few rolling rides the channel is a beautiful spot to get out on a paddleboard and explore.
Where can I hire a surfboard?
Old surfboards short and long are available for hire at Mahana Point Restuarant. There are also a few surf schools and board rental shops on Nusa Lembongan which you can contact before your trip to organise yourself a board. That way you know you're sorted.
Try Eddy at Nusa Lembongan Surfboard and Sup hire or Monkey Surfing.
What else is there to do in the area other than surfing?
Mahana Point Cliff Jumping & Sunset Beers
Mahana Point cliff jump is a simple open-air restaurant with epic views, simple local food, an endless supply of Bintangs and two platforms you can pay a small fee to jump off into the ocean. The cliff jump are a popular attraction but it's also a great spot for sunset drinks and is often quite busy.
The Mahana Point cliff jump has a ten-metre diving platform and a five-metre diving platform. There is a ladder to help you get out of the water and up onto the rocks or you can also swim around into the lagoon and onto Secret Point Beach. The ten-metre jump costs 50,000 rupiahs and the small jump costs 25,000 rupiahs.
What else
do I need
to Know?
Surfers staying on Nusa Lembongan will regularly scooter across to surf Ceningan. Particularly when the surf is small around Nusa Lembongan, surfers will head straight to Ceningan due to it being more exposed to the swell. However, you do get over the drive after a couple of trips and there are plenty of great places to stay on Nusa Ceningan if you are tossing up between the two islands.
Where is Nusa Ceningan?
Nusa Ceningan is the small island between the larger islands of Nusa Lembongan and Nusa Penida. It is connected to Nusa Lembongan by the yellow bridge.
How to get to Nusa Ceningan?
The best way to get to Nusa Ceningan is via Nusa Lembongan from Bali by fast boat.
Book your fast boat from Sanur, Bali to Nusa Lembongan online with one of the many companies to choose from. (Fast boats also travel from Benoa harbour and Padang Bai port in Bali as well as the Gili Islands).
If you did not opt for a shuttle service when booking your fast boat get yourself to Sanur Beach yourself with plenty of time to spare.
When your fast boat is ready your luggage will be loaded and then you can board.
The trip across to Nusa Lembongan from Sanur usually takes approximately 35 minutes arriving at Nusa Lembongan.
From the drop off you will travel to your accommodation via small trucks fitted with two seats that face each other long ways across the deck of the truck and a canopy over top. They are usually quick and convenient, however, expect a to be squished in with other arrivals, intermit but fun!
Note that if there are large ocean swells then all fast boats will be cancelled. In these circumstances, it is not uncommon for travellers to charter a helicopter on their return trip.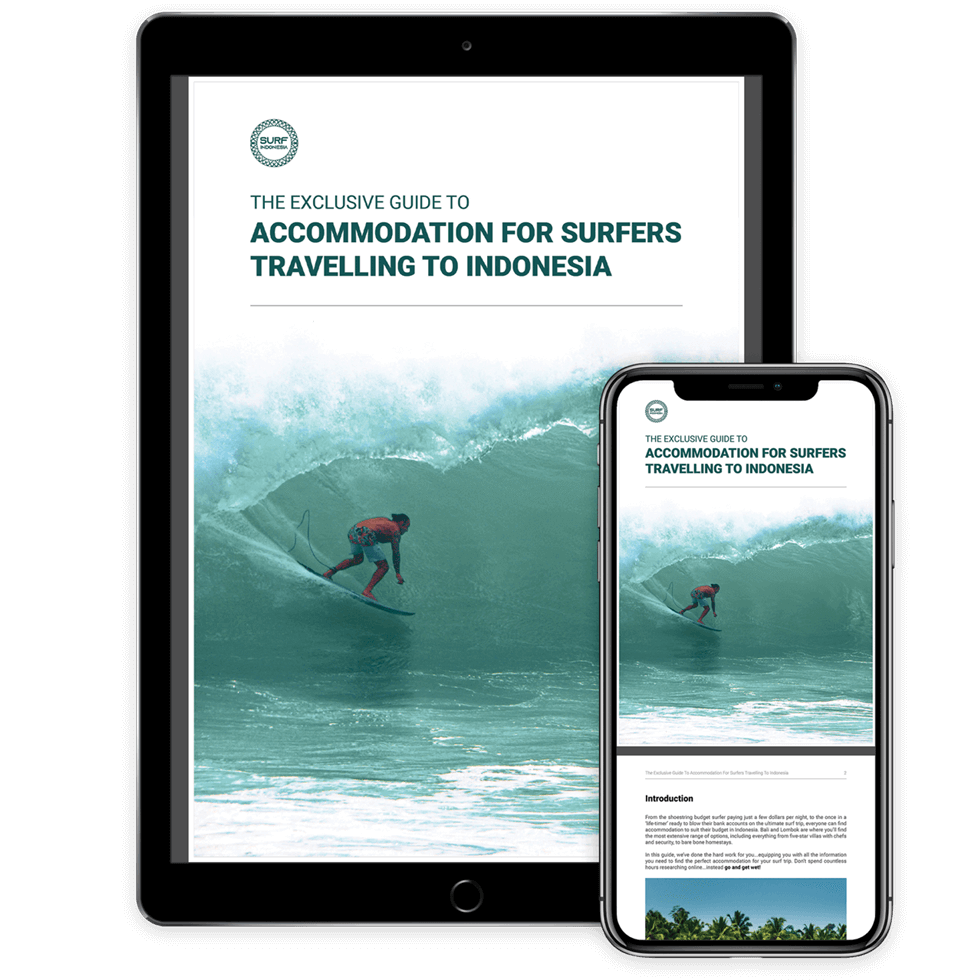 Download for free
The Exclusive Guide To Accommodation
For Surfers Travelling To Indonesia
🔍  65-page accommodation guide
🛖  Types of accommodation
🏄‍♂️  Perfect for any budget
✈️  How to book short or long term
🏝  Locations and recommendations