Sibigau Island Surf Spots
You may not have heard much about Sibigau Island but you'll have some 'ahuh' moments when you see whats on offer!
This small and extremely remote island in the southern Mentawais region of South Pagai dishes up a range of waves for intermediate, experienced and advanced surfers that will stick in your memory for a lifetime. Lefts, rights, and infamous slabs will have you booking tickets in no time. Read our complete guide to see what you've been missing out on.
What kind of wave is Thunders?
Heavier and thicker-lipped than some of the other waves in this corner of the Mentawai Islands, you can expect Thunders to be breaking under nearly any swell condition. Peaky and less predictable than neighbouring breaks, be prepared for an extended drop-in on the bigger days, clean barrel sections, and open shoulders ripe for maneuvers along the 300 metre stretch of reef. Higher tides usually offer fast barrel sections over shallow reef shelf closer to the shore. While lower tides typically provide long shoulders further out to sea. In small south swells, the top section of the reef can produce long hollow barrels. At Thunders, you're likely to get caught inside more than once and regardless of crowds, you can expect 3-4 surfers catching most of the waves as they read the shifty peaks and reef below. Thunders is super fun and an exciting wave for experienced and advanced surfers.
What kind of wave is Thunder Box?
While Greenbush is the Mentawais pin-up left-hand slab, Thunder Box is well-and-truly the go-to right-hand slab. This wedging peak, also commonly known as Rednuht, provides one of the widest barrels you'll find in the Ments and is a spectacle to be seen even if you're not up to entering the lineup. Peaking up from deep water and folding on itself you'll take-off and backdoor a throaty stand up barrel. Short but super intense it is a bucketlist spot for many capable surfers. This spot will come alive in a midsize swell as long as the direction lines up with the reef and can handle a lot of size when the conditions align. You can often go left as well, however, Thunder Box is predominantly a right.
What kind of wave is Sibigau Rights?
Unlike the other waves on Sibigau Island, Sibigau Rights prefer a west swell and is a great option in the prevailing north wind. An excellent choice for intermediate surfers looking to score an empty line-up amongst friends. Even when Thunders is macking, Sibigau Rights will be half the size providing a forgiving and workable right shoulder and occasional steeper section with some potential time in the shade.
Wave type:
Thunders: Reef Break

Thunder Box:

Sibigau Rights: Reef Break
Wave difficulty:
Thunders: Experienced

Thunder Box: Advanced

Sibigau Rights: Intermediate
Wave direction:
Thunders: Left

Thunder Box: Right,Left

Sibigau Rights: Right
Wave bottom:
Thunders: Reef

Thunder Box: Reef

Sibigau Rights: Reef
Booties:
Thunders: Yes
Thunder Box: Personal preference
Sibigau Rights: Personal preference
Surfboard type:
Thunders: Step-up to gun
Thunder Box: Short pin tail
Sibigau Rights: Anything
Crowd factor:
Thunders: Low Crowd

Thunder Box: Empty

Sibigau Rights: Empty
Hazards:
Thunders: See below
Thunder Box: See below
Sibigau Rights: See below
Best swell direction:
Thunders: S, SSW, SW
Thunder Box: S
Sibigau Rights: WSW
Best wind direction:
Thunders: SE
Thunder Box: N
Sibigau Rights: N
What tide is best:
Thunders: All tides
Thunder Box: Mid tide
Sibigau Rights: Mid tide
Best tide movement:
Thunders: All tides
Thunder Box: Mid to high
Sibigau Rights: Incoming to high
Wave consistency:
Thunders: Ultra-consistant
Thunder Box: Semi-consistent
Sibigau Rights: Consistent to high
Best time of year:
Thunders: April – October
Thunder Box: April – October
Sibigau Rights: April – October
Lineup vibe:
Thunders: Mixed bag
Thunder Box: Rednuhts
Sibigau Rights: Ultra-chill
Other names for spot:
Thunders: Thunders Left
Thunder Box: Rednuht
Sibigau Rights: Thunders Right
What are the most common hazards?
Thunders has plenty to watch out for. Be aware of shifty peaks, random sneaker waves, strong currents, and rouge whitewater on the inside. If it's small everywhere else expect some crowds to show up.
Thunder Box is renowned for its heavy lip for obvious reasons and a few coral heads on the inside. Try not to get stuck in the impact zone and if in doubt, don't go out.
Sibigau Rights is fairly safe and sound as far as surf in the Mentawai's goes. Get the rundown from your surf guide before you hit the lineup.
How do you get in and out of the surf?
If you're staying at the Southern Mentawai Outpost you can approach Thunders from shore, just keep your eye out for keyholes in the reef and don't paddle out in the take-off zone. At Thunder Box and Sibigau Rights, you'll be entering the lineup by boat. At Sigibau Rights the break opens into a sheltered channel which floats you back out the peak with little paddling issues. While at Thunder Box your biggest challenge besides getting under the lip on the drop is finding the right spot to sit in the lineup. Start further out and work you way in so you don't get caught inside.
What is the beach like?
Think beautiful white sand beaches without a soul in sight other than those also staying at the Southern Mentawai Outpost.
Southern Mentawai Outpost
The Southern Mentawai Outpost is an all-inclusive, ecologically conscious, surf resort located on the previously uninhabited island of Sibigau. The island is home to the world-class surf break 'Thunders', one of the most consistent waves in Indonesia and they are located right in front of the break. SMO is entirely solar-powered; their buildings are constructed entirely of Bamboo and designed and positioned with prevailing winds in mind. Due to the mindful design of the buildings, air conditioning is unnecessary and they'll have you sleeping comfortably under your sheets at night. There are no villages on the island, allowing you to enjoy near-exclusive access to expansive white-sand beaches and jungle trails. SMO holds a maximum of ten guests, which prevents crowds and gives you a more personal experience, similar to the experience of a boat trip, with a high staff-to-guest ratio. If you're looking for privacy, peace of mind and pumping waves; this is the place to get it!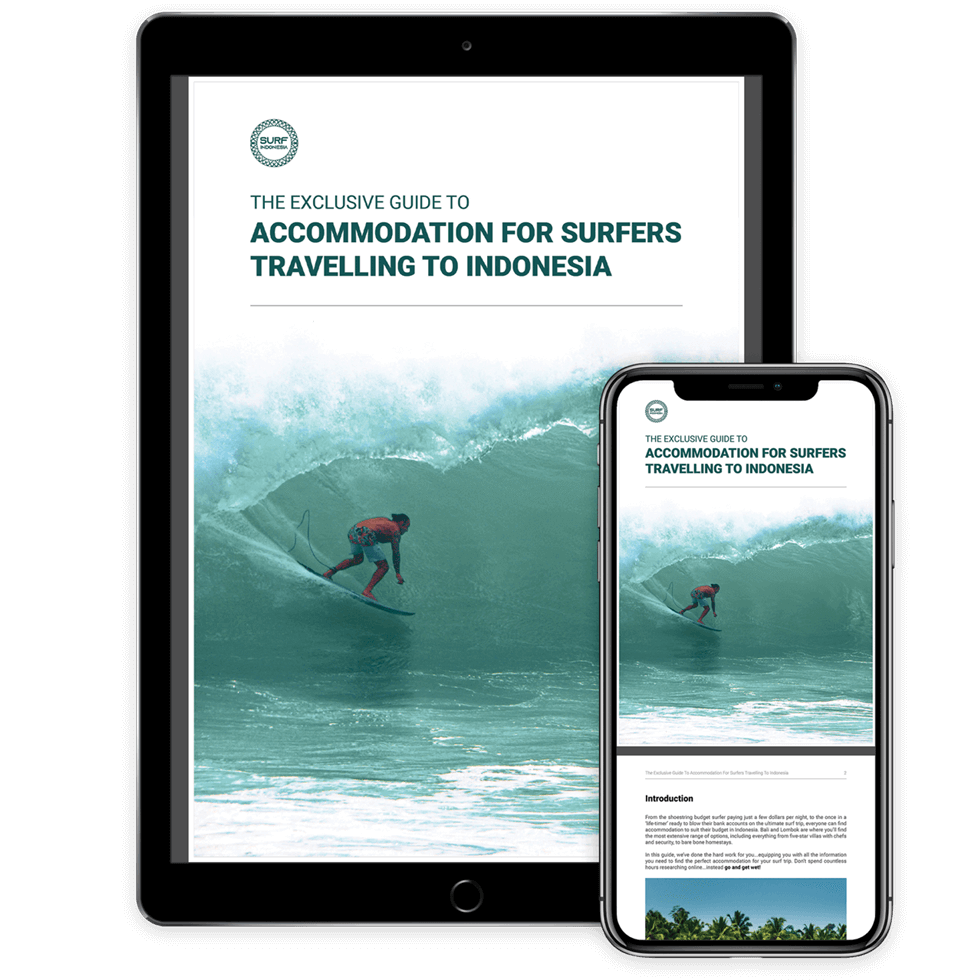 Download for free
The Exclusive Guide To Accommodation
For Surfers Travelling To Indonesia
$12.99 Free

🔍  65-page accommodation guide
🛖  Types of accommodation
🏄‍♂️  Perfect for any budget
✈️  How to book short or long term
🏝  Locations and recommendations
Veteran tips
1. The smaller Thunders gets, the harder it barrels. At head high height it can spin off barrels of 3 seconds or more. Thunders can handle all sizes, and for the chargers, there are days with legitimate 20-foot face waves. If that isn't your thing, then Sibigau Rights provides more user-friendly surf and there are many other breaks in the area, including the renowned Roxy's aka Coldsprings, which offers fun barrels and walls when Thunders is throwing out waves beyond your limits. Rag's Right and Rag's Left are also within sight of Thunders, less than 3 miles away. SMO has boats standing by to get you into the waves of your dreams.
2. Take a strong leash and a bigger board for Thunders you'll need it. More volume will help with getting into waves, longer bottom turns and navigating certain sections. Make sure you've got some backup boards and leashes as well. Not many surfers return home with all the boards they arrived with.
3. If you are going to attempt to take on Thunder Box make sure you have been putting in the time at slabs prior to your trip. You don't want to be remembering the one that got away for the rest of your lifetime.
What else is there to do in the area other than surfing?
SMO owner, operator and guide Eric is an ISA Level 2 certified surf coach, so if you want to perfect your pop up, your barrel stall, or even your tail waft, extra instruction with him including video analysis, is available for a small fee. However, day-to-day pointers are free…just ask. They want you to get the best waves of your life, so let them help you do it and get the most from an epic trip.
Other than surfing Sibigau offers endless empty beaches and jungles for hiking and exploring and SMO can provide information about the local flora and fauna you may encounter on your adventures. The reefs are full of life at night, SMO love to eat what they catch and get excited when guests want to go hunt lobsters, collect sea snails or go spearfishing. They also encourage guests to embrace sustainability ethics as well.
What else
do I need
to Know?
Crowds are generally super mellow unless everywhere else is flat. In that case, boats sometimes flock to Thunders in search of waves so be sure to clock up your wave count during swells.
Where is Sibigau Island?
Sibigau Island is located just over three kilometres off the middle of the western coastline of South Pagai in the Southern Mentawai Islands.
How to get to Sibigau Island?
Get yourself to Padang, in Sumatra.
Take the ferry from Padang to Sikakap. The ferry route south-southwest to Sikakap port on North Pagai is approximately 177 kilometres. The fast ferry makes this crossing in about four hours (7 am-11 am) once per week, while the slow ferry runs overnight for 13-hours (5 pm-6 am) twice per week.
If you're staying at the Southern Mentawai Outpost, they will pick you up from Sikakap in one of their boats and take you the rest of the way, approximately 24 kilometres to Sibigau Island on the west coast of South Pagai.