Long, fast and hollow, Rifles is a natural footers dream wave. On a good day, Rifles may be the best wave in the world.
A clear open barrel at lightning speed careens down a long line of live coral reef off the eastern edge of Pulau Karangmajat (the opposite side to Kandui, Karangmajats other world-famous wave). There isn't another island on the planet that can claim the calibre of two world-class waves in the form of a right and left such as Rifles and Kandui. Inexperienced reef surfers should keep well clear of Rifles and experts should be prepared for maintaining high speeds to stay ahead of Rifles tube spit.
What kind of wave is Rifles?
In the channel, you can undoubtedly tell that Rifles is a powerful and hollow wave that could serve you up with a barrel of a lifetime. However, from the angle you anchor up in, you can't tell how ridiculously fast and long Rifles is. But once you paddle into your first one, drop in and gun it for the green room, you quickly learn that the foam ball is always right on your heels. Be prepared for long hollow barrels and the odd surprise unmakeable section that shuts down. Keep your eyes out for northwest winds, strong south swell, and overhead to double overhead conditions.
Booties:
Rifles: Not necessary
Surfboard type:
Rifles: Sharp pin tail step-up
Hazards:
Rifles: Fast hollow waves, strong currents, shallow reef and potential to be dragged over the reef on the inside
Best swell direction:
Rifles: S
Best wind direction:
Rifles: NW
What tide is best:
Rifles: Mid to high tide
Best tide movement:
Rifles: Rising
Wave consistency:
Rifles: Inconsistent
Best time of year:
Rifles: April – October
Lineup vibe:
Rifles: Frothers waiting for the wave of their dreams
Other names for spot:
Rifles: Kandui Right
Paddling out at Rifles
Although there is a significant channel in the reef to the south of Rifles that has been carved out by the river mouth on the southeastern edge of Pulau Karangmajat and another channel to the north of Rifles on the more sheltered side of the island you will be accessing this wave by boat. Before paddling out into the lineup, take your time to watch a few sets from the channel on the northern side of Rifles where you'll anchor up.
What is the beach like?
The beach on Karangmajat Island consists of a thin strip of beautiful white sand beach, scattered with coral and seashells.
Kandui Resort
Kandui Resort has direct beach access to the heart of the "Playgrounds" surfing region and is the closest accommodation to Rifles. With 70% of their annual guests being return guests, their philosophy is to put the guest first in and out of the water. By providing access to arguably the best surf in the world, all the comforts of the western world and an atmosphere that is one of a kind they certainly do more than putting the guest first in and out of the water. During your stay, your home will be one of only 8 "umas", traditional thatched houses built in the traditional Mentawai style by local Mentawaian craftsmen. Each is clean, spacious, comfortable, and offers an unparalleled view to the waves, ocean, and islands that surround the resort. Hand-woven vaulted ceilings and the natural design features provide a sense of adventure and culture while the interior design features provide a feeling of home.
Kandui Villas
Kandui Villas has taken the Mentawai experience to a whole new level as it provides its guests with the extravagance of high-quality accommodation despite being located in this remote surfing haven. The amenities are outstanding, including an infinity pool, and spacious luxury Umas (traditional Mentawai buildings) for accommodations made from sustainably sourced and fine finished local hardwoods, each uniquely themed with carvings designed to highlight traditional art, culture, and the local environment. Decadent gourmet meals are prepared fresh daily by Kandui Villas Personal Chef, with made-to-order breakfasts served every morning. Surf Guides are all CPR/First Aid Certified and are ready to transport and accompany guests into any of the 20+ waves within a 30-minute speedboat ride from the Villas.
What else do I need to know?
When it comes to surfing Rifles the crew at Kandui Resort know it best and they share some great advice. "If you catch it good, just one good wave, your trip is a success. The trick here is to be on the look-out for sets as you're paddling back out. Believe us, you can take off anywhere down the line and still get the best wave imaginable – good luck!"
What else is there to do in the area other than surfing?
Experience The Mentawai Culture (Kandui Resort)
The local Mentawaiian experience is a major part of the Kandui Resort experience. At the end of every trip, the local shaman of the Mentawais makes the trek down from the jungle to visit the resort. Shamen are the traditional medicine men of the Mentawais and stop by to perform a traditional ceremony showcasing a unique mix of dance, drum beats and chants. They also offer guided tours of the resort's local staff's village on any day.
Floating Dock (Kandui Resort)
The floating dock is literally located within a stone's throw of 4 Bob's surf spot. Making it is the perfect place to relax in between sessions while you heckle your friends or sink some ice cold beers. If you're a guest, Kandui Resort provides free Bintangs every afternoon on the dock, how good is that!
Games Room (Kandui Resort)
The Game Room is located adjacent to the restaurant and offers a quiet area to get online, watch movies, and hang out. Also included is an extra bar area, pool table and ping pong. Built in 2010 they had envisioned it to be the new hub of their resort, however, guests still seem to enjoy hanging out in the restaurant.
The Swimming Pool (Kandui Villas)
Kandui Villas is one of only a few in the Mentawai Islands with a swimming pool and they hired the best pool builders in South East Asia to do it. This pool is 25 metres in length x 18 metres in width, with wrap around benches along the entire interior of the pool. The infinity edge flows into a large kiddie pool with a stone deck encircling it. The Kandui Villas main pool is surrounded by a massive outdoor wooden deck, which connects to the Restaurant, Bar, Palapa and Games Room.
Gym & Yoga Uma (Kandui Villas)
Kandui Villas has built an incredible air conditioned gym and exercise room with quality workout equipment.. They have treadmills, an exercise bike, free weights, a multi-exercise machine, a multi-exercise cable machine, pull up bar, jump ropes, an inversion table, exercise balls, and yoga mats.
Where is Rifles?
Rifles surf spot breaks off a long stretch of live coral reef less than one kilometre from the eastern edge of Pulau Karangmajat (the opposite side to Karangmajat Island's other world-famous wave Kandui).
How to get to Rifles?
If you are staying on a surf charter boat, set your sails for the Playgrounds area of the Northern Mentawai Islands. If you would like to be land-based in between surfs, there are plenty of accommodation options in the Northern Mentawais that cater to various budgets. Once you surf boat charter or accommodation is organised, you will have to make your way to Padang in Sumatra for pick up by your charter boat or jump aboard the slow overnight ferry or six-hour fast ferry to Siberut Island where your accommodation will pick you up and take you the rest of the way.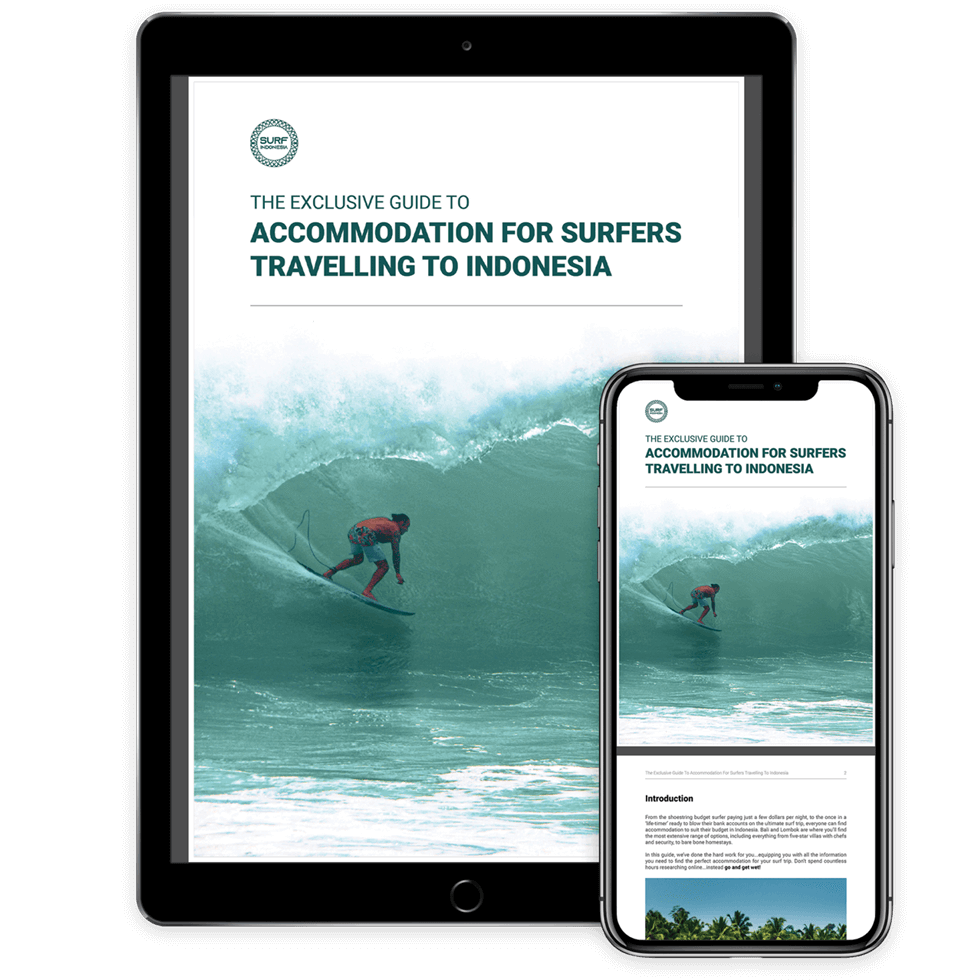 Download for free
The Exclusive Guide To Accommodation
For Surfers Travelling To Indonesia
🔍  65-page accommodation guide
🛖  Types of accommodation
🏄‍♂️  Perfect for any budget
✈️  How to book short or long term
🏝  Locations and recommendations