Nipussi is a swell magnet just like its big brother 'Bank Vaults' further up the reef. 
One of the most consistent surf breaks in the Northern Mentawai Islands, Nipussi a.k.a. Pussies sits in a pocket of Masokut Island sheltered from the wind.  When the wind goes North and everything else is blown out, Nipussi is offshore and ready to rip.  Super fun on any size swell and wind, you can bet on set after set of wide peaks that run down the reef producing high-performance right-hand walls of water.
What kind of wave is Nipussi?
Nipussi sits in an unusual wind shadow and tends to hold its shape when other breaks in the area are blown out. A consistent right-hand reef break, Nipussi offers intermediate surfers a chance to taste the far end of Bank Vault's expert-only terrain as it is situated further down the island's coastline. It has a tendency to get crowded under a strong North Wind. A few peaks along the reef offer steep drops, and you can expect the occasional barrel on the inside under perfect conditions. Great for experienced surfers not quite ready to paddle out in the surrounding gnarliness.
Booties:
Nipussi: Not necessary
Surfboard type:
Nipussi: Shortboard
Hazards:
Best swell direction:
Nipussi: S
Best wind direction:
Nipussi: N
What tide is best:
Nipussi: All tides
Best tide movement:
Nipussi: All tides
Wave consistency:
Nipussi: Ultra-consistent
Best time of year:
Nipussi: Year-round
Lineup vibe:
Nipussi: Mellow
Other names for spot:
Nipussi is also commonly spelt Nypussy.
Pussies
Paddling out at Nipussi
Nipussi is a quick and easy paddle out through the keyhole from M.I.A Surf camp on the southern tip of Mosakut Island. Just be careful of the jagged reef entering and exiting the water in particular. Otherwise, you'll have to stick to easy boat access.
What is the beach like?
There is a thin strip of palm-tree lined white sand beach which meets jagged reef rock on the ocean edge. From M.I.A. surf camp you can enter the water through a keyhole over the rocky reef and into the lineup.
M.I.A Surf Camp
M.I.A. is a beachfront surf camp directly in front of Nipussi which overlooks a total of five reef breaks which cater to surfers of various abilities. This surf camp is just a few years old and limits its number of guests to eight at any one time to provide you with a great experience. The accommodation consists of two large bungalows each with their own en-suites which sleeps four people in each (couples room available on request), plus a large chill house for meals, snacks, WiFi, bar with ice-cold bintangs, table tennis, darts, library, board games and a 50″ TV with cable television. The accommodation is set on a 2-acre block so there is plenty of space to relax and watch those hypnotic waves roll into the shore.
What else do I need to know?
As with any surf trip, but even more importantly in remote areas such as the Mentawai Islands, be sure to take a decent first aid kit.  While you are at it brush up on your CPR and first aid skills.  You can never be too prepared!
What else is there to do in the area other than surfing?
Considering Nipussi is one of the most consistent waves in the area you most likely won't have much time for anything else. However, Masokut Island is big enough to spend some time exploring, if for some strange reason you have leftover energy to burn off.
Where is Nipussi surf spot?
Nipussi surf break is located on the Southern side of Mosakut Island, also commonly known as Nyang-Nyang Island, next to the 'Playgrounds' area of the Northern Mentawai Islands.
How to get to Nipussi?
No matter where you are travelling to in the Mentawai Islands you first have to get yourself to Padang in Sumatra. From here you travel by boat out to one of the three main hubs of the Mentawais. In this case, 'Siberut' if your goal is to surf Nipussi. From Siberut your accommodation provider will pick you up, take you further out to the remote islands of the Northern Mentawais and get you settled into your accommodation. 
For specific information on how to get to the Mentawai Islands check out our FAQ section on the Mentawai Islands Surf Spots page.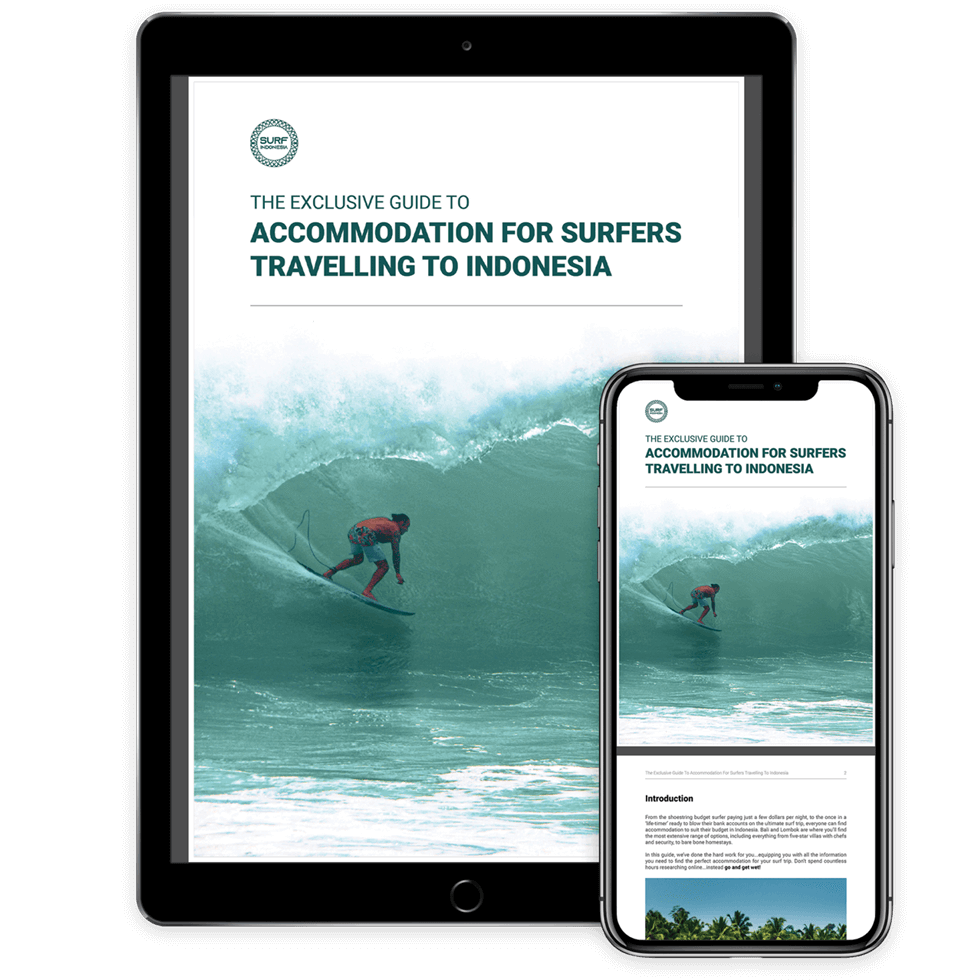 Download for free
The Exclusive Guide To Accommodation
For Surfers Travelling To Indonesia
🔍  65-page accommodation guide
🛖  Types of accommodation
🏄‍♂️  Perfect for any budget
✈️  How to book short or long term
🏝  Locations and recommendations