Kandui Left also known as Karangmajat Left, was first called "No Kandui" because of its difficulty and heaviness.
Kandui Left isn't one of those waves you can roll into and fluke the wave of your life.  It is one of the most dangerous waves in Indonesia, no exaggerations it is fast, hollow, shallow and heavy all rolled into one.  Expect a high-speed technical drop and then deceivingly fast freight train of a wave all the way to the end of the reef where a lot of sets close out in an epic fashion.  If you're an advanced surfer or lucky enough to make it to the west bowl cross your fingers you end up in the channel without any broken bones or gaping wounds!
What kind of wave is Kandui Left?
Kandui is one of many world-class breaks in the area. This break offers long, deep, and steep barrels which break over a seemingly endless section of reef fringing Karangmajat island. Breathtaking perfection, Kandui breaks into a spherical hollow barrel worthy of Rick Griffin's psychedelic surf art. This near perfect left brings surfers from all over the world to the Northern Mentawais. It can be tough to find the peak among the chaos of Kandui's pure speed and hollow freight train nature. Don't bother paddling out in anything less than head high as the reef is more than likely to draw some blood. Don't expect many turns, the barrel is the real draw towards Kandui. That being said, anyone short of an advanced surfer should definitely steer clear of this break.
Booties:
Kandui Left: Not necessary
Surfboard type:
Kandui Left: Sharp pintail, minigun or gun
Hazards:
Kandui Left: Hollow heavy waves, shallow reef, strong currents, freak sets and potential to be dragged over the reef on the inside
Best swell direction:
Kandui Left: West
Best wind direction:
Kandui Left: East
What tide is best:
Kandui Left: Mid to high tide
Best tide movement:
Kandui Left: Rising
Wave consistency:
Kandui Left: Inconsistent
Best time of year:
Kandui Left: April – October
Lineup vibe:
Kandui Left: Chargers in the lineup
Other names for spot:
Kandui Left: No Kandui, Kandui and Karangmajat Left
Paddling out at Kandui Left
Easily access by boat. If you're willing to make the long walk north up the island from one of the surf camps, or you're staying at the nearby Kandui Villas, you can paddle out from the channel. Stick to the channel well out to the peak and steer clear of shallower sections of reef.
What is the beach like?
The beach on Karangmajat Island consists of a thin strip of white sand beach, scattered with washed ashore coral. The reefs which wrap around the island create large beautiful lagoons protected from ocean swims and perfect for leisurely swims.
Kandui Villas
Kandui Villas is the closest accommodation to Kandui Left located beachfront in front of the channel at the end of the reef with views of the surf. They have taken the Mentawai experience to a whole new level, providing guests with the extravagance of high-quality accommodation despite being located in this remote surfing haven. The amenities are outstanding, including an infinity pool, and spacious luxury Umas (traditional Mentawai buildings) for accommodations made from sustainably sourced and fine finished local hardwoods, each uniquely themed with carvings designed to highlight traditional art, culture, and the local environment. Decadent gourmet meals are prepared fresh daily by Kandui Villas Personal Chef, with made-to-order breakfasts served every morning. Surf Guides are all CPR/First Aid Certified and are ready to transport and accompany guests into any of the 20+ waves within a 30-minute speedboat ride from the Villas.
Kandui Resort
Kandui Resort has direct beach access to the heart of the "Playgrounds" surfing region with 70% of their annual guests being return guests. Their philosophy is put the guest first in and out of the water. By providing access to arguably the best surf in the world, all the comforts of the western world and an atmosphere that is one of a kind they certainly do more than putting the guest first in and out of the water. During your stay, your home will be one of only 8 "umas", traditional thatched houses built in the traditional Mentawai style by local Mentawaian craftsmen. Each is clean, spacious, comfortable, and offers an unparalleled view to the waves, ocean, and islands that surround the resort. Hand-woven vaulted ceilings and the natural design features provide a sense of adventure and culture while the interior design features provide a feeling of home.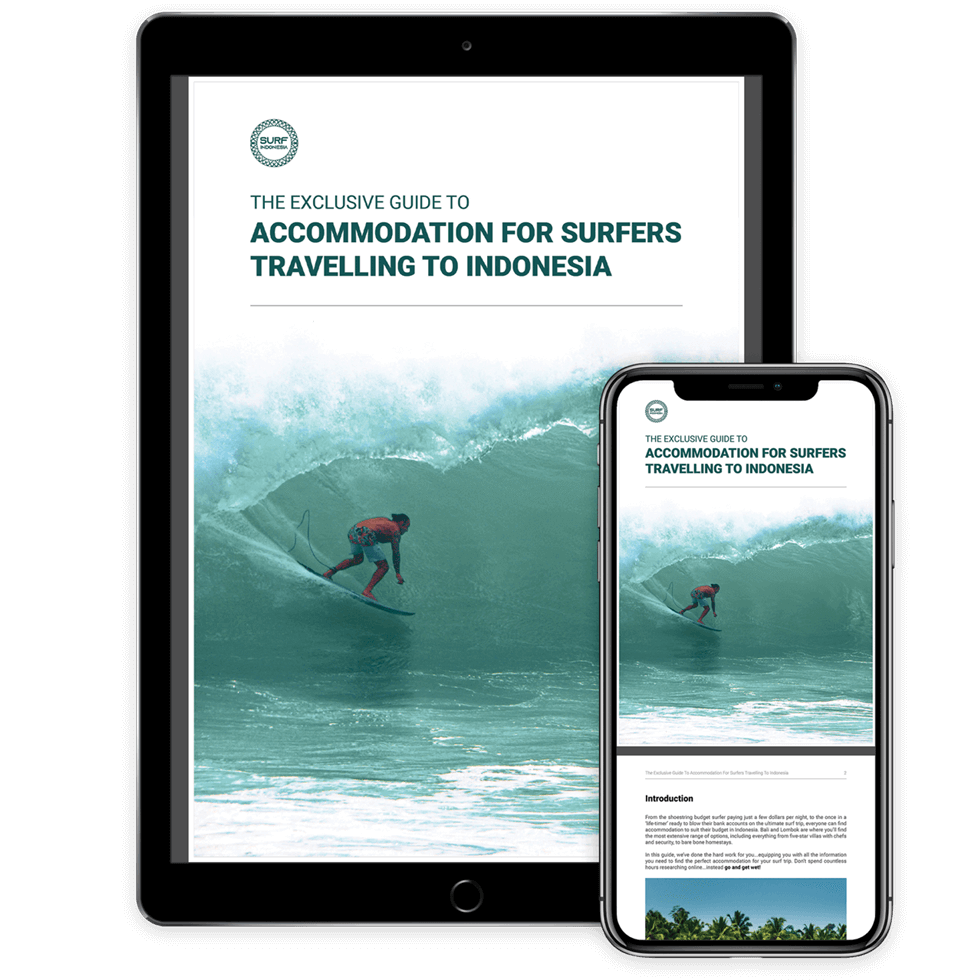 Download for free
The Exclusive Guide To Accommodation
For Surfers Travelling To Indonesia
🔍  65-page accommodation guide
🛖  Types of accommodation
🏄‍♂️  Perfect for any budget
✈️  How to book short or long term
🏝  Locations and recommendations
What else do I need to know?
Both Kandui Resort and Kandui Villas take the unlikely threat of a tsunami seriously with well-planned protocols and effective measures in place to get their guests and staff to the highest hill in the centre of the island.
What else is there to do in the area other than surfing?
The Swimming Pool (Kandui Villas)
Kandui Villas is one of only a few in the Mentawai Islands with a swimming pool and they hired the best pool builders in South East Asia to do it. This pool is 25 metres in length x 18 metres in width, with wrap around benches along the entire interior of the pool. The infinity edge flows into a large kiddie pool with a stone deck encircling it. The Kandui Villas main pool is surrounded by a massive outdoor wooden deck, which connects to the Restaurant, Bar, Palapa, Games Room and plenty of family-friendly activities.
Gym & Yoga Uma (Kandui Villas)
Kandui Villas has built an incredible air conditioned gym and exercise room with quality workout equipment.. They have treadmills, an exercise bike, free weights, a multi-exercise machine, a multi-exercise cable machine, pull up bar, jump ropes, an inversion table, exercise balls, and yoga mats.
Floating Dock (Kandui Resort)
The floating dock is literally located within a stone's throw of 4 Bob's surf spot. Making it is the perfect place to relax in between sessions while you heckle your friends or sink some ice cold beers. If you're a guest Kandui Resort provides free Bintangs every afternoon on the dock, how good is that!
Experience The Mentawai Culture (Kandui Resort)
The local Mentawaiian experience is a major part of the Kandui Resort experience. At the end of every trip, the local shaman of the Mentawais makes the trek down from the jungle to visit the resort. Shamen are the traditional medicine men of the Mentawais and stop by to perform a traditional ceremony showcasing a unique mix of dance, drum beats and chants. They also offer guided tours of the resort's local staff's village on any day.
Games Room (Kandui Resort)
The Game Room is located adjacent to the restaurant and offers a quiet area to get online, watch movies, and hang out. Also included is an extra bar area, pool table and ping pong. Built in 2010 they had envisioned it to be the new hub of their resort, however, guests still seem to enjoy hanging out in the restaurant.
Where is Kandui Left?
Kandui Left breaks on the northern tip of Pulau Karangmajat.
How to get to Kandui?
There are a few options for getting yourself to Karangmajat Island in the Playgrounds area of the Northern Mentawais, depending on where you are staying.
The cheapest and most common method is the Gambolo Ferry, which departs for a 10 hour (one way) voyage overnight from Padang on the western edge of the Sumatran coast across the Mentawai Strait to Siberut Island, the largest island in the Mentawai Regency. From Siberut Island your accommodation will pick you up in a small outrigger and take you the rest of the way (approximately 2 hours) to the outer islands (Bocek, Karangmajat, Masokut, or Siaim Island in the Playgrounds area off of Siberut. You'll need to arrive in Padang before 3 pm for the 7 pm departure from the local harbour. The overnight ferry only runs from Padang to Siberut Island twice per week.
The other option is known as the "Fast" ferry which runs a 4-hour journey from Padang to Siberut Island on Tuesdays and Saturdays at 7 am and back to Siberut Island to Padang the same day at 3 pm. Don't expect to hop off your transport or flight to Padang and jump on the fast ferry. You'll need to arrive the day prior and plan on spending the night after the ride back. Ask your Mentawai's accommodation for recommendations on where to crash.
Private fast boat from your surf accommodation. Most accommodations do not have access to a private fast boat but will help you line up your travel arrangements as outlined in the above options.