Hideaways surf break is another slice of surfing perfection in the Mentawai Islands.
At Hideaways, different conditions provide a wide variety of wave types. Some days barrels are long, deep and fast, while other days barrels can be bowly moving slowly down the reef making good practice for dragging under the hood to position yourself nicely. If you're an advanced surfer, you will sit further up the lineup on the ledge where Hideaways barrels long and deep over shallow reef. Less experienced surfers sit further down the reef where the wave mellows out, providing a lip to hit and shoulder to cut back on.
What kind of wave is Hideaways?
Hideaways is one of the cleaner and gnarlier breaks you'll find in the area. A hollow barrel, this break opens to a steep shoulder bowling left towards the channel. Keep your eye on the forecast for a solid West swell with a short period. If this coincides with light wind, you can expect near perfect conditions. Beware of low tides as the shallow section of coral heads below has been known to claim a few heads. Great for expert surfers. Intermediate surfers should take caution, and beginner surfers should head elsewhere.
Booties:
Hideaways: Not necessary
Surfboard type:
Hideaways: Sharp pintail to step up surfboard
Hazards:
Hideaways: Ledgy take-offs, low tide, coral heads and currents on an outgoing tide
Best swell direction:
Hideaways: WSW
Best wind direction:
Hideaways: SE
What tide is best:
Hideaways: Mid to high tide
Best tide movement:
Hideaways: Rising
Wave consistency:
Hideaways: Consistent
Best time of year:
Hideaways: April – October
Lineup vibe:
Hideaways: Can be intense when it gets gnarly
Other names for spot:
Hideaways: Mainu Island or Mentawai Pipeline
Paddling out at Hideaways
Unless you're staying at the WavePark Resort (just a 5 minute walk down the beach from Hideaways), you'll have to access Hideaways by boat. A quick ride Southwest of Masokut Island or North of Karangmajat Island will leave you in this near-perfect wave. Steer clear of this break at low tide unless you know how to stay off the reef.
What is the beach like?
Pristine white and golden sand beaches!
Wave Park Mentawai
Wave Park Mentawai was the very first surf camp in the Mentawai Islands.  The resort is located on a private 80-acre island in front of the surf spot Hideaways.  The resort has a maximum capacity of 12 surfers and their families with spacious, beautiful, and breezy bungalows.  Relax in comfort on a daybed on your private verandah while keeping an eye on the conditions at Hideaways or taking in the sunset.  At the bayside bar and restaurant, socialize with other guests over meals and share the day's adventures through their slideshow prepared by professional photographers.
Hidden Bay Resort
The Hidden Bay Resort can access all waves in the Playgrounds with every wave within a 15-minute speedboat ride from the resort. The closest spot is Hideaways only 3 minutes by boat however a right and left can be surfed in front of the resort with the high tide. The Resort was created with a unique and innovative concept, based on comfort, healthy eating and surf development. Professional surf coaches/guides not only take you to the best surfing conditions but also to help improve your surfing. Providing skills with tips, workshops and techniques focussing on surfing development during your stay. With the use of professional photos and videos a slide show is made daily for analyses as well. The architecture of the buildings are based on the traditional style of the Mentawai, with added features that combine comfort and well being to provide an exceptional finish and fantastic stay.
What else do I need to know?
As with any surf trip, but even more importantly in remote areas such as the Mentawai Islands, be sure to take a decent first aid kit. While you are at it brush up on your CPR and first aid skills. You can never be too prepared!
What else is there to do in the area other than surfing?
Wave Park Mentawai are dedicated to making sure you have the gear necessary to enjoy their beautiful island with fishing, kayaking, SUP, snorkelling equipment all included in the price of your trip. They have four solo sea kayaks, two 11ft. SUP boards (not for surfing), and lots of snorkelling equipment including swim fins. They supply the boats, guides and rods for fishing, but ask that guests bring their own lures to tow behind the boats. And they even have a music studio!
Where is Hideaways surf spot?
Hideaways breaks off the Western coastline of a small island in the Playgrounds area of Mentawai Islands Regency called Siaim Island.
How to get to Hideaways?
Hit the following link for specific information on how to get to the Mentawai Islands by going to the FAQ section on the Mentawai Islands Surf Spots page.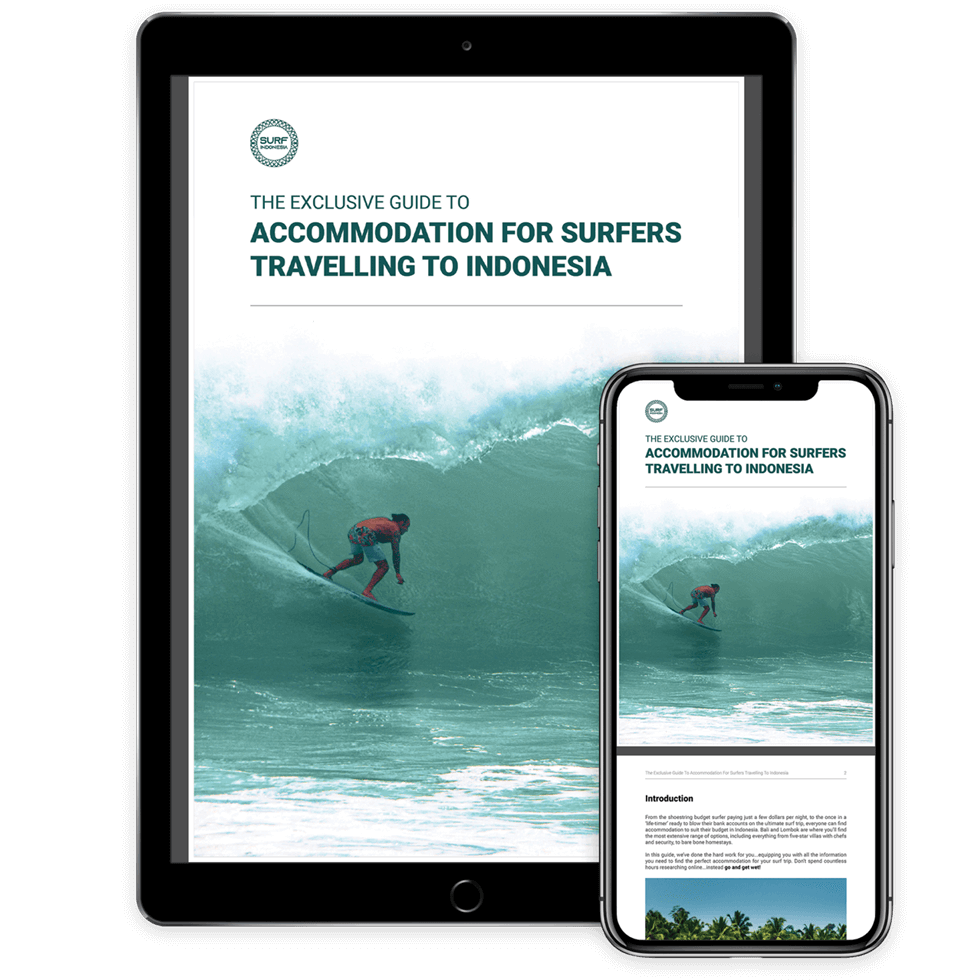 Download for free
The Exclusive Guide To Accommodation
For Surfers Travelling To Indonesia
🔍  65-page accommodation guide
🛖  Types of accommodation
🏄‍♂️  Perfect for any budget
✈️  How to book short or long term
🏝  Locations and recommendations