Named from the surprisingly smooth Indonesian suds (beer that is).
Bintangs is a fun and rippable reef break which peels right over a shallow shelf of live coral. Fun and clean, Bintangs is a great wave for more experienced surfers when it is at its best but generally suits intermediate surfers upwards. With a decent south-southwest swell and north wind, you can expect near-perfect conditions with a slabby takeoff into a short but throaty barrel and a shoulder for plenty of turns.
What kind of wave is Bintangs?
Typically a fun and rippable right-hand reef break, Bintangs starts with a quick and steep barrel off the drop from out of the deep with a predictable open bowl section. Expect a longer shoulder with higher tides and mediocre swell. Has a tendency to get maxed out when other breaks are at their peak. Typically a great way to avoid crowds at the nearby Lance's Left, Bintangs is a great wave for intermediate and experienced surfers looking to get away from the crowds.
Booties:
Bintangs: Personal preference
Surfboard type:
Bintangs: Shortboard/step-up
Hazards:
Bintangs: Reef, rare crowds, slabby barrelspreference
Best swell direction:
Bintangs: SSW
Best wind direction:
Bintangs: N
What tide is best:
Bintangs: Lower tide
Best tide movement:
Bintangs: Rising tide
Wave consistency:
Bintangs: Consistent
Best time of year:
Bintangs: April – November
Lineup vibe:
Bintangs: Mellow
Other names for spot:
Bintangs: Bintangs Right
How do you get in and out of the surf?
You'll be entering the lineup by boat considering Bintangs is located on the remote side of a large bay opposite Katiet which is home to Lance's Left and a small number of accommodations such as Kingfisher Mentawai.
What is the beach like?
The coastline in this area curves and folds into many bays and peninsulas while the white and golden sand beaches are lined with palm trees and crystal clear ocean water. Perfect for exploring and beachcombing in between surfs or simply laying a towel down to catch some sun.
Kingfisher Mentawai
The Kingfisher Mentawai has three Mentawai-style bungalows and is the only accommodation located directly in front of Lance's Left, offering close-up views of this spectacular wave. The design of their bungalows combines the best of the local look and feel with the rigour and comfort that most Western travellers enjoy. Including AC, fans and high-speed internet. The result is an elegant yet strikingly exotic experience. The Resort is designed to accommodate a maximum of 10 guests allowing each guest a luxurious and comfortable stay. The private experience also ensures that the surf doesn't get too crowded. Kingfisher Mentawai gets its name from the amazing acrobatic kingfisher birds which regularly frequent the area. All in all, the Kingfisher Mentawai provides a remarkable experience that never disappoints.
How many waves are nearby?
Kingfisher Resort is located in an extremely wave rich region with more than 10 different waves within a 20-minute boat ride. These range from fun beachies, long lefts and rights, perfect almond barrels and heavy slabs to suit all surfing abilities.
What else is there to do in the area other than surfing?
For the culturally curious, the local village provides a window into the lives of a community with an unfamiliar yet fascinating lifestyle. You can get to know your friendly neighbours and hosts by joining in a wood carving or weaving lesson under a palm tree. Other local attractions include waterfalls and as always in this corner of Indonesia snorkelling, fishing, lounging, beach walks and strolling the trails are always a pleasant experience!
As guests of Kingfisher Mentawai, you can always relax in a shaded hammock or catch the breeze in their open-planned restaurant, where drinks and food are available. Meals are prepared using fresh fruits, vegetables, seafood and meats, cooked in a variety of styles including Western, Indonesian, Chinese and barbeques. You will be glad to know that Kingfisher Mentawai consider delicious and plentiful food an integral part of an enjoyable dining experience to ensure even the most ravenous appetites will be satisfied.
What else
do I need
to Know?
Bintangs is typically uncrowded, however, expect some crowds when Lance's Left is blown out and the winds lineup perfectly for Bintangs. It is also nice to know that there is no nasty inside to deal with like some of the sketchier spots such as HT's. There is also a super fun beach break deep in the bay between Bintangs and Lance's Left which is worth a session or two to completely escape the crowds and enjoy some beach break action. Take a look at the satellite view in Google Maps below.
Where is Bintangs?
On the southwestern coastline of Sipura Island Bintangs is located on the remote side of a large bay opposite Katiet which is home to Lance's Left and a small number of accommodations such as Kingfisher Mentawai.
How to get to Bintangs?
Your best bet is to stay in one of the accommodations located in front of Lance's Left or Lance's Right in the Katiet area in the south of Sipura Island. The closest being Kingfisher Mentawai which is a quick 5-minute boat ride straight across the channel to the other side of the bay where Bintangs awaits. To find out more on how to get to the Katiet area head over to our spot guide for Lance's Left or Lance's Right.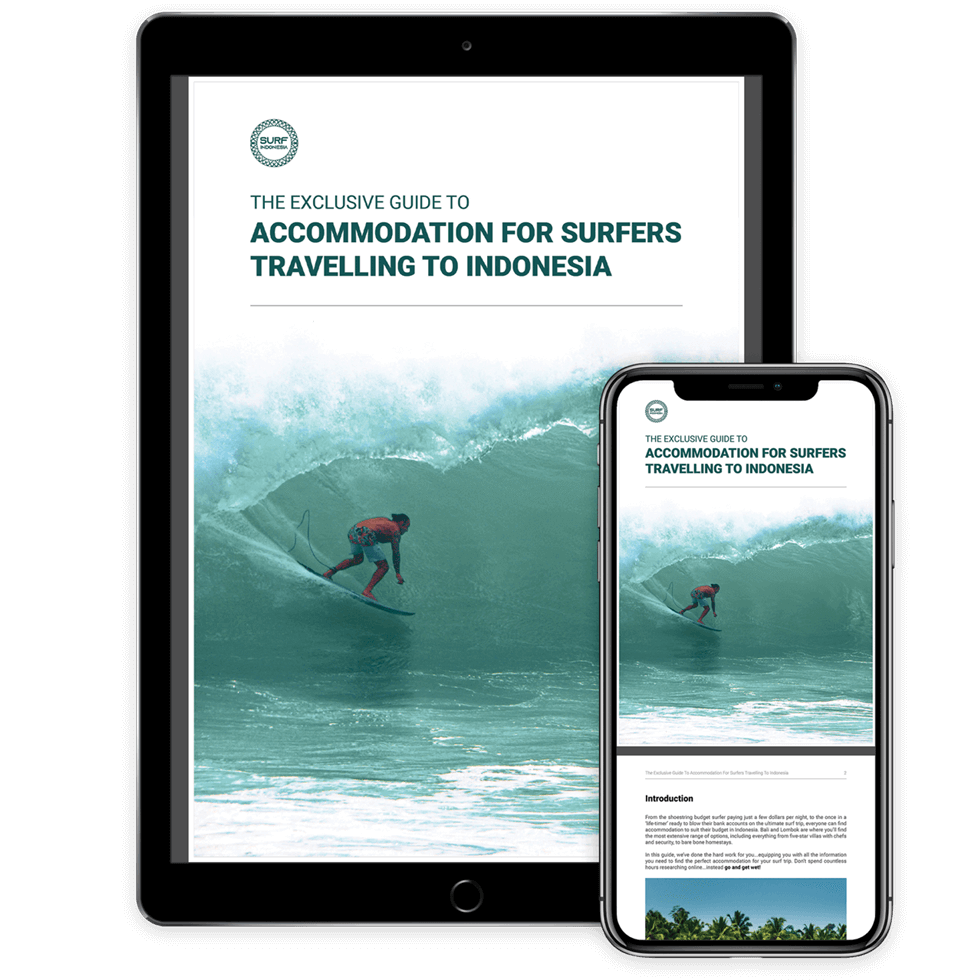 Download for free
The Exclusive Guide To Accommodation
For Surfers Travelling To Indonesia
🔍  65-page accommodation guide
🛖  Types of accommodation
🏄‍♂️  Perfect for any budget
✈️  How to book short or long term
🏝  Locations and recommendations