Picture perfect white sand beaches lined with coconut trees and not a soul on sight – almost.
Beng Bengs is one of those picturesque lineups that welcomes you to Mentawais with open arms and the chance to ease your way into the surf.  Paddle out to Beng Bengs for an ultra-fun session with your mates before tackling the gnarly waves in the area.  Beng Bengs provides super fun surfing conditions whether the waves are big or small.
What kind of wave is Beng Bengs?
Beng Bengs is a predictable left which breaks over a deep and forgiving reef. Beng Bengs can hold a wide range of swells and doesn't typically barrel. If you love to log, this is one of the few waves you'll find in the area. Because of its relative ease, Beng Bengs attracts beginners and intermediate surfers. But don't be deterred – Beng Bengs is a world class wave throwing out speed walls to draw out your lines and the rare cover up if you look hard enough.
Booties:
Beng Bengs: Not necessary
Surfboard type:
Beng Bengs: Shortboard, fish shape surfboard or longboard
Crowd factor:
Beng Bengs: Medium Crowds
Hazards:
Beng Bengs: Dry reef at the end of the wave
Best swell direction:
Beng Bengs: W
Best wind direction:
Beng Bengs: E
What tide is best:
Beng Bengs: Low tide
Best tide movement:
Beng Bengs: Any
Wave consistency:
Beng Bengs: Consistent
Best time of year:
Beng Bengs: April – October
Lineup vibe:
Beng Bengs: Mellow
Other names for spot:
Beng Bengs: None
Paddling out at Beng Bengs
Beng Bengs is a regularly clean, occasionally steep, and fast left hand wave. Accessible from shore, there's a deep channel straight out from Luluni Mentawai surf bungalows where you can paddle around to the backside of the peak or head just north of Jupy surf camp to another smaller channel to the shoulder. Be prepared for an exposed section of reef at the end of the wave. If you find yourself in shallow water or high and dry, float off the reef and paddle around to the narrower channel on the shoulder to looker's right.
What is the beach like?
White sand beach with shades of palm trees. What else could you want?
Alaia Mentawai
Alaia Mentawai is designed around total comfort and relaxation for their guests. The villas are spacious, comfortable and offer the complete beachfront experience with indoor/outdoor bathrooms and a rooftop Santai (relaxation) area. Their two large beachfront villas are each 64m2 and are fitted out with ceiling fans, floor fans, air conditioning, TV with hard drive of movies, western style indoor/outdoor bathroom with hot water shower and western style toilets. The lounge provides fresh sea breezes cooling you down, thanks to its open air design, with stunning views across the indian ocean or the amazing daily sunset shows. The spectacular infinity pool tops of this amazing accommodation in paradise. There is a left hander directly out front and Beng Bengs is just a few minutes away by boat.
Playgrounds Surf Resort
Playgrounds Surf Resort is located only a 5 minute boat ride to Beng Bengs. Another 5 minutes and your surfing Ebay and Pitstops. Their experienced surf guides are knowledgeable in the swell directions, tides, winds and will have you surfing the right waves at the right times. They offer deluxe, traditional Indonesian style accommodation fully equipped with air-conditioning and hot water showers to provide you with the utmost comfort. They are also well-known for serving up great food! Located on a large area of approximately 72 hectares that is about one kilometre long and 500 metres wide, guests can enjoy the long stretch of beautiful beach in front of the resort to themselves.
Gin Gin (Mentawai Surf Lodge)
Gin Gin Mentawai Surf Lodge is located directly in front of Beng Bengs surf break. With a few great accommodation options to choose from they cater for everyone from families to groups of friends to individual soul surfers. Just a stone throw away from the waters edge is their Beach Front Bungalow comprising of three spacious bedrooms, perfect for a family or a group of friends. The Ocean View Apartment and the Jungle View Room also provide more than comfortable accommodation options to ensure you have a great stay in front of one of the funniest waves in the Ments.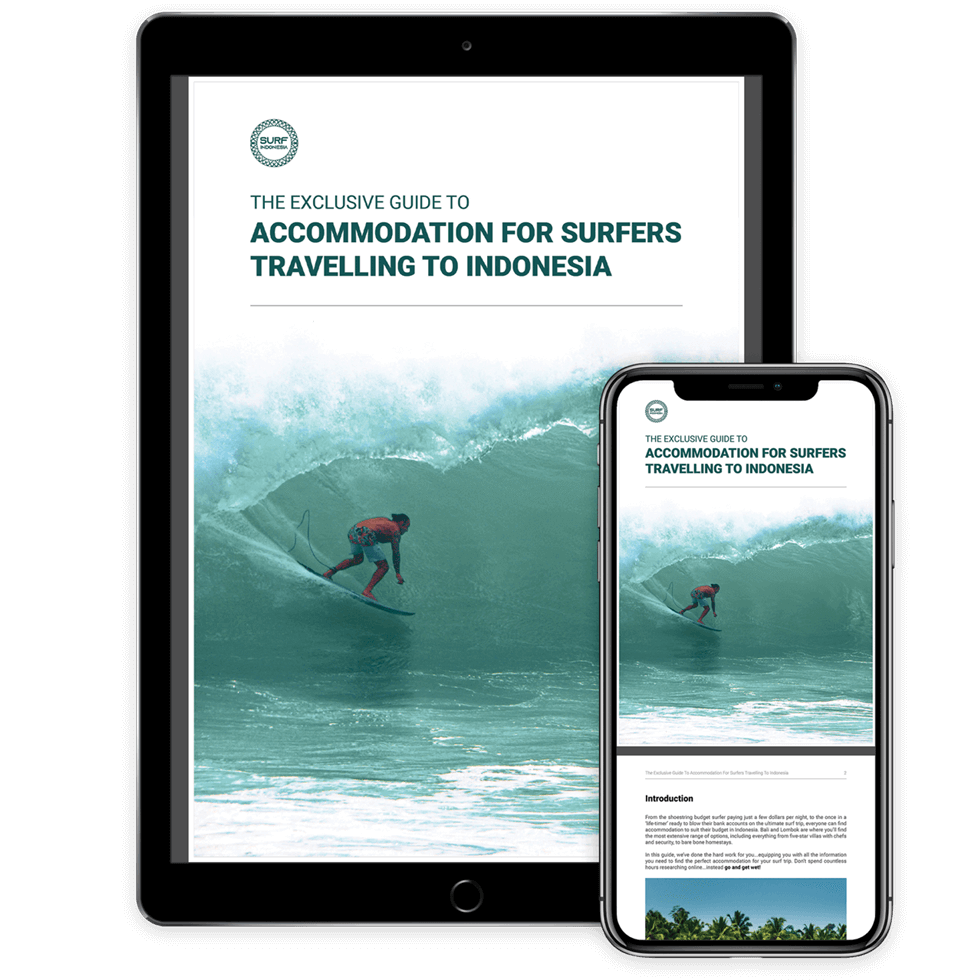 Download for free
The Exclusive Guide To Accommodation
For Surfers Travelling To Indonesia
$12.99 Free

🔍  65-page accommodation guide
🛖  Types of accommodation
🏄‍♂️  Perfect for any budget
✈️  How to book short or long term
🏝  Locations and recommendations
What else do I need to know?
Beng Bengs is one of the easiest waves to surf in the Ments, dishing up rippable walls day after day.  Be sure to check it out for some serious fun when you're not in the mood for charging.
What else is there to do in the area other than surfing?
Alaia Mentawai specialises in more than just a surfers destination. Surrounded by idyllic islands, beautiful beaches, and pristine reefs for snorkelling they have stand up paddle boards, kayaks and snorkelling equipment available to explore above and below the surrounding ocean. Also on offer they have day trips to local villages, hill climbs or long strolls on deserted beaches so you can disconnect from your everyday life and enjoy the natural paradise that surrounds Alaia Mentawai in particular.
Where is Beng Bengs surf spot?
Beng Bengs surf spot is located along the middle of the Western coastline of Masokut Island in the Northern Mentawai Islands Playgrounds area.
How to get to Beng Bengs?
If you choose to stay on Masokut Island for easy access to Beng Bengs, you will travel from Padang harbour in Sumatra out to Siberut Island by ferry. From Siberut Island your surf camp accommodation will pick you up and take you out to their camp. From there you will be able to paddle out to Beng Bengs from land or boat. 
For specific information on how to get to the Mentawai Islands check out our FAQ section on the Mentawai Islands Surf Spots page.