Selong Belanak is an extremely easy to access beach with a less than 100m walk from the parking lot off the main road.
A beautiful sheltered bay with small rolling straight hander waves perfect for the beginner surfer. You'll find buffalo cruising the beach, soft white sand, crystal clear turquoise water and the gradual slope of the sandy sea bottom provides waves with less power and a soft lip that slowly spills.
What kind of wave is Selong Belanak?
Selong Belanak is the ultimate learner's wave in Lombok. Ideal for beginner surfers to practice taking off and getting to their feet in a safe environment with little to no hazards (other than a few soft-top surfboards). The local surf instructors provide a fun and playful environment that makes so many travellers first experience learning to surf a thrilling and enjoyable experience. Rather than a potentially scary one if surfing over a reef for the first time. The sand bottom and soft waves help to make the first step into the world of surfing an easy one!
Wave type:
Selong Belanak: Beach Break
Wave direction:
Selong Belanak: Left,Right
Booties:
Selong Belanak: No
Surfboard type:
Selong Belanak: Soft-top longboard
Crowd factor:
Selong Belanak: Medium Crowds
Hazards:
Selong Belanak: Other learner surfers and rogue soft-tops
Best swell direction:
Selong Belanak: S
Best wind direction:
Selong Belanak: ENE
What tide is best:
Selong Belanak: High but surfable on any tide
Best tide movement:
Selong Belanak: Rising
Wave consistency:
Selong Belanak: Consistent
Best time of year:
Selong Belanak: All year round
Lineup vibe:
Selong Belanak: Frothing beginners
Other names for spot:
Selong Belanak: Pantai Selong Belanak
How do you get in and out of the surf?
Spend 10 minutes watching and look for a consistent peak breaking on what looks like could be a good sandbank anywhere along the beach and get out there!
What is the beach like?
Smooth white sand beach with a perfect sunset view right bang smack in the middle of the bay looking out to sea sums up Selong Belanak beach perfectly. For the sunset, get there around 5 pm, chill out and watch the sun drop below the horizon. Some say it's the best beach on Lombok. You can hire sun loungers, bean bags, umbrellas, surfboards, boogie boards and all at the beach so travel light!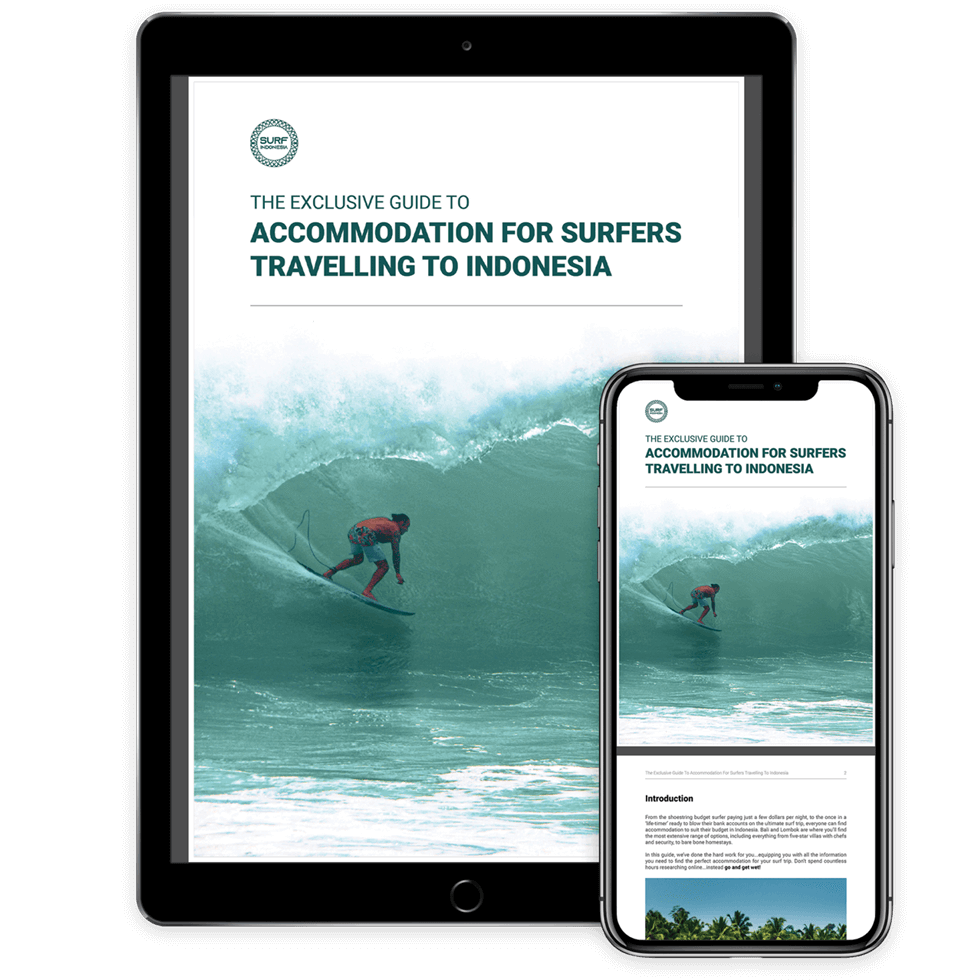 Download for free
The Exclusive Guide To Accommodation
For Surfers Travelling To Indonesia
🔍  65-page accommodation guide
🛖  Types of accommodation
🏄‍♂️  Perfect for any budget
✈️  How to book short or long term
🏝  Locations and recommendations
Is there food nearby?
The beach itself at Selong Belanak is home to a few warungs so you can easily buy snacks, meals and drinks while hanging out at the beach. The traditional grilled corn with chilli butter is always a winner.
Laut Biru Bar & Restaurant has great food, coffee and a beautiful beachfront location. What else would you want in a restaurant? With a wide array of options from butter chicken to pavlova, you have plenty of options to keep you satisfied. Not to mention the great coffee to keep you going in between surfs! Note that the Laut Biru Bar & Restaurant is reserved exclusively for the guests of Sempiak Villas so if you want to dig in here be sure to book your accommodation.
Kampung Cafe has a great selection and great service. You'll be able to dine on some hot favourites such as the Vietnamese chicken salad, red rice and quinoa salad, chicken curry and fish cakes. All around tasty food, at a great price and a chilled vibe. Kampung Cafe will never let you down.
What else is there to do in the area other than surfing?
The surrounding area of Selong Belanak is picturesque and has a seriously calming effect so if you are not surfing then relaxing and recharging your batteries has to be a high priority. The bay of Selong Belanak is extremely protected from the open ocean and is perfect for a casual Swim or the amazing hills and mountain tops make for amazing views. Either way, be sure to soak in the serenity that the area has to offer.
If you're staying at Ola Ola Lombok check out some of the many fantastic activities they offer. From trekking Mount Rinjani, waterfalls, secret island snorkelling trips to cooking lessons where you'll learn how to cook local dishes such as Pecel, Mie Goreng, Plecing Kangkung, Beberuk Terong and Sambal goreng Tempeh. You are sure to enjoy an adventure or two!
What else
do I need
to Know?
There are a number of surf schools at Selong Belanak and all of them offer great teachers at a great price. Perfectly suited for learner surfers. So if you're researching "Where to learn to surf in Indonesia?", "surfing Indonesia beginners" or "surfing Lombok beginners" then this spot should be high on your list of options.
Access Our Exclusive Members-Only Content
Unlock the Spot Finder, all Spot Guides, Member Perks and more.
Where is Selong Belanak?
Selong Belanak is a small bay inside of a large bay located on the southern coastline of the Central Lombok Regency, West Nusa Tenggara, Indonesia.
How to get around?
Scooter or car
Is there parking fees?
5000Rp per scooter
How to get to Selong Belanak?
From Kuta Lombok head west along Jalan Mawun for 23.2km. During this time Jalan Mawun will turn into Jalan Selong Belanak – Kuta.
As you get near simply follow the signs for Selong Belanak Beach, you can't miss it.