Kuta Lombok is a great launchpad for exploring the rest of the island.
With a variety of world-class waves and an incomparable landscape, Lombok is one of the most beautiful surf destinations you'll find in Indo. As a result of its accessible locale, Kuta has become a tourist destination in its own right. The surf in Kuta is not as well known as some of the other breaks in the area which makes it a great place to enjoy an empty line-up. All in all, Kuta is a great place to start your adventures in lombok before moving on to some of the more legendary waves on the island.
What kind of wave is Kuta Lombok?
Many people may confuse Kuta Lombok with Kuta Bali but rest assured they are on two completely different islands. Kuta Lombok breaks best during the wet season as tradewinds during the dry season tend to leave the line-up choppy and relatively un-surfable. The reef outside of Kuta Lombok opens up to a fun, long, and clean left reef break. On the inside, you'll occasionally see a few rights that pop up under peak conditions. Great for surfers of all abilities if you are with someone that knows the spot well. Kuta Lombok is a great place to get your feet wet before moving east towards Gerupuk or west towards Desert Point.
Wave difficulty:
Kuta Lombok: Intermediate
Booties:
Kuta Lombok: Personal preference
Surfboard type:
Kuta Lombok: Shortboard or longboard
Hazards:
Kuta Lombok: Open ocean – Go with a local the first few times!
Best swell direction:
Kuta Lombok: SE
Best wind direction:
Kuta Lombok: NE
What tide is best:
Kuta Lombok: Mid to high
Best tide movement:
Kuta Lombok: Rising
Wave consistency:
Kuta Lombok: Consistent in the wet season
Best time of year:
Kuta Lombok: Wet Season; October – April
Lineup vibe:
Kuta Lombok: Mellow to non-existent
Other names for spot:
How do you get in and out of the surf?
By boat or SUP, otherwise, the paddle out is a long one! Kuta Lombok is not often surfed so when the conditions align ask around and get a few surfers together. Then arrange a boat to take you out, and wait in the channel. It's worth the effort to enjoy a fun lineup with only your small group out!
What is the beach like?
The break at Kuta Lombok is a ways off of the beach but on the beach, you'll find open white sand surrounded by some exposed rock and tidepools at low tide and shallow reef ripe for exploring with your snorkel mask and fins. A great place for a family day at the beach in between boat rides to the reef.
Cheapest Price Range – LoTide Surf Camp
LoTide Surf Camp is a cozy hostel designed with surfers in mind, offering a vibrant and laid-back atmosphere that captures the essence of the local surf culture. Whether you're a beginner or an experienced surfer, LoTide Surf Camp provides the ideal base for an unforgettable surf trip. From shared dormitories for the budget-conscious to private rooms for those seeking a bit more privacy, each space is thoughtfully furnished and equipped to ensure a relaxing stay. Communal spaces are designed to foster camaraderie among fellow surfers. Share stories in the spacious lounge area, or unwind with a chilled drink at the outdoor terrace as you soak in the tropical vibes. The onsite restaurant serves up an array of local and international flavors, to refuel after a long day.
Affordable Price Range – Yuli's Homestay
Yuli's Homestay is a new and beautiful, quiet and relaxing location for your holiday 600 metres from Kuta Beach. They provide big bright sunny bedrooms with your own private bathroom, air conditioning, fan and comfortable beds. Kitchen facilities are available anytime with free tea, coffee and drinking water supplied. There are three swimming pools and your superb hosts are Indonesian and Kiwi (New Zealand). 
Mid Price Range – Dream CoWork Hotel
In the vibrant center of Kuta, Lombok, Dream CoWork provides an ideal base for surfers working remotely. Embrace the epitome of relaxation in our private lodging, featuring generously sized, plush beds that promise nights of uninterrupted comfort. Each room boasts modern amenities including air conditioning to keep you cool even after a day riding the waves. Bask in the island ambiance from your own outdoor seating area, or catch up on work at the thoughtfully designed working desks. 
Mid Price Range – Martas Windows
Martas is a step up from your typical surf accommodation in Kuta Lombok. A 400-metre walk or quick scooter ride will take you to Kuta Beach. Marta's Windows is outfitted with private shaded and open gardens surrounding a pool with mixed modern architecture. Well kept and maintained Martas Windows provides you with a relaxing environment in a beautiful accommodation. Be sure to check it out in the link below.
Luxury Price Range – Harmony Villas
Harmony Villas is a step up in luxury in the form of carved imported marble bungalows woven together by a canal-like swimming pool. As far as proximity to surf, it's about a 5-minute walk. A great place for large groups or travelling families looking for extra privacy and don't mind shelling out extra cash for it. If your planning on spending more of your time in the room than searching Lombok for surf, this might be your spot. Otherwise, save some cash and rent a moped.
DEALS ON PLACES TO STAY IN KUTA LOMBOK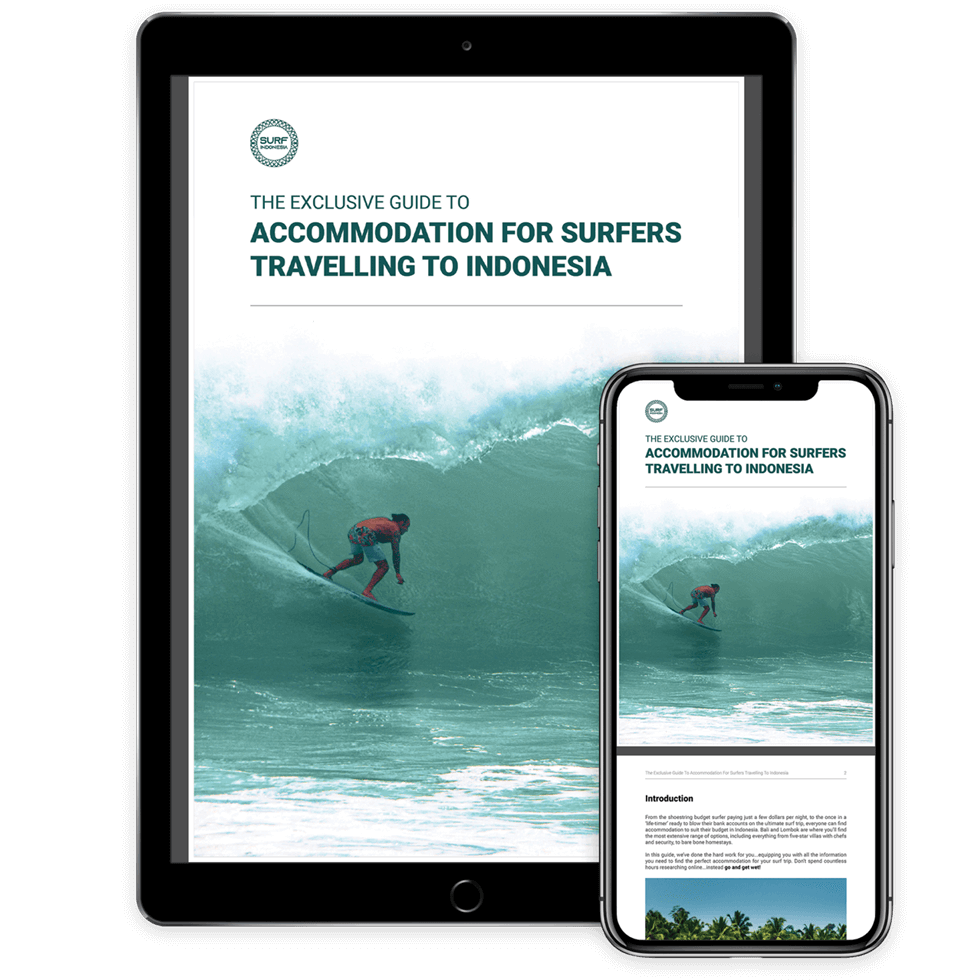 Download for free
The Exclusive Guide To Accommodation
For Surfers Travelling To Indonesia
🔍  65-page accommodation guide
🛖  Types of accommodation
🏄‍♂️  Perfect for any budget
✈️  How to book short or long term
🏝  Locations and recommendations
Is there food nearby?
Sushi K – It's never a bad idea to dive into seafood when you're as close to the ocean as Kuta Lombok. While the competition is slim in regards to sushi dining options in Kuta Lombok, the quality is uncompromising. About a 10-minute walk from the beach, it's a good option if you need to feed your sushi craving. Pro tip: order rolls that include local fish, otherwise you may occasionally get skimped depending on how recently the last barge arrived.
Sapori – Who doesn't love a big pizza after a full day of surfing? Sapori is a quick 10-minute walk from Kuta beach and offers authentic Italian dishes, woodfire pizza, and excellent desserts. One drawback: no booze. If you want a drink they may be able to grab it for you next door depending on how much they have it stock. Regardless, Sapori is an easy meal that won't break the bank and allows you to spread out over two stories for added seclusion.
What else is there to do in the area other than surfing?
The Local Sunday Market
in Kuta Lombok is a great place to soak in the culture of Lombok. You'll find just about any fresh fruit, vegetable, fish, or spice that you could imagine. The people are kind, welcoming, and game for a good haggle. A great place to search for souvenirs, grab a bite to eat, or people watch.
Mana Yoga Studio is a great place to recover from days spent in the barrel, grab a bite to eat, or crash. A calm and relaxed atmosphere hangs over a well-manicured tropical garden, private pool, and shady thatch bungalows. You'll often find yogis hanging poolside, slacklining, or snoozing in the shade. It's a bit of a hike at 30 minutes walking from the beach, but great for a rest day before heading back out in the line-up.
Mimpi Manis Kuta Lombok Fishing Trip
– Deep Sea fishing in classic Indo fashion. You'll head out past the reef in a small panga turned trimaran using an added extension of PVC pipe for pontoons. An incredible place to head out to sea and experience the wildlife of the Indian Ocean. Made, the fishing guide is kind, knowledgeable, and good company out on the water. If you love fresh seafood, and you're in for an adventure, Mimpi Manis Kuta Lombok is a great place to start.
What else
do I need
to Know?
Kuta Lombok is a great place to start or end your trip before heading off to other islands in South Asia. That being said, there's epic surf too and incredible views to be found on
Lombok
. Before you leave, be sure to head out around the island if for nothing more than to take in the scenery.
Access Our Exclusive Members-Only Content
Unlock the Spot Finder, all Spot Guides, Member Perks and more.
Where is Kuta Lombok?
The coastal town of Kuta Lombok is located in the middle of the southern coastline of the Lombok.
How to get around?
Kuta Lombok has fairly good quality sealed roads that are wider and more open with less traffic than the rest of Indonesia, therefore, it is a breeze to get around by scooter or car. You will find the odd pothole filled with cement which makes for a common obstacle to avoid on your scooter.
Is there parking fees?
Generally, you won't find any parking fees in Kuta Lombok with wider streets and an abundance of space parking up your scooter has never been easier.
From Lombok International Airport head south on Jalan Bypass Bandara International Lombok for approximately 2 km.
Then take Jalan Kuta Lombok and continue south for 14 km.
Turn right onto Jalan Raya Kuta and continue 2 km south until you arrive into the heart of Kuta Lombok.