Due to its remote location and lack of particular amenities, Gili Air is still relatively unexplored by the surfing community.
Thus, it provides an authentic South East Asian experience without compromising on epic waves. You can expect fewer folks in the line-up and friendly welcoming locals. All things said Gili Air should make your list of surf destinations before it explodes as the next Bali or Lombok. Gili Air is the closest to Lombok and thus is a great option for day tripping to explore new breaks.
What kind of wave is Gili Air?
The wave at Gili air is a reef break peeling off the southern tip of the smallest and most accessible of the Gili islands. Accessible by a long paddle, you'll be rewarded with little to no crowds and short square barrels. While the break is appetizing, it's often unlikely to score waves due to onshore tradewinds. For the best day at Gili Air, keep your ears pricked for big SW swell, exceptionally high tide, and light winds coming from the W – NW. On a good day, the shoulder is open for maneuvers but if you're hoping to spend time in the shade, focus on elongating your first bottom turn before picking your line and pull in fast or you might miss the section. You're highly likely to bounce off the reef a bit on mid to low tides and it's recommended to surf with some good sun protection.
Booties:
Gili Air: Optional
Surfboard type:
Gili Air: Shortboard
Hazards:
Gili Air: Shallow reef, dumpy lips, strong currents
Best swell direction:
Gili Air: SSW
Best wind direction:
Gili Air: WNW
What tide is best:
Gili Air: High
Best tide movement:
Gili Air: Rising
Wave consistency:
Gili Air: Almost non-existent
Best time of year:
Gili Air: June – August
Lineup vibe:
Gili Air: Vibe? There's nobody else out!
Other names for spot:
Gili Air: Perama
How do you get in and out of the surf?
Boat is your best option. To take a look at the lineup on a good day check out some old school footage of Gili Air going off here.
What is the beach like?
The beach at Are Guling is a half-moon shaped stretch of beach skirted by heavy green foliage and nearby island Gili Nusa. A great place for sunbathing or photos if you're not into surfing. You typically won't see many tourists cruising the beach and can enjoy the solitude that comes with it.
Despite the slow development on the Gili islands, there is still an abundance of accommodations to choose from. Roll your eyes over our list below for recommendations near the surf break on Gili Air.
Cheapest Price Range – 7SEAS Cottages
Anywhere you choose to stay in Air Gili is bound to be gorgeous due to the surrounding natural beauty. 7SEAS Cottages are no different. Right off the beach from the local break at Gili Air, you'll be able to watch the line-up from the resident bar/restaurant. Cottages at 7SEAS are clean, comfortable, and surprisingly modern for the remoteness of the island. You can enjoy shaded seating areas bound together with thatch and bamboo for afternoon cocktails after a full day of surfing. Just steps from the sea, it's easy to hop on a boat to local surf, dive, fishing, or snorkel spots in the vicinity. Great for travellers who are looking to stay comfortable without breaking the bank.
Mid Price Range – Chill Out Bungalows
Chill Out Bungalow us located about a quarter of a block north of the surf break at Gili Air. Needless to say, you couldn't get much closer to the break if you were sleeping on the beach. Chill Out Bungalows are a collection of private cottages sat directly on the sand on the edge of Air Gili. Bungalows are often outfitted with bunk rooms for travelling families and groups looking for a place to crash. While you're making a slight step up in price, you're paying for a bit more space, seclusion, and private beach access. Great for families, couples, and groups.
Luxury Price Range – Slow Gili Air 
Slow Gili Air villas are a 5-minute bike ride or 15-20 minute walk to the waves even though the likelihood of scoring surf on Gili Air is typically low regardless. However, these rustic and modern tropical villas are a great place to live the high life in between long spells of perfect waves. Each private villa is held together by a mixture of concrete and locally sourced wood and stone surrounded by heavily manicured gardens and private pools. An amazing place for a romantic getaway in a little solitude. Great for travelling couples and honeymooners.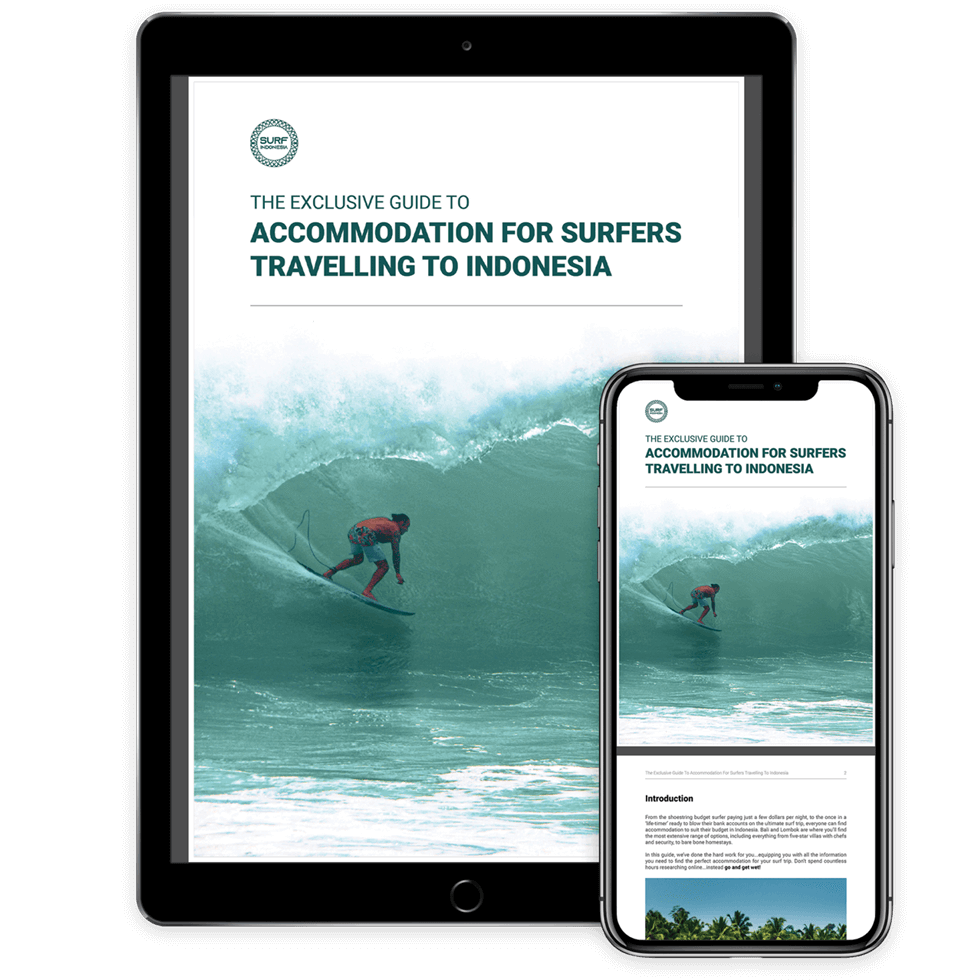 Download for free
The Exclusive Guide To Accommodation
For Surfers Travelling To Indonesia
🔍  65-page accommodation guide
🛖  Types of accommodation
🏄‍♂️  Perfect for any budget
✈️  How to book short or long term
🏝  Locations and recommendations
Is there food nearby?
Warung Sunny – You never can go wrong with your local Warung. Warung Sunny seems to be no exception in that its food is inspired by the origins of each of its travellers. You'll find burritos for stoked Southern Californians, street food for Awestruck Ozzies, and "authentic Indonesian" for your hipster kiwi friend. Open air, surrounded by a bamboo fence, bamboo tables, and bamboo chairs. Am I sensing a trend? Great for anyone looking to grind on before exploring.
Classico Italiano – Pizza, surprisingly or not, is becoming a bit of a staple on South Asian islands like Gili Air. Classico Italiano sticks to the greatest hits with thin crust, fire roasted, and heavily topping-ed pizzas. Tiramisu is amazing if you're wondering and with a wide selection of wines, Classico Italiano is a great night out for families, couples, friends, and singles looking for a taste of Italia.
Pachamama Organic Cafe – Just about anywhere you find good surf you're bound to find a Pachamama. Mexico, Nicaragua, Costa Rica, Peru, and now Gili Air all hold their own tribute to the Incan goddess. This hip and shabby-chic Cafe is a beautiful open-air retreat where you can fill up on cuisine inspired by Pachamama's South American roots. Fresh and Healthy ingredients are great for refuelling before your next surf or adventure.
What else is there to do in the area other than surfing?
Scuba & Snorkeling
– There are a number of places to explore around Gili Air for diving or snorkelling. To be honest, pop on a mask and start flopping around and you're bound to find something interesting. If you're looking for a more guided experience, there are a number of guide services on the island. Ask your accommodation for more information.
Gili Air Night Market – The Night Market on Gili Air is a great spot for freshly cooked authentic Indonesian cooking, for your kiwi friend again, and the occasional live music. This comes with the added delight of being incredibly affordable. You'll also find a wide array of sweets and fresh infused noodles. Don't expect the hustle and bustle of night markets in other parts of South Asia as everything in Gili Air is a lot smaller and more laid back. Unfortunately, the dates for when the Night Market is open aren't conclusive but is typically open during the peak season.
Bars in Gili Air – While the sleeping desert island of Gili Air isn't quite the party central that you'll find in parts of its neighboring tourism mecca Bali and is as quiet as a mouse at night in comparison to Gili T. That being said, the Bars on Gili Air could merit a pub crawl, or at least a few pints. There are a few different spots to choose from with the most notable being "Dark Side of the Moon." Anywhere that derives its inspiration from Pink Floyd is AOK in my book, but regardless, you'll get a kick out of the teeny tiny drinking space with specialty cocktails and bartenders with personality.
What else
do I need
to Know?
If you haven't realised it yet Gili Air is where you go to get away from the crowds, kick back and relax in the tropical beach fashion. Surfing isn't usually prioritised very high on a travellers list when visiting Gili Air.
Access Our Exclusive Members-Only Content
Unlock the Spot Finder, all Spot Guides, Member Perks and more.
Where is Gili Air?
Gili Air is part of the North Lombok Regency and the closest island to the northwest coast of Lombok out of the 3 Gili islands in a row (Gili Trawangan, Gili Meno and Gili Air).
How to get around?
The luxury of the Gili Islands is that you can get anywhere easily by foot!
Is there parking fees?
You won't have anything to park on Gili Air except for yourself on a comfortable beach lounger with Bintang in hand.
How to get to Gili Air?
From Bali, the quickest way to get to Gili Air is by fast boat from Serangan or Padang Bai. From Padang Bai it will take you approximately 1 hour 15 minutes and from Serangan it will take approximately 2 hours. Either option will cost you approximately 800,000Rp one way.