Gerupuk Lombok is home to five surf breaks.
This small village is big on fishing within a large inlet made up of several bays.  The locals here make their living from commercial fishing or surf tourism.  Gerupuk's waves are predominantly suited to beginners and intermediate surfers with conditions for the experienced in the biggest swells.  All surf spots are a short boat ride from Gerupuk village.
Inside Right
Inside Right is a right-hand reef break situated in the very east corner of the bay.  A rolling take off into a nice wall that leads into a fast section, often breaking a little wide and difficult to get around but with a forgiving lip.  Outside of this section is a fun inside section that is rippable, great for turns and aerials.
Outside Right
Outside Right is a right-hand reef break situated to the south-west at the opening of the bay.  It has two distinctive waves consisting of a big shifty peak out back that can get quite heavy with some size. Expect a big drop and a fast inside section that gets nice, steep and long.
Outside Left
Outside Left is a left-hand reef break situated to the south-east at the opening of the inlet at Gerupuk.  It is open to Indian Ocean swells and is the furthest break from Gerupuk village.  Outside Left is not often surfed so if you're looking to get away from the crowds keep an eye on the surf reports for the right conditions.  On smaller swells, it gives a steep take off into a short barrel left and right. But beware, it runs into a shallow closeout on the sharp reef, so fine-tune pulling out through the back.
Don Don
Don Don is a peaky A-frame reef break that left and right. It provides long rides both ways so get ready to be spoilt for choice.  Located in the middle of the bay it is the closest break to the village and only a couple of minutes by boat.  The left and right are both nicely shaped waves bending around the reef to provide shoulders ripe for any sort of maneuver as it bends towards you.  Fun and easy performance waves they'll give you a good leg workout. Don Don is also commonly known as Kame, which is Japanese for 'turtle'.  When you're sitting in the lineup, look over your shoulder at the hill behind you and you'll notice that it's shaped very much like a turtle.
Kiddies
Kiddies is a fun right-hand reef break that only breaks on biggest swells.  It takes the biggest swells to start working but when it does you are guaranteed some fun. Rippable from start to finish, you could be fortunate enough to slot into a nicely shaped mini-barrel in the best of conditions. All in all a nice shaped wave that is mostly surfed by grommets, longboards and stand-ups unless the swell of the season comes through.
Wave type:
Gerupuk Inside Right: Reef Break

Gerupuk Outside Right: Reef Break

Gerupuk Outside Left: Reef Break

Don Don: Reef Break

Kiddies: Reef Break
Wave difficulty:
Gerupuk Inside Right: Beginner

Gerupuk Outside Right: Intermediate

Gerupuk Outside Left: Intermediate

Don Don: Beginner

Kiddies: Beginner
Wave direction:
Gerupuk Inside Right: Right

Gerupuk Outside Right: Right

Gerupuk Outside Left: Left

Don Don: Left,Right

Kiddies: Right
Wave bottom:
Gerupuk Inside Right: Reef

Gerupuk Outside Right: Reef

Gerupuk Outside Left: Reef

Don Don: Reef

Kiddies: Reef
Booties:
Gerupuk Inside Right: Booties aren't necessary
Gerupuk Outside Right: Personal preference
Gerupuk Outside Left: Recommended
Don Don: Booties aren't necessary
Kiddies: Booties aren't necessary
Surfboard type:
Gerupuk Inside Right: Short or longboard
Gerupuk Outside Right: Shortboard
Gerupuk Outside Left: Shortboard
Don Don: Short or longboard
Kiddies: Shortboard
Crowd factor:
Gerupuk Inside Right: Crowded

Gerupuk Outside Right: Medium Crowds

Gerupuk Outside Left: Low Crowds

Don Don: Medium Crowds

Kiddies: Medium Crowds
Hazards:
Gerupuk Inside Right: Learner surfers
Gerupuk Outside Right: Sharp reef
Gerupuk Outside Left: Sharp shallow reef
Don Don: Learner surfers
Kiddies: Crowds when it is on
Best swell direction:
Gerupuk Inside Right: SW
Gerupuk Outside Right: SW
Gerupuk Outside Left: SW
Don Dont: S
Kiddies: S
Best wind direction:
Gerupuk Inside Right: NE
Gerupuk Outside Right: NW
Gerupuk Outside Left: E
Don Don: NE
Kiddies: NW
What tide is best:
Gerupuk Inside Right: Mid-tide
Gerupuk Outside Right: High tide
Gerupuk Outside Left: Mid-tide
Don Don: All tides
Kiddies: All tides
Best tide movement:
Gerupuk Inside Right: Mid to high
Gerupuk Outside Right: Mid to high
Gerupuk Outside Left: Mid-tide
Don Don: Outgoing
Kiddies: Incoming
Wave consistency:
Gerupuk Inside Right: Consistent
Gerupuk Outside Right: Consistent (wet season)
Gerupuk Outside Left: Inconsistent
Don Don: Semi consistent (dry season)
Kiddies: Fickle (rarely breaks)
Best time of year:
Gerupuk Inside Right: Dry season
Gerupuk Outside Right: Wet season
Gerupuk Outside Left: Wet season
Don Don: Dry season
Kiddies: Dry season
Lineup vibe:
Gerupuk Inside Right: Happy go lucky surfers
Gerupuk Outside Right: Intermediates taking the step up
Gerupuk Outside Left: Airy due to the open ocean
Don Don: Happy go lucky surfers
Kiddies: Frothing when it works
Other names for spot:
Gerupuk Inside Right: Prigi or Bumbang Bay
Gerupuk Outside Right: Giligoleng
Gerupuk Outside Left: Terasaq
Don Don: Batu Teong or Kame
Kiddies: Batu Lawang or Kids Point
How do you get in and out of the surf?
Boat access. A surf boat to take you out to any of the surf breaks will cost 150,000Rp for 3 or fewer people. If more than 3 people it will cost 50,000Rp per person for a 2-hour session in the surf.
You won't have any trouble organising a boat as on arrival into Gerupuk you will find plenty of locals keen and ready to take you out to whichever break is working best.
Your captain will either wait for you on the boat in the channel or anchor up and jump in the surf with you.
What is the beach like?
The beach in Gerupuk itself can be home to a bit of rubbish and local fishing life.  However, there are many small bays in Gerupuk that you can get to by a short boat ride or walk if you want to relax on a beach to yourself.  There are other spectacular beaches nearby such as Tanjung Aan which is most commonly visited by beachgoers relaxing in the sun. Parking at Tanjung Aan will cost IDR 10,000 per scooter.
There are plenty of options for accommodation in and around Gerupuk with the hosts going out of their way to ensure your trip to Gerupuk is a great one. The nearest Hotel or Resort is Novotel Lombok hotel back towards Kuta Lombok.
Mid Price Range – Inlight Lombok Resort
Inlight Lombok is a beautiful accommodation oasis, hidden beachfront, in the icon hills of Gerupuk.  The accommodation has three spectacular outdoor pools and unique ocean views which also includes sunrises, cliffs, mountains, beach and the surf.  With five super fun surf spots accessed in the bay within 10 minutes by boat, Inlight can organise a boat to take you from their beachfront location straight to the lineup.  Gerupuk village is just a short scooter ride away, however, you won't need to venture far from Inlight Lombok during your entire stay.  While you relax by the pool and recharge your batteries in between surfs, eat at their on-site restaurant where they serve deliciously, healthy vegetarian and seafood meals.
Mid Price Range – Bruce's Hideout
Choose from a beachfront bungalow, cottage, apartments or villas in a convenient location with views over Gerupuk Bay and easy access to the surf by boat.  All accommodation options are kitted out with high-quality furniture and stylish decor to provide you with the most pleasant stay possible. Situated in the quiet zone of Gerupuk you won't be affected by the frequent noise from the mosque like other accommodation options in the heart of Gerupuk. Bruce's Hideout was one of the first accommodations in Gerupuk and is seriously set up to please. Be sure to find out more in the link below
Mid Price Range – Surf Camp Lombok
Founded in 2007, Surf Camp Lombok are seriously passionate about improving peoples ability to surf.  Their highly qualified team help and support you through a truly unique and potentially life-changing experience.  The surf camp is in a small fishing village known as Gerupuk within a beautiful inlet.  This large inlet is home to five different surf spots which provide some of the best opportunities to develop your surfing.  Surf Camp Lombok uses a well-developed level 1-4 system to customise a course specific to your needs, maximising your progress during your stay.  The camp accommodates sixteen, level 1-2 guests and eight, level 3-4 guests in dorm rooms, double rooms or private houses. You also have the option to book a separate villa next door should you prefer more privacy.
DEALS ON PLACES TO STAY NEAR GERUPUK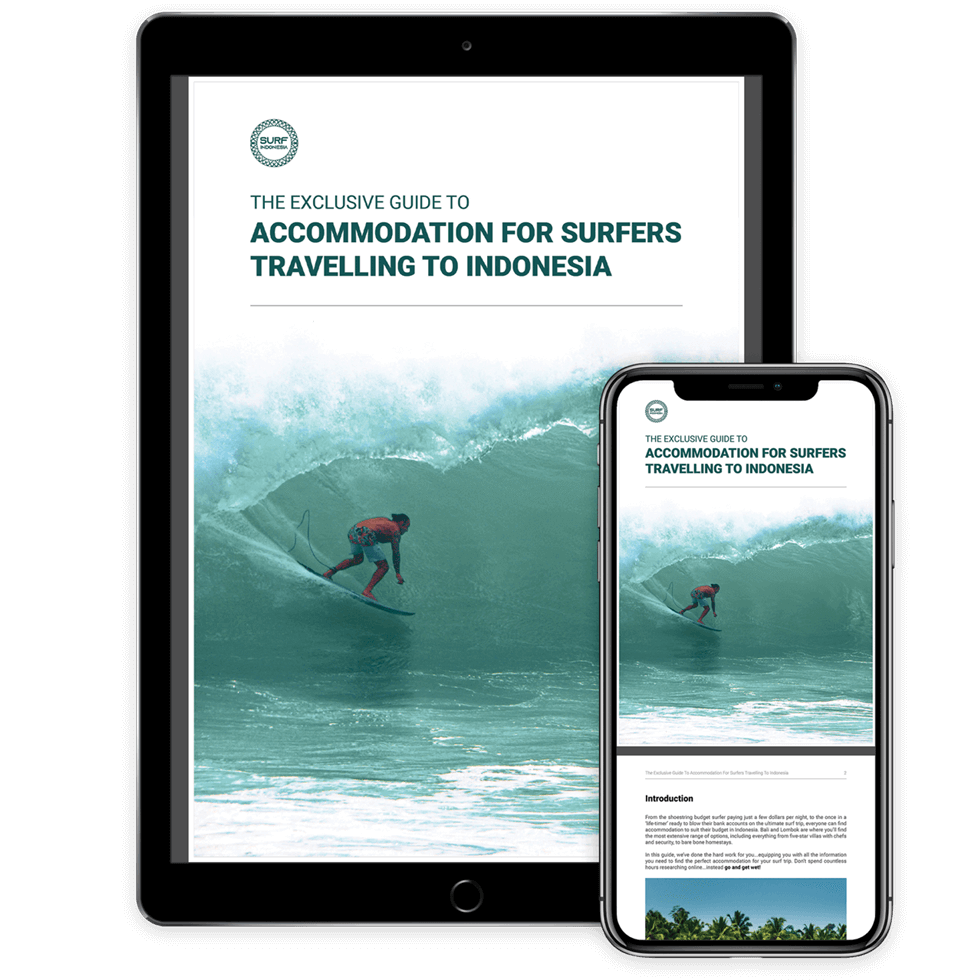 Download for free
The Exclusive Guide To Accommodation
For Surfers Travelling To Indonesia
🔍  65-page accommodation guide
🛖  Types of accommodation
🏄‍♂️  Perfect for any budget
✈️  How to book short or long term
🏝  Locations and recommendations
Is there food nearby?
The Shake and Bake bakery in Gerupuk is AMAZING.  Everything is homemade, all done with the best fresh local ingredients, crafting delicious vegetarian meals.  Their freshly baked multigrain sourdough is made daily and is up there with the best bread you'll find in Indonesia.
What else is there to do in the area other than surfing?
Apart from surfing, Gerupuk Bay Lombok is a small but well-known fishing village where young lobster are caught using light to attract them at night.  Local fisherman scoop the young lobster from the water, transfer them into holding pots attached to floating bamboo pontoons where they are grown for export.  In addition to lobster, a large array of fish are caught and seaweed farmed.  The area is full of sea life and makes for some great fishing.  You will often see big fish jumping out of the water on your short boat ride to one of the five surf breaks.
Surf Camp Lombok is situated at the southern end of the village has a skate bowl that is open to the public.  Head on down for a skate session in between surfs.
What else
do I need
to Know?
Try to avoid staying right in the heart of Gerupuk village. The mosque is central and you will get a 5 am wake up call over the loudspeaker come time for prayer. This occurs four to five times per day. However, that's if the sounds of the engines starting on the fishing boats leaving before the first call to prayer don't get you up first! Handy if you want to be sure to rise early for a dawny.
Access Our Exclusive Members-Only Content
Unlock the Spot Finder, all Spot Guides, Member Perks and more.
Where is Gerupuk?
Gerupuk is located in the south east of Lombok about 9 km from Kuta Lombok and approximately 50 minutes drive from Lombok International Airport.
How to get around?
Easiest and most convenient way to get around is to rent a scooter for IDR 50,000 per day.
Is there parking fees?
If you're not staying in Gerupuk and are parking up for a surf, depending on where you park you may have to pay IDR 2,000.
When travelling to Gerupuk from outside of Lombok it is easiest to fly into Lombok's International Airport.
When organising your accommodation for your stay in Gerupuk ask your hosts to organise a car to pick you up from the airport as this will also ensure you get a fair price for transport. Usually IDR 200,000.
From Lombok International Airport the drive to Gerupuk is approximately 50 minutes.