Ekas is often used interchangeably to describe the southeast corner of Lombok, a village and the surf.
One of the few waves on the island that is appealing to surfers of all abilities, Ekas refers to two waves, Ekas outside, and Ekas inside. While you can expect peak swells from April to November, Ekas is generally consistent and has surfable waves year-round.
What kind of wave is Ekas Inside?
Inside Ekas is a great wave for beginner or intermediate surfers that can be surfed on all tides. As the tide drops, the wave turns into a wide peak breaking right and left. Rights are typically a bit more walled and fast-breaking while the left's tend to peal over a long stretch of reef. Rights and lefts both offer an easy drop into long thigh burners great for plenty of maneuvers. Ekas tends to break year round but expect ideal conditions with decent sized SW swell and SE wind.
What kind of wave is Ekas Outside?
Outside Ekas is a steep hollow wave that breaks at the base of a cliff face. Unlike its counterpart, SE swell is best as it bends in and hits the reef properly sending some heavy and hollow waves down the reef. But don't be fooled, SW and WSW swells still send plenty of fun waves, just not quite as hollow. Too much west in the swell can cause a bump and crumble which will send snowball sections in front of your barrel line. Breaks best on a high tide with overhead conditions.
Wave type:
Ekas Inside: Reef Break

Ekas Outside: Reef Break
Wave difficulty:
Ekas Inside: Beginner

Ekas Outside: Intermediate
Wave direction:
Ekas Inside: Left,Right

Ekas Outside: Right
Wave bottom:
Ekas Inside: Reef

Ekas Outside: Reef
Booties:
Ekas Inside: Not necessary
Ekas Outside: Not necessary
Surfboard type:
Ekas Inside: Longboard to shortboard
Ekas Outside: Shortboard
Crowd factor:
Ekas Inside: Medium Crowds

Ekas Outside: Low Crowds
Hazards:
Ekas Inside: Beginner surfers
Ekas Outside: Fast scattered waves
Best swell direction:
Ekas Inside: SSW
Ekas Outside: SE
Best wind direction:
Ekas Inside: SE
Ekas Outside: SE
What tide is best:
Ekas Inside: All tides
Ekas Outside: Mid to high
Best tide movement:
Ekas Inside: Lowering
Ekas Outside: Rising
Wave consistency:
Ekas Inside: Consistent
Ekas Outside: Consistent
Best time of year:
Ekas Inside: April – November
Ekas Outside: April – November
Lineup vibe:
Ekas Inside: Mellow
Ekas Outside: Mellow
Other names for spot:
Ekas Inside: Ekas Inside
Ekas Outside: Ekas Outside
How do you get in and out of the surf?
Unless you make the long drive around from Awang, most surfers will take advantage of Ekas as a day trip. If you're planning on day tripping, take a boat from the other side of the bay in Awang. You will have no problem finding a boat and captain to take you on arrival at Awang harbour. If you're looking to lengthen your stay in Ekas, we recommend hiring a car or scooter and crashing at one of the Ekas surf accommodations listed below.
What is the beach like?
The beaches at Ekas are made up of beautiful undeveloped white sand beach along the various stretches of small bays. Due to less human traffic, Ekas retains much of its charm and natural beauty from decades long past. On the eastern edge of Awang Bay, Ekas beach overlooks a wide expanse of emerald blue water and fun surf.
As
Lombok
continues to become more developed, you have more options on where you can stay. Keep reading to discover our recommendations on where to crash while on your surf trip to Ekas.
Affordable Price Range – Ekas Surf Resort
This beautiful boutique resort has five double bedrooms and one family unit, providing quality, comfort, affordability and above all a resort with a chilled-out atmosphere. Located in the small village of Ekas you are just a short leisurely stroll to the beach and a variety of great waves suitable for beginners through to the world-class breaks of Inside & Outside Ekas. Ekas Surf Resort conveniently provides a surf boat to Inside Ekas which is included in your room rate. When you not surfing or hanging out on the beach there's plenty to do at the resort, from enjoying their amazing food with a cold drink whilst chilling at the pool.
DEALS ON PLACES TO STAY IN EKAS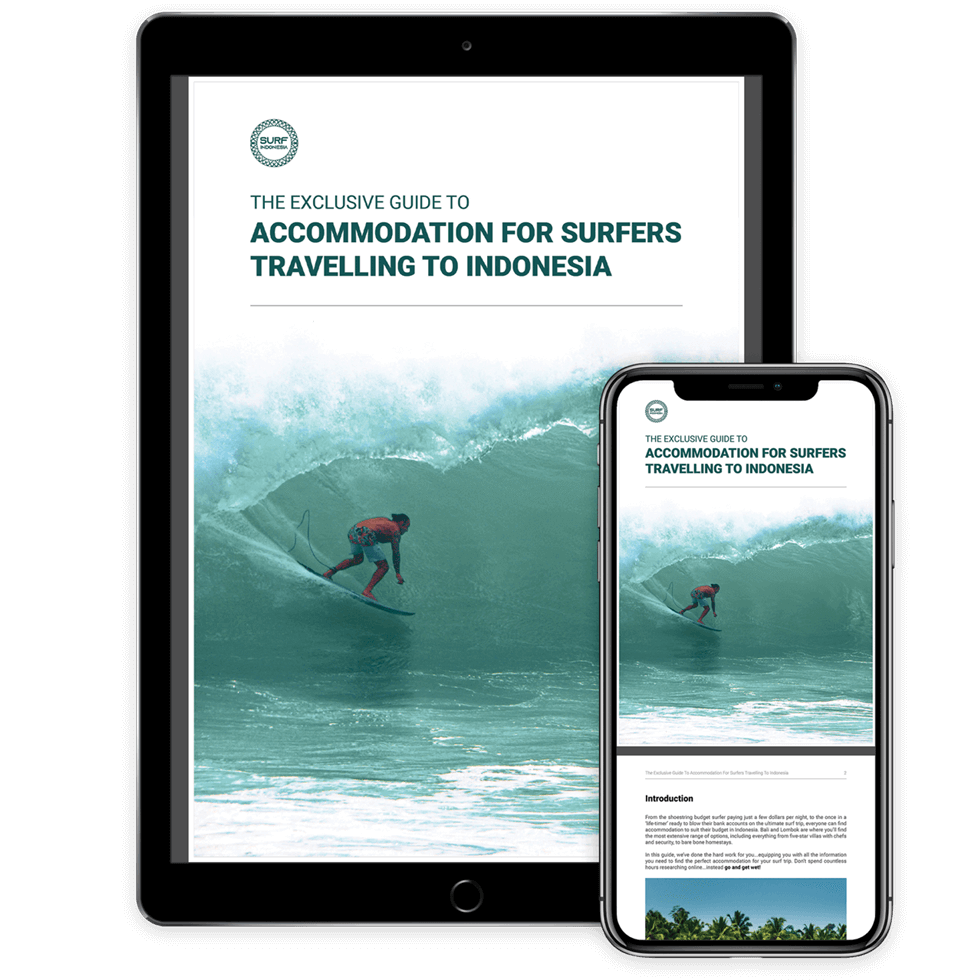 Download for free
The Exclusive Guide To Accommodation
For Surfers Travelling To Indonesia
🔍  65-page accommodation guide
🛖  Types of accommodation
🏄‍♂️  Perfect for any budget
✈️  How to book short or long term
🏝  Locations and recommendations
Is there food nearby?
Each accommodation on this list has their own restaurant and chances are you'll be able to purchase fish or vegetables from locals down by the water. Best bet, plan on eating at your accommodation and catching a couple fish if you find the time.
What else is there to do in the area other than surfing?
Considering the natural beauty and wide array of general attractions in Lombok, there's plenty to be explored. Check out some of our ideas on what to do when you're not haunting the line-up.
Kiteboarding at Kaliantan Beach – Kitesurfing is still a relatively new sport with 10-15 years of exploration under its belt. Today you can find opportunities to kiteboard just about anywhere you find wind and water together. Kaliantan Beach is a typically windy stretch of white sand beach bordered by crystal clear blue water. Instructors can introduce you to your first session of kiteboarding or they can help you hone your craft so you'll be having tow-in-like rides at local spots when it's offshore.
Glamping at Jeeva Resort – The only reason Jeeva Resort isn't listed as one of our accommodation options is because it's an experience all unto itself. The opposite side of the island from Ekas, you'll have a chance to explore some of the other surf breaks in the area. One of the big selling points for Jeeva Resort is the accommodation itself. Located directly on the beach near Pantai Klui, Jeeva Resort offers bamboo and thatch A-frame cottages open to the elements. You'll pass out to the sound of waves lapping up on the shore and gaze over the stars each evening. Great for a private or romantic getaway while exploring what Lombok has to offer.
What else
do I need
to Know?
Visit Pink Beach – Pink Beach is aptly named for the coral sand that washes up and is slowly ground to bits along the shoreline in the south-east corner of Lombok. If you've already made the trek around Awang bay to Ekas, it's definitely worth exploring a few destinations before making your way back around. Another short road trip away, Pink Beach is a great place for stocking up on Instagram shots.
Access Our Exclusive Members-Only Content
Unlock the Spot Finder, all Spot Guides, Member Perks and more.
Where is Ekas?
Ekas is located in the far southeast of Lombok in Awang Bay.
How to get around?
Get yourself a scooter!
Is there parking fees?
There are no parking fees anywhere in Ekas Bay.
From the Lombok International Airport the quickest way to Ekas is to head southeast on LOP Service Road for 4 km
Turn left at the 1st cross street onto Jalan Raya Batunyala and drive 4.1 km.
Turn right onto Jalan Raya Praya – Mujur and drive 6.3 km, continue onto Jalan Raya Sengkerang for 8.5 km.
Then continue onto Jl. Raya Keruak for 4.8 km and turn right onto Jalan TGH Moh. Mutawalli and drive 3.5 km.
Turn right onto Jalan Jor – Tutuk and drive 1.5 km until Jalan Jor – Tutuk turns left and becomes Jl. Tutuk – Serumbung.
In 2.5 km continue onto Jl. Serumbung and follow signs for Ekas.