Take a deep breath, the rumours are true.
Desert Point on Lombok's Southwestern Peninsula, under peak conditions, is one of the best-left hand barrels on the planet. Desert Point is legendary for 20-second barrel rides, long open shoulders, and pristine surfing conditions. Additionally one of the most inconsistent and finicky waves in the world, Desert Point only breaks on the largest groundswells on lower tides before disappearing as the tide fills in. Read on to find out how you can score your slice of Desert Point.
What kind of wave is Desert Point?
Desert Point is arguably the best left-breaking wave in the Southern Hemisphere. Or at least the most adapted for surfing. On an ideal day, you might avoid a sunburn by simply staying in the shade. Squint your eyes and imagine a slower, cleaner pipeline and you're watching Desert Point. Hazards galore, from sharp shallow reef to fast hollow waves make Desert Point unavailable to beginner or intermediate surfers. Take off deep and keep your bottom turn in check, speed is your friend. The last section of the wave is it's hollowest and fastest and requires a quick exit over shallow reef. On a higher tide the wave can be non existent, as the tide lowers and when the water level on the reef gets just right the sets start rolling in and the wave magical turns on literally like a light switch!
Wave difficulty:
Desert Point: Experienced
Booties:
Desert Point: Recommended
Surfboard type:
Desert Point: Shortboard
Hazards:
Desert Point: See below
Best swell direction:
Desert Point: SW
Best wind direction:
Desert Point: SE
What tide is best:
Desert Point: Low
Best tide movement:
Desert Point: Mid to low
Wave consistency:
Desert Point: Extremely inconsistent
Best time of year:
Desert Point: Dry Season; May – October
Lineup vibe:
Desert Point: Full on!!! Hassling galore
Other names for spot:
Desert Point: Bangko Bangko
Desert Point: The Dust Bowl
Most Common hazards
Although Desert Point can provide a nice roll into a bus-sized barrel there are a number of life-threatening hazards that keep the pro surfers on their toes. First and foremost the reef is ridiculously sharp and once you lock into the fast and hollow barrel down the line through the grower section you can end up in dry sections of reef and literally a life-threatening end section. There are many advanced surfers that have ended up with life-threatening injuries from this end section of reef so before you paddle out, make sure you can handle the paddle in on the lower tide. Also, be aware of the strong currents that push the entire crowd into the take-off zone.
How do you get in and out of the surf?
Most surfers are camped out on the beach waiting for Desert Point to turn on. However more recently, dudes surfing Deserts have taken to hiring boat drivers from Bali to drop them near the first peak and then spend the next few hours getting shacked before heading back to Bali. Otherwise, walk out to the point, keep your eye out for live reef, and don't duck dive too deep. And be extremely cautious coming in, hone your timing just right. You don't want to be caught on the dry reef with a big set about to detonate right in front of you!
What is the beach like?
The beach at Desert Point is a long stretch of white sand with beautiful views of the long peeling left-handers from the peak. Not the best for swimming with shallow, sharp live reef not far from the waters edge and strong currents. Unless you're surfing, you might want to check out some of the other beaches on Lombok for their picturesque feel. Desert Point is called just that for a reason.
As previously stated, a ways back, you might find some of the world's best surfers camped out under rudimentary yet sturdy beach shacks. After some troubles with local crime, there's been a shift in the general acceptance of beach camping at Desert Point. Nowadays there are several basic accommodation options (mostly huts) located at Desert Point which you can book on arrival if there are rooms available. Most are simple, with little to no electricity. Turn up and pay in cash. Another option is to find a place to crash in neighbouring Bangko-Bangko, Labuhanpoh or 2.5 hours drive away in Kuta Lombok where there is more user-friendly surf.
Find deals on places to stay near Desert Point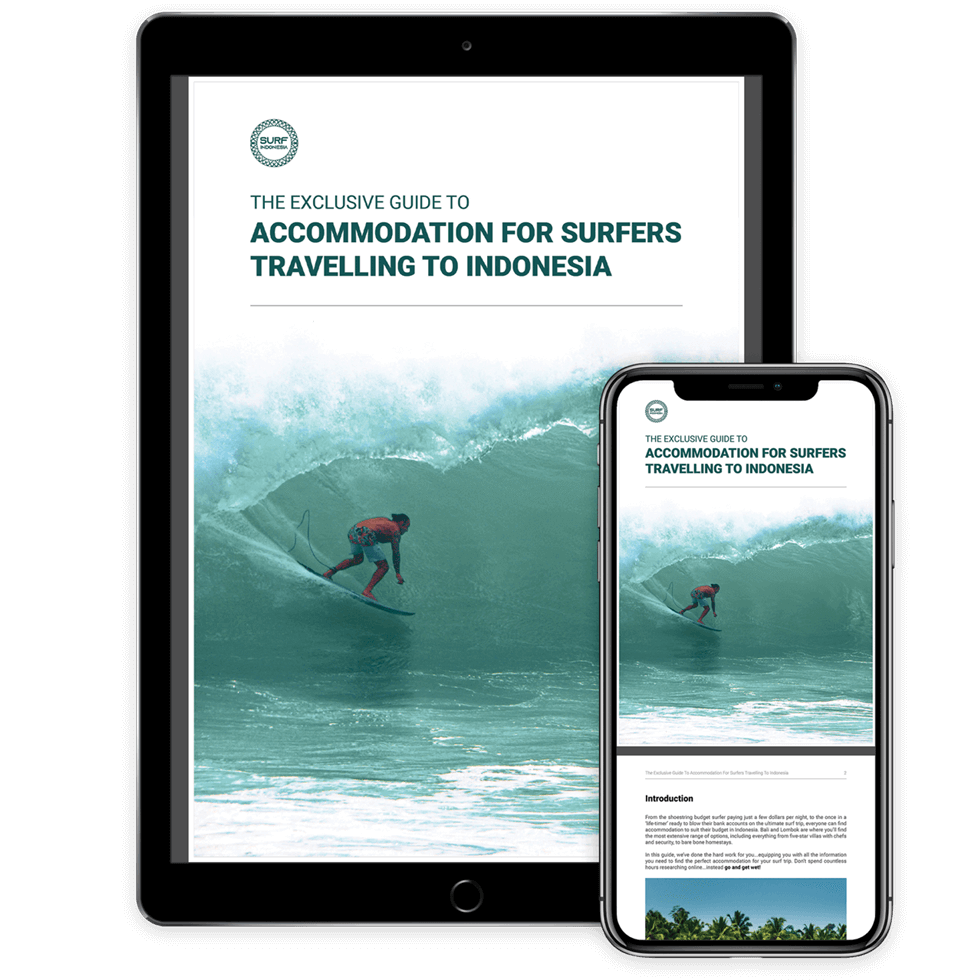 Download for free
The Exclusive Guide To Accommodation
For Surfers Travelling To Indonesia
$12.99 Free

🔍  65-page accommodation guide
🛖  Types of accommodation
🏄‍♂️  Perfect for any budget
✈️  How to book short or long term
🏝  Locations and recommendations
Is there food nearby?
There's not much in the way of food or anything else for that matter in this part of Lombok. Hence the name Desert Point! If you plan on staying for a while the best bet is to bring your favourite non-perishable food and some fishing gear which will also help you fill in a lot of down time that you are guaranteed to have. You can purchase fruit and veg from locals in the area as well. If you're looking for a cooked meal, you'll find The Grower Warrung right out in front of the break at Desert Point and you will find one or two more basic beach hut style warungs at Desert Point also. Great places to fill up before or after your session at Desert Point while you watch some of the best surfers in Indo get deep inside consecutive long left-hand barrels. Expect mostly traditional Balinese dishes and plenty of mixed juice fruit smoothies.
What else is there to do in the area other than surfing?
This part of Lombok is typically deserted, no pun intended, during an absence of swell. As a result, it's a great place to go exploring for a hike or scope out some different beaches. Be warned, there are mosquitos carrying malaria and any adventures you embark on should take fluids into consideration.
What else
do I need
to Know?
There are a diehard group of surfers who have been
surfing and travelling in Lombok
for the better part of 50 years. Always keep your cool in the line-up, especially when the surf is big and adrenaline is running high. Remember Desert Point can be an extremely dangerous wave, especially further down the line where it can close out on dry reef and I seriously mean DRY REEF. If you don't have the knowledge and the skills to deal with this then you are seriously putting your life and others in danger. Desert Point has ended some seriously experienced surfers careers and broken more necks, backs and numerous other bones that can be listed on this page. BE WARNED!!! P.S. Take a good medical kit.
Where is Desert Point?
Desert Point surf break is located on the far southwest coast of Lombok where the island protrudes east in the shape of a boot facing towards Bali. Here Desert Point sits at the top of where the toe would be located in the boot-shaped section of coast. Where large ground swells from the south have to wrap into to hit the reef producing world left-hand barrels known as one of the longest and most makeable left hand barrels on the planet.
How to get around?
Make the trip to Desert Point in a 4 wheel vehicle and ideally, one that can handle off-road conditions as the last 30 minutes on the drive into Desert Point is up and over a steep and very uneven dirt road. If you are used to making long trips venturing around Indonesia by scooter then you can do so, however, be prepared for tyre punctures and always take precautions in Lombok as there is the odd case of tourists being attacked by local bandits.
Is there parking fees?
No parking fees.
How to get to Desert Point?
From Bali, you can either take a boat to Desert Point, fly to Lombok International Airport, or the cheapest option ferry to Lembar.
If you are now on the island of Lombok, travel west over land to Jalan Raya Sekotong.
Keep heading west along the coastline, enjoy the beautiful view until the road turns into Jalan Raya Sekotong.
Follow Jalan Raya Sekotong until you arrive at Desert Point. The last few kilometres along Jalan Raya Sekotong will be a slow going dirt road over a big hill.