Pacitan pronounced (patchitun) has remained somewhat of a secret spot for decades.
At least up until recent years before the left at Watu Karung first reached notoriety after being featured as a cover shot on various global surf magazines. Which is how Pacitan became most well-known for the heavy sucking reefs in a small bay nearby known as Watu Karung (pictured above). There are a number of less-known breaks in the wider area and within the bay at Pacitan which offers beach breaks well suited for beginner and intermediate surfers.
What kind of wave is Watu Karung Left?
The Left at Watu Karung opens up to a fast moving wall of water equipped with a super shallow square barrel which works best on low tide. Very tricky to navigate and if you take off in the wrong spot you'll find yourself in trouble. Be sure to be aware of where to kick out or you might be munching on a mouthful of dry reef on the end section. Not to mention it is likely you'll eat reef if you don't make the drop either. Watu Krung is consistently a favourite among bodyboarders due to the shape of the barrel and opportunity for airs when riding a lid. Time it right and you may get lucky with crowds, otherwise it's not a wave you want to be surfing with many out due to its critical nature. Strictly a wave for advanced surfers only.
What kind of wave is Watu Karung Right?
The right works best on a rising mid to high tide and isn't affected by the strong rip that pulls you out to the peak on either side of Watu Karung. The sand filled reef generates a wedgie peak which bottoms out to produce heavy draining slabs. Watu Karung Right has a shifty peak and the fact that it isn't a perfect wave makes it all the more technical, requiring an advanced surfing skillset only. Depending on where you paddle out through the channel watch for exposed shallow reef.
What kind of wave is Pancer?
Pancer Point commonly referred to as Pancer Door or simply Pancer is a river mouth point break which breaks left along a leg-burning sandbar at the eastern end of the bay in Pacitan. Super fun and consistent it can hold in overhead conditions with long walls perfect for big turns and cutbacks. The water can get fairly brown and dirty after rain.
What kind of wave is Teleng Ria?
Pantai Teleng Ria is the main beach in Pacitan. Home to various peaks along roughly three kilometres of beach there are plenty of options to find something fun away from any crowds. West swells bend in to form nicely shaped peaks while swell from the south will really limit your options along the beach. At times there is a right hander near the break wall at the western end of the beach. Overall Teleng Ria produces good beginner waves when the swell is small and great intermediate waves when conditions are optimal.
Wave type:
Watu Karung Left: Reef Break

Watu Karung Right: Reef Break

Pancer: River Mouth

Teleng Ria: Beach Break
Wave difficulty:
Watu Karung Left: Advanced

Watu Karung Right: Advanced

Pancer: Beginner

Teleng Ria: Beginner
Wave direction:
Watu Karung Left: Left

Watu Karung Right: Right

Pancer: Left

Teleng Ria: Left,Right
Wave bottom:
Watu Karung Left: Reef

Watu Karung Right: Reef

Pancer: Sand

Teleng Ria: Sand
Booties:
Watu Karung Left: Yes
Watu Karung Right: Personal preference
Pancer: No
Teleng Ria: No
Surfboard type:
Watu Karung Left: Short pin tail
Watu Karung Right: Short pin tail
Pancer: Anything
Teleng Ria: Anything
Crowd factor:
Watu Karung Left: Crowded

Watu Karung Right: Crowded

Pancer: Low Crowd

Teleng Ria: Low Crowd
Hazards:
Watu Karung Left: Dry reef, heavy hollow surf, current
Watu Karung Right: Reef, heavy hollow surf
Pancer: Current
Teleng Ria:
Best swell direction:
Watu Karung Left: SW
Watu Karung Right: SSW
Pancer: SW
Teleng Ria: SWW
Best wind direction:
Watu Karung Left: NE
Watu Karung Right: N
Pancer: E
Teleng Ria: NE
What tide is best:
Watu Karung Left: Low
Watu Karung Right: Mid tide
Pancer: Lower tide
Teleng Ria: Higher tide
Best tide movement:
Watu Karung Left: Dead low
Watu Karung Right: Rising mid tide
Pancer: Incoming
Teleng Ria: Incoming
Wave consistency:
Watu Karung Left: Consistent
Watu Karung Right: Semi-consistent
Pancer: Consistent
Teleng Ria: Consistent
Best time of year:
Watu Karung Left: March – October
Watu Karung Right: March – October
Pancer: March – October
Teleng Ria: March – October
Lineup vibe:
Watu Karung Left: Chargers
Watu Karung Right: Chargers
Pancer: Chill
Teleng Ria: Chill
Other names for spot:
Watu Karung Left:
Watu Karung Right:
Pancer: Pacitan Rivermouth
Teleng Ria: lack Sands
What are the beaches like at Pacitan?
Reminiscent of something from Jurassic Park, this part of East Java is known for beautiful stretches of sand beaches fringed with lush tropical hillsides and the occasional cave. All in all, Pacitan and Watu Karung are nice spots to chill out and enjoy Java. (Pacitan pictured below).
Depending on the type of waves you want to surf you'll stay in either Pacitan or Watu Karung. If you want to charge the reefs in the area book accommodation in Watu Karung while if you're after more user friendly sand bottom waves get yourself sorted in Pacitan. Note that beachside accommodations are available but limited in both Pacitan and Watu Karung. Other than a few beachfront options most accommodations in the area are a brisk walk or short drive to and from the surf.
Cheapest Price Range – Harry's Ocean House Pacitan
Harry's Ocean House is a basic homestay set-up with easy access to the beach in Pacitan. The hosts are extremely friendly and helpful and love to host surfers travelling to the area. Great for the budget-conscious surfer looking for something a little different with a shared kitchen equipped with a fridge, a stovetop, and a toaster. in a chilled Also benefit from free WiFi, a shared lounge, a garden and a terrace in a super friendly atmosphere.
Cheapest Price Range – Harry's Ocean House 2 Pacitan
Just a few hundred metres down the road from Harry's Ocean House is Harry's Ocean House 2. Same owners and on the same street Harry's second accommodation offers very much the same as the first accommodation. Clean and comfortable rooms with a shared kitchen equipped with a fridge, a stovetop, and a toaster. Free WiFi, a shared lounge, a garden and terrace.
Cheapest Price Range – La Calypso Guesthouse
La Calypso Guesthouse is another great accommodation option with shared facilities such as a nice kitchen, dining area and more. One of the closest if not the closest accommodations to Pancer Door surf spot, you can hit the surf in a matter of minutes on foot. As with the other hosts on this list, La Calypso's hosts are also super friendly and pride themselves on providing a great experience for all guests. As you can probably tell by now the Pacitan locals are superb hosts. Hit the link below to find out more.
Cheapest Price Range – Villa Hembers Surf Camp
Villa Hembers Surf Camp provides traditionally built standalone timber bungalows within walking distance to Pancer Beach. The hosts provide a fun and friendly atmosphere for all guests with raving reviews. You'll also benefit from communal areas such as a dining area and a kitchen equipped with a fridge. If you're looking for a cool vibe and chill spot to rest your head then Villa Hembers is another great option to check out.
Cheapest Price Range – Watukarung Harry's Ocean House Homestay
Harry's Ocean House in Watu Karung are the same owners that provide two other great homestays in Pacitan. One of the first homestays in the area, Harry's provides all the basics you need to enjoy a surf trip to Watu Karung. While most homestays are located within 100 metres of the beach, Harry's is beachfront! With friendly staff knowledgeable about local surf breaks it is perfect for the low maintenance surfer looking to surf as much as possible.
Affordable Price Range – Watukarung Sackstone Guesthouse
At Watukarung Sackstone Guesthouse expect something similar to a small hotel with great facilities approximately 100 metres away from the beach and barrels at Watu Karung. Rooms are clean, spacious and equipped with air conditioning and a private bathroom. There is a restaurant on-site and also a shared kitchen, lounge and free WiFi. Find out more in the link below.
Mid Price Range – Desa Limasan Retreat
Beachfront with a pool and immediate access to the surf in Watu Karung, Desa Limasan Retreat offers modern comfort in traditional Javanese houses. Free WiFi is available in all areas and private parking is available on-site. Enjoy king-size beds, air-conditioned rooms, private bathroom, seating and a dining area within your own spacious home. Some units feature a terrace or patio with sea views. And some also have a kitchenette, however, their on-site restaurant will keep your stomach full and happy!
Mid Price Range – Istana Ombak
Located directly on the beach at Watu Karung, you're not likely to find a more luxurious, comfortable, and relaxing place to crash during your time in Pacitan. Istana Ombak offers package deals for single travellers, couples, and families looking to surf, explore, and relax in this part of East Java. Some of the perks include airport pick-up, beachside pools with a perfect view of Watu Karung rights and lefts, a full bar, and a step-up in creature comforts such as privacy and aesthetic architecture. A great place for couples, families, and single surfers looking to score at Pacitan.
DEALS ON PLACES TO  STAY IN PACITAN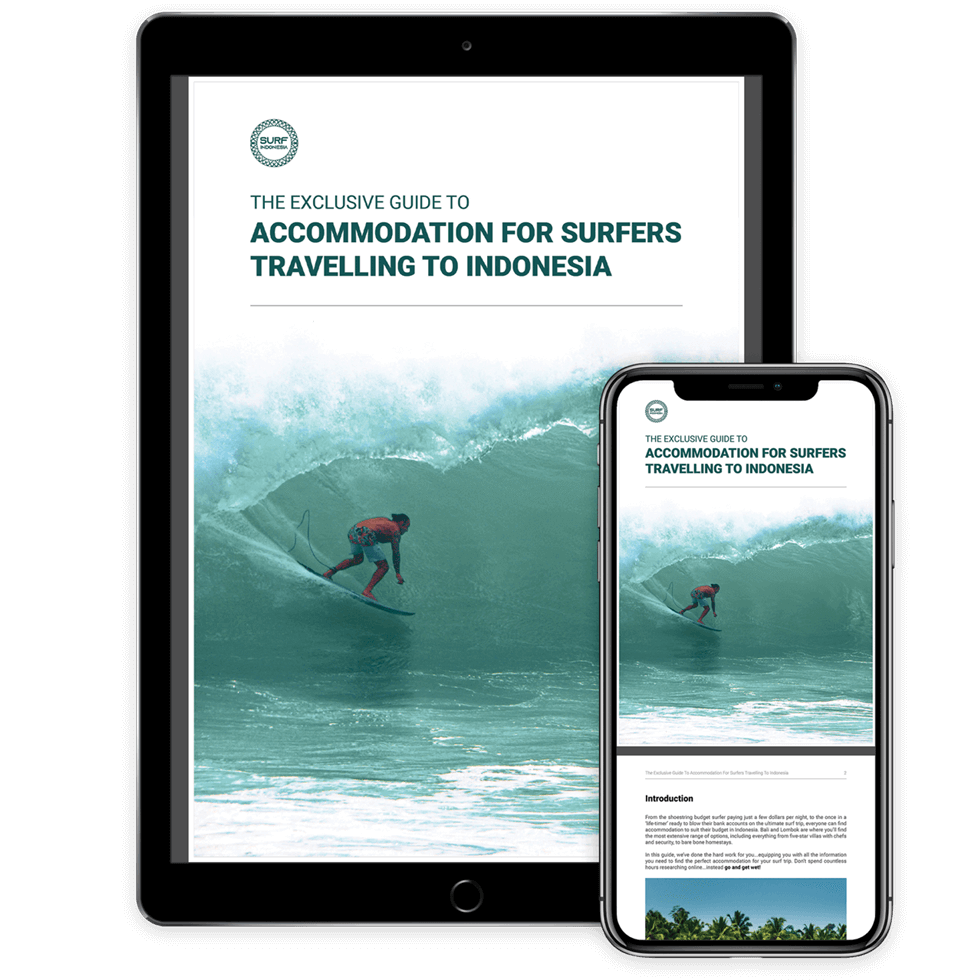 Download for free
The Exclusive Guide To Accommodation
For Surfers Travelling To Indonesia
🔍  65-page accommodation guide
🛖  Types of accommodation
🏄‍♂️  Perfect for any budget
✈️  How to book short or long term
🏝  Locations and recommendations
What surfing level is required for the area?
Pacitan suits all levels while Watu Karung is for advanced surfers only.
How to get around?
You can get around relatively easily by car when travelling long distance but as is true in most parts of Indonesia, hiring a scooter for shorter distances will help you steer clear of any traffic and gives you greater access to some of the remote areas.
Is there food nearby?
Most accommodations are outfitted with a restaurant. Expect fresh seafood, chicken, and local/seasonal fruit and veg. There are other cafes and warung style bars/restaurants you can find in town if you're willing to take a few steps off the beach.
What else is there to do in the area other than surfing?
With no shortage of places to surf when there's swell, you're likely to find yourself filling days with two to three, two-plus-hour sessions washed down with a cold Bintang before bed.
However, Pacitan is located in one of the most picturesque parts of Java with great food and above-average facilities. You'll find amazing snorkeling, diving, fishing, trekking, hidden beaches, and caving such as Goa Gong.
Be sure to ask your accommodation for their best recommendations on where and what to explore when you're not surfing. For more detailed information on tourism in and around Pacitan visit Pacitan Tourism.
What else
do I need
to Know?
There are an abundance of islands and peninsulas reaching out close to shore that trigger a number of reef breaks in the area. Ask a local for recommendations on where to paddle out or look to your accomodation for a guided experience on other waves on offer
Access Our Exclusive Members-Only Content
Unlock the Spot Finder, all Spot Guides, Member Perks and more.
Where is Pacitan?
Pacitan is located on the Southern Edge of East Java in the region of Yogyakarta.
How to get to Pacitan?
The best way to get to Pacitan from the likes of Bali is a one hour flight to Yogyakarta Airport (JOG) in East Java. From there it is approximately three hours drive to Pacitan.
Alternatively you can also fly into Semarang (four hour drive to Pacitan) or Surabaya (five hour drive to Pacitan).