There are few surf spots so revered as G-Land.
Grajagan Bay was discovered by an elite group of surfers in the mid-1970's. Thanks to a 10,000 foot drop off a few miles from the edge of Grajagan, a series of mystic, clean, and hollow barrels break for 100's of metres. Each section is so long that they have their own name. Not unlike the 1970's, you can still find yourself alone on the beach at G-Land, score a session to yourself, and go days without a phone call. Read on to make the best of your next G-Land Adventure.
WAVE INFO
Considered by many to be the best left in the world! This long stretch of coral bordering the last remaining patch of Javanese jungle is any goofy foot's dream. Grajagan is a left-hand reef break which utilises the natural topography to extend into a world-class left point break. The combination of a 10,000 foot drop off, a shelf of coral reef, and a nose-shaped peninsula exposed to the full force of the Indian ocean creates the perfect storm for clean, hollow, consistent, freight train barrels. Considering the wave is so long, each section is considered its own surf spot. Read on to discover which break is best for your personal style and preference.
What kind of wave is the Bombie?
The Bombie is the outside section of reef that breaks further offshore from the rest of the waves at G-Land when swells are macking. Ideally, you can access the Bombie by boat or a long paddle. Know your limits, G-Land can give you some of the best waves of your life, but it's likely to take a bit of skin, or bone, in the process.
What Kind of wave is Kongs?
Farthest up the reef, Kongs is situated at the top of the point. As waves crash into the long stretch of reef that reaches from the Bali Strait around the Blambangan Peninsula, Kongs emerges as the first of many breaks along this stretch of reef that bends into Grajagan Bay. Known as a semi-sloppy left ripe for maneuvers, Kongs can open up to 300 metres of barrel under ideal conditions. Typically slower and mellower than some of the other sections on the reef, this is a great place to start your G-Land exploration.
What kind of wave is Money Trees?
Probably the most popular and most well-known section of the wave, Money Trees made G-Land famous from Don King's surf shots of Gerry Lopez and Peter McCabe in 1983. At Money Trees, you can expect clean, long, fast barrels which break best on a Southwest swell. Keep your eye on experienced surfers during your first session at Money Trees, steer clear of low tide sessions, and drop as deep you can. An easy approach is aided by a strong rip towards the end of Kongs.
What kind of wave is Launching Pads?
Next along the epic reef point that is G-Land, Launching pads is a steep barreling take-off point leading into Speedies. Ideal conditions are double overhead plus which can connect into speedies meaning a seemingly bottomless 70-metre section of barrel.
What kind of wave is Speedies?
Under larger conditions, Speedies shows its face as another ideal section of reef. If it's closed out at Money Trees or Launching Pads, Speedies is your best bet. Known to hold up and stay hollow for up to 200 metres.
What kind of wave is Chickens?
While there are a number of breaks that offer the epic clean barrels that G-Land is known for, Chickens is a more intermediate-advanced wave saved especially for when swells are too big for the other well-known sections of reef. While you probably won't score the best barrels of your life, you're likely to have a fun session of hotdogging with clean open shoulders ripe for maneuvers.
What kind of wave is 20/20's?
Like Chickens, 20/20s is another smaller wave about 20 minutes down the beach from the better-known sections of reef. Typically a left, however, the right breaks under ideal conditions and is known to mirror some of the barreling perfection of other breaks in the area.
What kind of wave is Tiger Tracks?
If your keen on a 40-minute jog down the beach from the main break at G-Land, Tiger tracks offers both rights and lefts and is an ideal surf break for the beginner or intermediate surfers visiting the area. This wave tends to pick up the same swell as other sections or reef at G-Land and breaks over a softer section of reef.
Wave type:
The Bombie: Reef Break

Kongs: Reef Break

Money Trees: Reef Break

Launching Pads: Reef Break

Speedies: Reef Break

Chickens: Reef Break

20/20's: Reef Break

Tiger Tracks: Reef Break
Wave difficulty:
The Bombie: Experienced

Kongs: Experienced

Money Trees: Experienced

Launching Pads: Experienced

Speedies: Advanced

Chickens: Intermediate

20/20's: Intermediate

Tiger Tracks: Intermediate
Wave direction:
The Bombie: Left

Kongs: Left

Money Trees: Left

Launching Pads: Left

Speedies: Left

Chickens: Left

20/20's: Left

Tiger Tracks: Left,Right
Wave bottom:
The Bombie: Reef

Kongs: Reef

Money Trees: Reef

Launching Pads: Reef

Speedies: Reef

Chickens: Reef

20/20's: Reef

Tiger Tracks: Reef
Booties:
Kongs: Yes
G Land: Yes
20/20's: Yes
Tiger Tracks: Yes
Surfboard type:
Kongs: Shortboard/step-up/semi-gun
G Land: Shortboard/step-up/semi-gun
20/20's: Shortboard
Tiger Tracks: Shortboard
Crowd factor:
The Bombie: Medium Crowds

Kongs: Medium Crowds

Money Trees: Medium Crowds

Launching Pads: Medium Crowds

Speedies: Medium Crowds

Chickens: Low Crowds

20/20's: Empty

Tiger Tracks: Empty
Hazards:
The shallow reef, strong currents, big waves, hollow barrels, intense crowds, mosquitos, sea urchins (lots of them big and small!), aggressive monkeys, snakes, tigers and all.
Best swell direction:
Kongs: W
G Land: SW
20/20's: SW
Tiger Tracks: S
Best wind direction:
Kongs: E
G Land: E
20/20's: SE
Tiger Tracks: E
What tide is best:
Kongs: All tides
G Land: All tides
20/20's: All tides
Tiger Tracks: High tide
Best tide movement:
Kongs: Rising tide
G Land: Rising tide
20/20's: Rising tide
Tiger Tracks: Rising tide
Wave consistency:
Kongs: Ultra-consistent
G Land: Ultra-consistent
20/20's: Ultra-consistent
Tiger Tracks: Ultra-consistent
Best time of year:
Kongs: Dry season; April – October
G Land: Dry season; April – October
20/20's: Dry season; April – October
Tiger Tracks: Dry season; April – October
Lineup vibe:
Kongs: Mellow
G Land: Intense under ideal conditions
20/20's: Mellow
Tiger Tracks: Mellow
Other names for spot:
Plengkung Beach
Grajagan
The sections described above
How do you get in and out of the surf at Grajagan?
Paddle out through the keyhole near the top of the reef below Kongs. Take your time walking out over the reef and be very careful to not step on any sea urchins or you might cut your surf very short. Take just as much time coming in over the reef as well. The reef at Grajagan will become your worst nightmare at any chance it can get!
Surfing on the high tide is a great idea for the first few sessions until you become familiar with the reef at G-Land. The higher tide is a lot easier to come back in to shore over the reef. In remote surf breaks like this, you are always better to be safe than sorry, in other words, be smart about the decisions you make.
What is the beach like?
The beach at Grajagan Bay is a pristine section of white sand beach fringed by lush jungle. In the 70's you would likely find large predators stalking the forest for prey such as tigers or panthers. While these are less common today, you can still see amazing wildlife in the neighbouring jungle. A perfect place to escape from the hustle and bustle of Java and neighbouring Bali, the beaches will give you a taste of the wilderness this part of the world is known for, especially at night when the jungle can be louder than a city!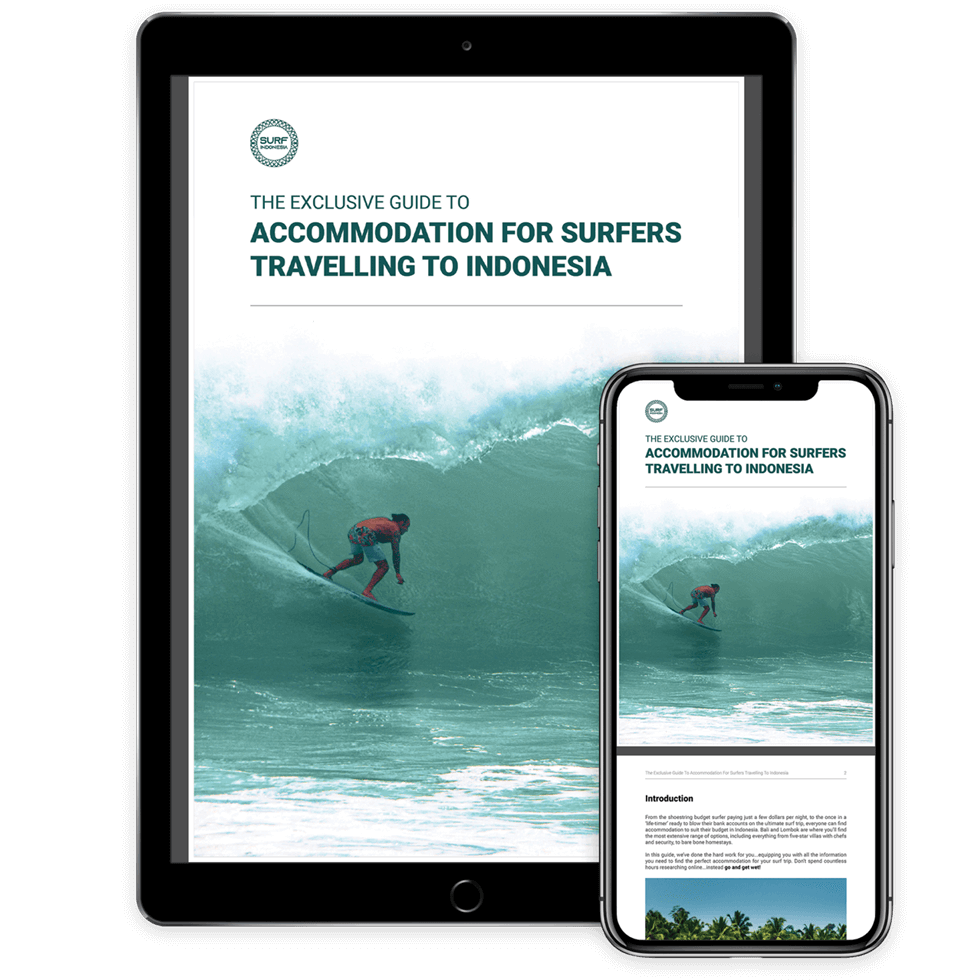 Download for free
The Exclusive Guide To Accommodation
For Surfers Travelling To Indonesia
🔍  65-page accommodation guide
🛖  Types of accommodation
🏄‍♂️  Perfect for any budget
✈️  How to book short or long term
🏝  Locations and recommendations
Who discovered G-Land?
The famous lefts of G-Land were first surfed in 1972. On a flight to Bali, Bob Laverty saw long lefts breaking along the reef while looking out the window. and organised a voyage to scope it out soon after. Together Bob Laverty and Bill Boyum were the first to surf what was referred to as "the ultimate left" and now more commonly "G-Land".
What else is there to do in the area other than surfing?
With a bit of forward planning and some travel from Grajagan, you can visit other stunning remote areas near Banyuwangi such as:
Green Bay (pictured) – Teluk Hijau or Green Bay is a stunning jungle-lined white sand beach and large waterfall with a beautiful ocean green water bay protected from open ocean swells. Located about 90 km to the south of Banyuwangi town, Green Bay can be reached by following the directions from Banyuwangi to Pesanggaran-Sarongan-Sukamade. Park up near Rajagwesi beach and walk approximately two kilometres to Green Bay.
Red Island – Situated in Banyuwangi, East Java, Red Island takes its name from the large rock island jutting out in front of the beach. The waves are perfectly suited to beginner surfers with a safe sand-bottom and low crowds. Home to an A-frame beach break, with long right and left-hand peeling waves, perfect for learning and refining your surfing ability.
What else
do I need
to Know?
Beware of the monkeys around the camps. Make sure you don't leave anything out, they will take anything they can get their hands on. They can be quite aggressive as well so be sure to get some tips from the staff at your surf camp on how to best deal with them.
Access Our Exclusive Members-Only Content
Unlock the Spot Finder, all Spot Guides, Member Perks and more.
Where is G-Land?
G-Land is located on the southern tip of the island of Java. At the far end of a peninsula extending westward into the Indian Ocean from one of Java's largest ecological preserve, Taman Nasional Alas Purwo, G-Land is nestled into one of Java's last surviving tropical forests.
How to get to G-Land from Bali?
There are two ways to access G-Land.
The easiest option is by fast boat from Kuta, Bali which takes approximately 2 hours.
The longer of these two options is overland via car as shown on the map below which takes at least 7 hours through the night, not including the time you spend waiting to board the short 4-kilometre ferry ride to Ketapang, located in East Java from the Western tip of Bali.