Cimaja is a fast-breaking, fun right-hander that bowls out for long rippable rides. 
Occasionally you'll find a barrel on hand at low tide, but Cimaja is better known for its long right shoulders in between two river mouths. Surrounded by lush jungle foliage and just a short ride from Jakarta, Cimaja should definitely make the list of breaks you're looking to score in West Java. Read on to discover what Cimaja has to offer.
WAVE INFO
Just southwest of one of Java's larger resort towns, Pelabuhan Ratu, Cimaja is most commonly known for its right-hand point that breaks under all a variety of conditions and is one of many secret surf spots found within Pelabuhan Ratu Bay. When the conditions are right there are plenty of uncrowded waves to go around if you go searching some of the many rarely breaking reefs and points in the Pelabuhan Ratu Bay area.
What kind of wave is Cimaja Point?
Super fun point break where winds are typically on-shore in the dry season so if you're hoping to make a short barrel section morning sessions are ideal. However even when on-shore winds are howling, you can expect an open shoulder ripe for maneuvers and ariels breaking for upwards of 50 metres. The Cimaja surf spot handles up to 6 foot in size before the point starts maxing out. While not exactly exemplary of the Volkswagen size barrels that have come to be emblematic of Indonesia, Cimaja is a fun and rippable wave for intermediate surfers upwards.
What kind of wave is Indicators?
Indicators is a fast hollow right-hand point that is more exposed to the open ocean than Cimaja Point and is usually bigger in size than its neighbouring point Cimaja. Indicators is a sketchy and dangerous wave when it's small so it only starts working when its well overhead. You can count on knee-deep barnacles, urchins and a patchy shallow reef. Indicators works when its solid so if you can handle it, you can charge plenty of hollow right-hand pits double overhead and above.
What kind of wave is Karang Cibang Haji?
Karang Cibang Haji most commonly known as Karang Haji for short this surf break is located in front of the Ocean Queen Hotel near the boat harbour. Here the sand regularly shifts and moves about depending on the conditions over the previous month or so. Karang Haji can form nicely shaped sandbanks around the nearby the sea wall to produce some super fun and bowly waves depending on the conditions. Easy access and rarely surfed if it hasn't been working for a while. Needs a bit of swell as it is in a more protected area of Pelabuhan Ratu Bay.
What kind of wave is Cikembang Point?
Cikembang is a very fickle but fun right-hand point break when it is working. Cikembang surf spot needs a good groundswell from the south to start working as it is in a very sheltered section of Pelabuhan Ratu Bay. When it's on there are a lot of options to go round so you can be lucky enough to score uncrowded waves. The set up is a mix of reef, cobblestone shingles and sand on the inside.
What kind of wave is Sunset Beach?
Sunset Beach also known as Karang Hawu is a fun beach break that works best when the swell is small. Sets of waves break right and left however the lefts are usually better than the rights. Karang Hawu is a great surf spot for beginner surfers with a surf school conveniently located on the beach. Another tip for beginner surfers is…further east where the two-point breaks in Cimaja become beach is Samudra surf spot which is fun on smaller days as the beachie here is quite exposed and closes out when it gets too big. Best on a longboard early morning or during the evening glass off as it is rarely offshore.
What kind of wave is Loji Point?
Loji Point is a fickle surf spot that needs a huge swell to start working. When Cimaja Point is maxed out and out of control you could be in luck. A handful of times a year when all of the conditions align fortunate surfers can go left at Loji point as the wave peels for hundreds of metres. Loji Point is situated approximately seven kilometres south of the port at Pelabuhan Ratu.
Wave type:
Cimaja Point: Point Break

Indicators: Point Break

Karang Cibang Haji: Point Break

Cikembang Point: Point Break

Sunset Beach: Beach Break

Loji Point: Point Break
Wave difficulty:
Cimaja Point: Intermediate

Indicators: Experienced

Karang Cibang Haji: Beginner

Cikembang Point: Beginner

Sunset Beach: Beginner

Loji Point: Intermediate
Wave direction:
Cimaja Point: Right

Indicators: Right

Karang Cibang Haji: Right

Cikembang Point: Right

Sunset Beach: Left,Right

Loji Point: Left
Wave bottom:
Cimaja Point: Cobblestone

Indicators: Reef

Karang Cibang Haji: Sand

Cikembang Point: Sand

Sunset Beach: Sand

Loji Point: Reef
Booties:
Cimaja: Personal preference
Indicators: Yes
Loji: Can be handy
Surfboard type:
Cimaja: Standard shortboard
Indicators: Step up 
Loji: Surfboard that paddles well
Crowd factor:
Cimaja Point: Crowded

Indicators: Low Crowds

Karang Cibang Haji: Medium Crowds

Cikembang Point: Low Crowds

Sunset Beach: Low Crowds

Loji Point: Low Crowds
Hazards:
Cimaja: See below
Indicators: See below
Loji: See below
Best swell direction:
Cimaja: SW
Indicators: SW
Loji: SW
Best wind direction:
Cimaja: N
Indicators: N
Loji: ENE
What tide is best:
Cimaja: Long fun walls on high, hollow on low
Indicators: Higher tide
Loji: Lower tide
Best tide movement:
Cimaja: Dead low tide
Indicators: Rising high
Loji: Incoming
Wave consistency:
Cimaja: Consistent
Indicators: Inconsistent
Loji: Extremely fickle (breaks 2-3 times/year)
Best time of year:
Cimaja: March-October
Indicators: May-August
Loji: May-August
Lineup vibe:
Cimaja: Sometimes a bit of a vibe
Indicators: Friendly local chargers
Loji: Surfers with a lot of luck!
Other names for spot:
Cimaja: Cimaja Point
Indicators: Indicators Point
Loji: Loji Point
Most Common hazards
Cimaja: Water quality after heavy rains, sharp shallow rocks and the occasional shark. Crowds can be heavy so use good etiquette and avoid any hassles.
Indicators: Knee deep barnacles, urchins and a patchy shallow reef.
Loji: Pollution from nearby river mouth feed by a large river. Sharks, urchins rips and deflated surf checks.
How do you get in and out of the surf?
Take the channel near the river mouth and work your way towards the peak. You can also take the long trek towards the peak along the boulders and try paddling in from the backside but expect shallow rocks so watch your fins. If your making the walk along the boulders on the beach bring some booties for a bit of extra grip (especially if you are not a rock hopping pro).
What is the beach like?
Considering it's close proximity to Jakarta, Cimaja tends to attract local crowds, especially on weekends. That being said, the beach is a mix of cobbles and boulders that eventually leads into sand down the end of the point. There are a number of bamboo and palm tree thatched shade structures built up along the point by the local community for people to kick back in and enjoy the view and surfing.
Cheapest Price Range – Chill House Cimaja
Chill House Cimaja is budget surf accommodation just a ten-minute walk to the surf at Cimaja Point. The house and cottage provide three bedrooms, a shared kitchen, a large backyard, hammocks, a gazebo, and a pizza oven. If you are looking for something more expensive and beachfront in the area with immediate access to waves check out our other recommendations.
Affordable Price Range – Cimaja Square Hotel & Restaurant
A 3-minute walk from the beach, Cimaja Square is located on the outskirts of the sleepy town of Cimaja. Expect private bungalows constructed of natural materials surrounded by rice paddies and coconut palms. Rooms are simple, clean, and quiet, great for an evening of relaxation after a full day of surfing. Expect peace, quiet, and easy access to surf. Oh, and they have great pizza too!
Mid Price Range – Cimaja Beach Club
Cimaja Beach Club is a family-run, beachfront resort in between the surf spots Indicators and Cimaja Point just 15 minutes from Pelabuhan Ratu. CBC is a fully licensed hotel and restaurant with over ten local staff which service six stylish bungalows catering for surfers and non-surfers for short or long stays. Enjoy the peace and tranquillity of this little beachside resort surrounded by rice paddies and the ocean.
DEALS ON PLACES STAY IN CIMAJA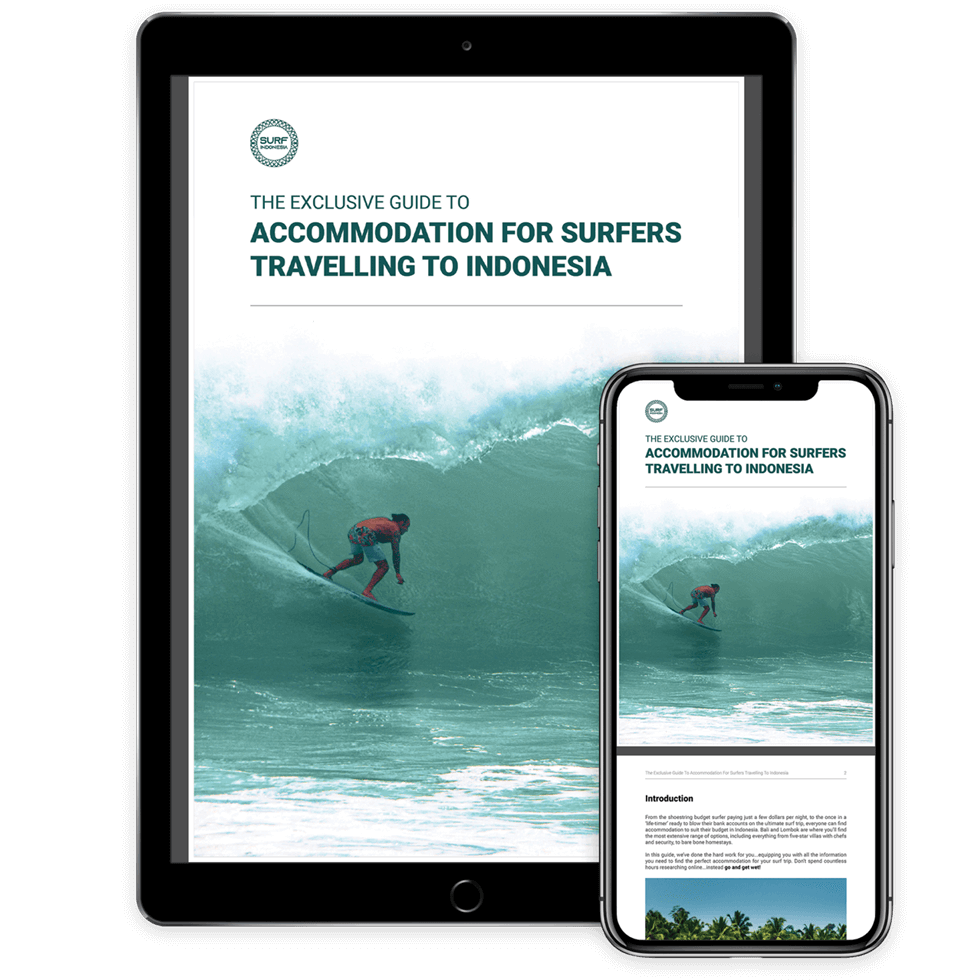 Download for free
The Exclusive Guide To Accommodation
For Surfers Travelling To Indonesia
🔍  65-page accommodation guide
🛖  Types of accommodation
🏄‍♂️  Perfect for any budget
✈️  How to book short or long term
🏝  Locations and recommendations
Is there food nearby?
There are an abundance of restaurants in the area for a quiet surfing and farming village. Expect fresh seafood just about anywhere you go. About a 7 minute walk from the beach is Bakso Klangenan, known for incredible dumplings with a wide variety of fillings. There's plenty of places to choose from if you're sick of chilling in your accommodation so get out and explore!
What else is there to do in the area other than surfing?
Cipanas Hot Spring is a short trip away which is worth a soak if the surf is flat. There's plenty of flat water for tubing and you'll find the occasional white-water rafting company. Waterfalls are ample in the area so ask around your accommodation for the best treks or hikes to local vistas or swimming holes.
What else
do I need
to Know?
The vibe tends to stick out in Java's relatively relaxed and mellow surf culture. When the surf is good, expect crowds of expats travelling from Jakarta.
Access Our Exclusive Members-Only Content
Unlock the Spot Finder, all Spot Guides, Member Perks and more.
Where is Cimaja?
Cimaja is a small village in the West Javan regency of Sukabumi. About 8 km, or a 15 minute drive, west of Pelabuhan Ratu.
How to get to Cimaja from Jakarta?
The easiest way to get to Cimaja from Jakarta is to organise transport through your accommodation in Cimaja. It's the most stress free and convenient approach to get you to Cimaja hassle free.
The best way to get to Cimaja from just about anywhere in Java is to travel via Pelabuhan Ratu.
Depending on where you are travelling from in Jakarta, Cimaja is usually less than a 4 hour drive from Soekarno-Hatta International Airport in the greater area of Jakarta. Start by heading south towards Bogor.
After Bogor continue south and follow signs for Cimbogong.
From Cimbogong you will continue south and take a hard right onto Jalan Pamuruyan which eventually becomes Jalan Leuweung Datar.
Follow Signs for Pelabuhan Ratu.
At Pelabuhan Ratu head west along the coast for about 15 minutes to reach Cimaja Beach.