Batu Karas and its beautiful surroundings often cause people to call it a small piece of Bali.
Notable for its long stretch of black sand, lush tropical foliage, and amenable waves for both beginners, intermediates, experienced surfers and longboarders alike. The small fishing village of Batu Karas near Pangandaran just West of Central Java is a great surfing destination for those looking to steer clear of massive barrels. While Batu Karas is predominantly as a heaven for beginners and longboarders due to its soft, clean, and long workable shoulders, this doesn't mean that Batu Karas goes off any less than other world class waves in this part of Java. Read on to discover all the tips and tricks you need to know about when, where and how to surf the waves at Batu Karas.
WAVE INFO
There are various surf spots in and around the Batu Karas area and a few lesser-known breaks a little further west frequented by travelling and local surfers alike. Find out more below.
What kind of wave is BK Point?
Batu Karas Point Break is very often referred to as the best place to learn to surf in Indonesia. The Point at Batu Karas is the perfect spot for beginners to learn to surf due to long, soft right-hand waves in a protected bay and a forgiving black sand bottom. Waves break over a few hundred metres enabling learner surfers the chance to get to their feet and ride across the wave spending plenty of time on their feet surfing the wave. The main beach of Batu Karas is called Legok Pari which is situated on the inside of The Point where the right-hander turns into a beachie. Here Legok Pari is the most popular spot among children learning to surf with even softer, slow, rolling waves breaking left and right. As your surfing improves you can move further up the point where the wave gets more powerful.
What kind of wave is BK Reef?
Known as Karang by the locals, is a long right-hand point break that on good days, and higher tides, sends a faster and more workable wall for up to 150 metres. Perfect for intermediate and more experienced surfers.
What kind of wave is Bulak Bendak?
Often referred to as Bulak Benda due to the 'k' at the end of the word functioning as a glottal stop in the Indonesian language. Bulak Bendak surf spot is a hollow, right-hand reef break a short boat ride away from Batu Karas. It is a perfect spot to check out when the swell is smaller as it is much more exposed than the waves that have to wrap into The Point. With a bit of size in the swell, it is really only a wave for the experienced surfer.
Wave type:
BK Point: Point Break

BK Reef: Reef Break

Bulak Bendak: Reef Break
Wave difficulty:
BK Point: Beginner

BK Reef: Intermediate

Bulak Bendak: Intermediate
Wave direction:
BK Point: Right

BK Reef: Right

Bulak Bendak: Right
Wave bottom:
BK Point: Sand

BK Reef: Reef

Bulak Bendak: Reef
Booties:
BK Point: Not needed
The Reef: Personal preference
Bulak Bendak: Not needed
needed
Surfboard type:
BK Point: Longboard or fish
The Reef: Shortboard or longboard
Bulak Bendak: Shortboard
Crowd factor:
BK Point: Crowded

BK Reef: Crowded

Bulak Bendak: Low Crowds
Hazards:
BK Point: Rouge boards
The Reef: Shallow reef
Bulak Bendak: Shallow reef at times
Best swell direction:
BK Point: SSW
The Reef: S
Bulak Bendak: SW
Best wind direction:
BK Point: SSW
The Reef: WNW
Bulak Bendak: W
What tide is best:
BK Point: Low tide
The Reef: High tide
Bulak Bendak: All tides
Best tide movement:
BK Point: Low – mid
The Reef: High tide
Bulak Bendak: Rising
Wave consistency:
BK Point: Consistent
The Reef: Consistente
Bulak Bendak: Consistent
Best time of year:
BK Point: May
The Reef: May
Bulak Bendak: May
Lineup vibe:
BK Point: Mellow
The Reef: Friendly locals
Bulak Bendak: Ultra chill
Other names for spot:
BK Point: The Point / BK Point / Legok Pari
The Reef: The Reef / BK Reef / Karang
Bulak Bendak: Bulak Bendak / Bulak Benda
How to paddle out into the surf at Batu Karas Point?
When surfing at BK Point you have 2 options to paddle out.
Option 1: You can walk around to the top of the point (see the image at the top of the page), jump off the rocks out back and make the short paddle into the lineup. Just be sure that you don't snake surfers waiting for the next set in the line-up out back.
Option 2: Or you can take the safest option and paddle out through the channel from the beach. Then paddle your way up the point left of the waves breaking down the point. This also gives you the chance to scope out the waves and see what the conditions are doing as you make your way out the back or to the section of Batu Karas Point that you want to surf. If you aren't the best paddler a little tip is to paddle extra wide of the surf in the channel where the current is at its weakest.
How to paddle out into the surf at Batu Karas Reef?
When surfing at The Reef (Karang) you can pick a channel either side of the reef and paddle out into the line-up.
How to paddle out into the surf at Bulak Bendak?
You'll be paddling in and out from deeper water via boat access and won't struggle to find the peak. To arrange a surf boat talk to your accommodation or some friendly locals in Batu Karas.
How to paddle out into the surf at Bulak Bendak?
You'll be paddling in and out from deeper water via boat access and won't struggle to find the peak. To arrange a surf boat talk to your accommodation or some friendly locals in Batu Karas.
What is the beach like?
The long stretch of black sand beach at Batu Karas is one of the many attractions to the area for non-surfer or beginner surfers. Expect black sand beach, relaxed fun vibe and local warungs populated with cocktails and plenty of snacks.
Where should I stay in Batu Karas?
Affordable Price Range – Villa Monyet
Located on the beach directly in front of the reef break Karang and a 10-minute walk down the beach to The Point at Batu Karas. Villa Monyet is a popular place for surfers to stay. Made up of seven rooms, each with a different vibe, they also have a restaurant called the Jungle kitchen which is open to the public and serves breakfast, lunch and dinner. The restaurant area is a great spot for villa guests to hang out and socialise. Every Friday night Villa Monyet has a bbq and unplugged music. All-round an ultra chill atmosphere and good vibes.
Affordable Price Range – JavaCove Beach Hotel
There are plenty of hotel options right on the point such as JavaCove Beach Hotel located across the road from the tree-lined beach bordered by jungle-covered headlands. Just steps from the beach and the closest hotel to The Point at Batu Karas. They have 13 rooms in their two-storey hotel established for surfers and travellers who want to stay in comfort and style at a remote beach location. 
Affordable Price Range – RNV Family Guesthouse
RNV Family Guesthouse is an eco-friendly resort located on the edge of the jungle at Batu Karas, but within walking distance to the beach. Run by a French family who fell in love with Batu Karas the accommodation consists of traditional style bungalows with open-air "Bali like" bathrooms. All bungalows are nestled around the swimming pool in the tropical lush green garden. Breakfast is served every morning at the restaurant, where you can also have a chill with a beer or cup of tea after a surf. Maximum occupancy is 12 people at a time and a fast wifi connection is provided also. RNV can supply scooters and local guides for surf trips to less known surf spots.
Luxury Price Range – The Beach House 
Discover Batu Karas in luxury from your own self-contained villa. Family-friendly and centrally located on the beachfront at Batu Karas. The Beach House aims to provide a unique luxury experience unsurpassed in the area. Step directly out onto the beach or relax and enjoy the atmosphere this villa has to offer. Make the most of the best surf breaks in the areas which literally only steps away from where you'll rest your head. You'll also have on-call Villa Management to assist with all your requirements to ensure you have the best stay possible in Batu Karas.
DEALS ON PLACES TO STAY NEAR BATU KARAS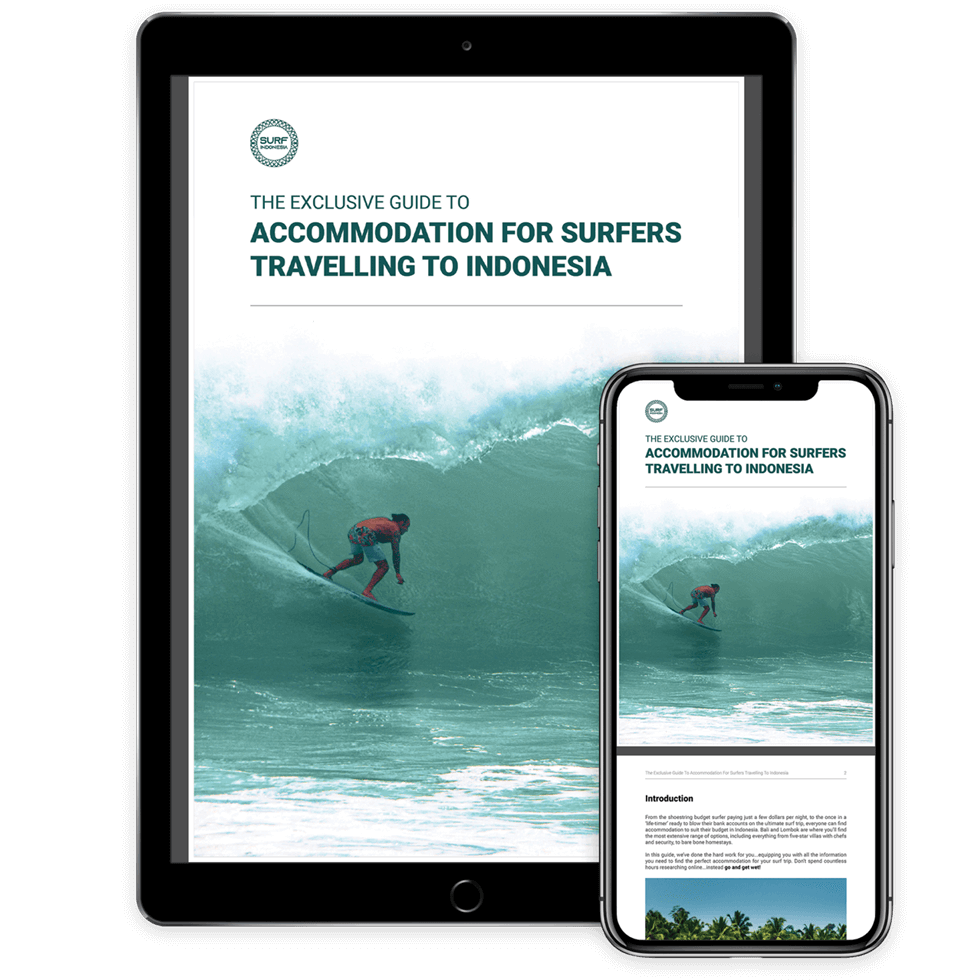 Download for free
The Exclusive Guide To Accommodation
For Surfers Travelling To Indonesia
🔍  65-page accommodation guide
🛖  Types of accommodation
🏄‍♂️  Perfect for any budget
✈️  How to book short or long term
🏝  Locations and recommendations
What is the food like in Batu Karas?
Most accommodations will offer a wide variety of cuisines from warung style grinds to Western and European favourites. Walking around the community surrounding Batu Karas you'll find a few cafes and restaurants looking to serve hungry surfers. Bayview Seafood offers fresh and local seafood dishes, as the name would imply, and Kang Ayi Resto, just steps from Batu Karas, offers traditional Javanese dishes in a family-style environment. Take a walk through the town and you're sure to discover something worth tasting.
What else is there to do in Batu Karas other than surfing?
Among the jungle treks, beaches, private coves and excellent surf at Batu Karas, there's plenty to keep a satiate wanderlust. Just a 15-minute drive or hour-long walk if you're willing to make the trek, Cukang Taneuh, translated as Green Canyon, is an incredible waterfall and aquamarine pool along the local river. You'll find plenty of outfitters in the area that offer "body rafting" experiences. Expect cliff jumps, floats down the river and natural waterslides. Definitely worth the trip if you're travelling through or the surf is flat.
What else do I
need to know
about Batu Karas?
There are a few different surf school options in Batu Karas so make the most of your trip and learn how to surf from one of the local pros.
One hour east of Batu Karas is Pangandaran where you will find a long stretch of beach breaks similar to Kuta Beach in Bali – exposed to open ocean swells they're rarely flat.
There are multiple airports in the region so double-check the flights you book and the airport you fly into so you know how long the drive to Batu Karas is going to take you. Regular flights with Susi Air from Halim Perdana Kusumah Airport (HLP), Jakarta fly to Cijulang Nusawiru Airport (CJN) in Pangandaran (30 minutes drive to Batu Karas) and Tunggul Wulung Airport (CXP), Cilcap (three hours drive to Batu Karas).
Access Our Exclusive Members-Only Content
Unlock the Spot Finder, all Spot Guides, Member Perks and more.
Where is Batu Karas?
Batu Karas is located just west of Central Java nearly due south of Java's larger city of Tasikmalaya.
How to get around?
As is true for much of Java, once you have travelled to your destination it's never a bad idea to jump onboard a scooter, motorbike or dirt bike. Scooters and other two-wheeled vehicles come in handy when travelling on bumpy roads.
Is there parking fees?
There's not much around beyond surfing in this part of West Java so I would encourage finding a place to crash close to the surf where parking is free. As goes for most of Indonesia when there are parking fees they are usually an extremely small amount and what is collected goes towards the local village.
How to get to Batu Karas?
The easiest route to Batu Karas is to fly into Jakarta. Then from Halim Airport in East Jakarta directly to Pangandaran Airport (CJN – Cijulang Nusawiru Airport).
Pangandaran Airport is closer to Batu Karas than to Pangandaran and several of the hotels in Batu Karas, offer a shuttle between the airport and the village at Bat Karas.
By Car
If driving from Bandung, you have two options:
Drive southeast through Garut and under Tasikmalaya through the hills and jungle past Mount Guntur and Gunung Cikuray directly to Batu Karas.
Option 2 – The Main Highways: 
Drive southeast via the more popular 3 and 18 highways arriving at Pangandaran. Then drive west along the coast from Pangandaran to Batu Karas which usually takes about 1 hour, via Cijulang. Parts of the road along the coast are bumpy due to trucks and heavy rain affecting the road conditions however the road conditions change quite frequently.
It's not difficult to head west from Pangandaran, but after about 6 hours of driving, you might prefer the shortcut which will save you an hour of driving if you don't get lost!