Nyang Nyang Beach Surf Spot
Compared to other surf spots on the island, Nyang Nyang Beach may be considered less than perfect.
That being said, it is one of the least disturbed beaches on the island and offers some of the most beautiful coastlines in Bali. A steep 600 step climb, up and down from the beach, deters some tourists from visiting and ensures a smaller crowd, even when conditions are perfect. Low tide exposes a long strip of the reef for tide-pooling, swimming, and exploring. Higher tides with modest swell offer a shifty, quick, steep, and fun right-hander that breaks over a shallow-ish reef. Keep your eyes peeled for half-buried shipwrecks that provide respite for exhausted surfers after hours of paddling and kilometres of trekking. For the quiet and secluded beach you've been searching for, Nyang Nyang offers seclusion and quiet that most Bali travellers dream of. For a recommendation on when and where to surf, play, and stay, read on below.
A flat day at Nyang Nyang signals a flat day all across the island. Nyang Nyang Beach faces due south and tends to capture plenty of swell that makes its way north through the Indian Ocean. Surfers typically stick to the right of the channel and away right off the steps. It is worthwhile taking a few minutes to check the conditions from the beach, you'll find a few different waves up and down the 1.5 kilometres of Nyang Nyang Beach. While it typically breaks best on higher tides and smaller swell, on lower tides with larger conditions, a second right-hander north of the typical break opens up. Considering the speed of the wave, and technical paddling conditions, Nyang Nyang isn't recommended for beginner surfers. Usually bigger than it looks from the cliffs.
Wave difficulty:
Nyang Nyang: Intermediate
Booties:
Nyang Nyang: Optional
Surfboard type:
Nyang Nyang: Shortboard
Hazards:
Nyang Nyang: Strong currents, shallow reef, lots of paddling
Best swell direction:
Nyang Nyang: S
Best wind direction:
Nyang Nyang: NE
What tide is best:
Nyang Nyang: High tide
Best tide movement:
Nyang Nyang: Rising high tide
Wave consistency:
Nyang Nyang: Ultra-consistent when the swell is small
Best time of year:
Nyang Nyang: November – March
Lineup vibe:
Nyang Nyang: Mellow
Other names for spot:
Nyang Nyang: Nunggalan Beach
Nyang Nyang: Hidden Beach
How do you get in and out of the surf?
You'll find a channel just right of the stairs as you get down to the beach. Stay in the channel as you're paddling but move to the peak quickly as you may find yourself too far outside quicker than expected.
What is the beach like?
The beach is 1.5 kilometres of clean, pristine, and undisturbed white sand beach. About a half a kilometre scooter ride south of the Uluwatu temple, Nyang Nyang is the deserted and natural beach you've been looking for.
There is not a lot of accommodation options really close to Nyang Nyang Beach. One option is to stay in Uluwatu where you have plenty of accommodation options and lots of places to eat. From Uluwatu, it is a short scooter ride to Nyang Nyang Beach.
Affordable Price Range – The Pande Hill Homestay
Classic Bali style homestay with a pool and spacious gardens for relaxing in between surfs. The Pande Hill Homestay provides nice and quiet accommodation in a beautiful setting for guests that want to escape the hustle and bustle nearby. The property is approximately one kilometre from Nyang Nyang Beach, 700 metres from Uluwatu Temple and three kilometres from the surf at Uluwatu. All rooms come with a desk, a flat-screen TV, AC, free Wifi, terrace and a private bathroom. 
Affordable Price Range – Batu Kandik Homestay
Batu Kandik Homestay offers clean, simple, and comfortable accommodation with quick and easy access to Nyang Nyang, but not much else. Considering Nyang Nyang's relative seclusion, there's not much you can walk to in the area. If you're happy to spend most of your time surfing, on the beach or sitting poolside at your homestay, Batu Kandik can offer the peace and quiet you may be looking for. If you're hoping to spend nights out socialising, partying, or exploring, check out some of the options in nearby Uluwatu.
Affordable Price Range – The Tempekan Nyang-Nyang
Choose from a twin share room with double or single beds, or their two-bedroom villa with a private pool. The Tempekan Nyang-Nyang is approximately 650 metres from Nyang Nyang Beach and 2.2 kilometres to the surf at Uluwatu. All rooms are fitted with a seating area, a flat-screen TV with satellite channels and a private bathroom with free toiletries and a shower to provide you with a comfortable stay in a beautiful environment.
Mega Luxury Price Range – The Edge
The Edge offers the kind of tropical luxury that you can only find in Bali. Nestled into pristine jungle foliage of Bali's limestone cliffs, The Edge provides Ultra-modern private villas equipped with private pools, spa and gym access. If you're wondering where this surf-style luxury resort got its name, you'll find pools, gardens, and accomodations literally hanging over "the edge" of the cliffs above Nyang Nyang. Much more than your typical surf accommodation, The Edge is a great choice for couples and honeymooners looking for peace, quiet, and a view of the break.
Find deals on places to stay near Nyang Nyang Beach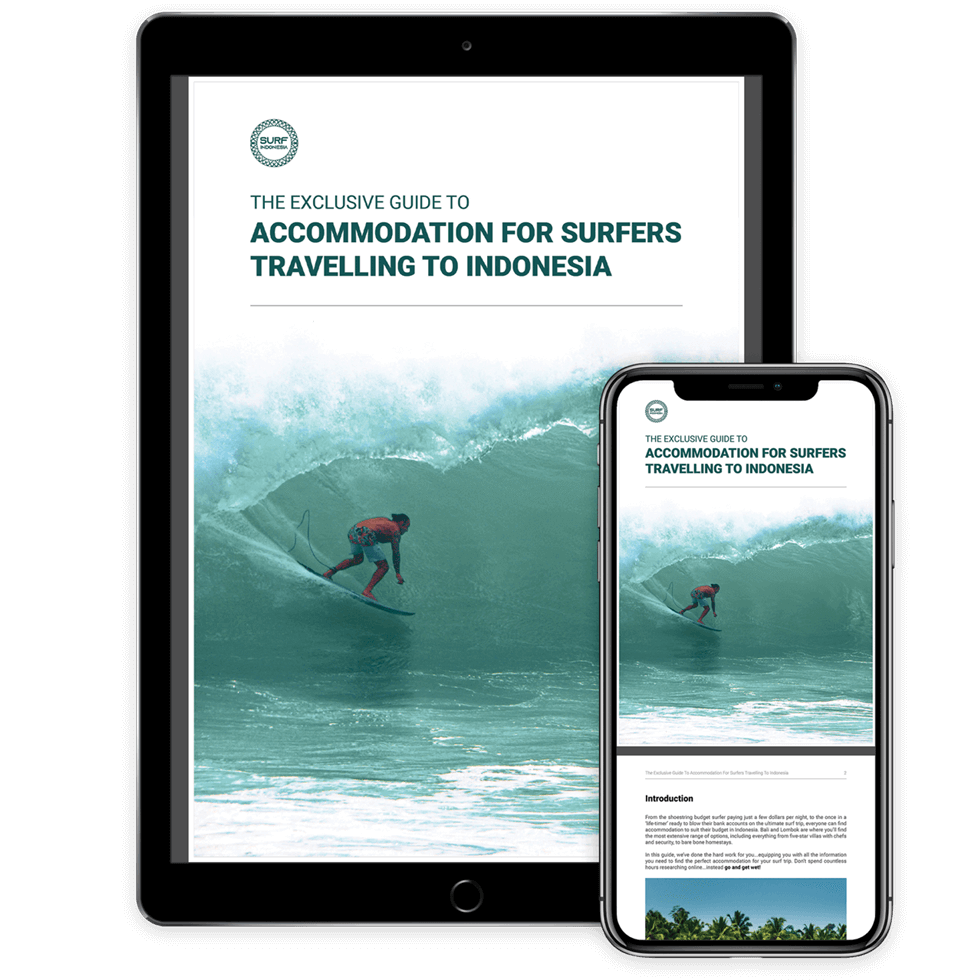 Download for free
The Exclusive Guide To Accommodation
For Surfers Travelling To Indonesia
$12.99 Free

🔍  65-page accommodation guide
🛖  Types of accommodation
🏄‍♂️  Perfect for any budget
✈️  How to book short or long term
🏝  Locations and recommendations
Is there food nearby?
Land's End Cafe – offers the type of health-conscious cuisine surfers, hippies, digital nomads, and millennials dream of. Located in the hills of Uluwatu, Land's End Cafe is a ways away from the beach but will fill you up with the vitamins and minerals you'll need for your next session. Considering there are not many restaurant options in Nyang Nyang, Land's End Cafe is a welcomed food option.
Warung Bejana sticks to its Balinese roots in preparing local cuisine, open-air seating, and a cold Bintang. With the growth of development in Bali, it can be hard to find authentic dining options. Warung Bejana offers classic dishes you won't find in the amero-European inspired restaurants popping up all over the island.
What else is there to do in the area other than surfing?
The Edge – One Eighty Bali – Sky Pool, Bar & Lounge
– If you can't afford a night's stay at The Edge, listed above, you can still enjoy the cliffside infinity pools paired with a chilled cocktail at One Eighty Bali, The Edge's onsight bar and restaurant. Food is a wide array of western and Balinese dishes and you'll find a vast selection of drinks and cocktails to choose from.
Nyang Nyang Para-Gliding – As mentioned above, Nyang Nyang is one of the most picturesque beaches in Bali. Nyang Nyang Paragliding can give you a bird's eyes view of the cliffs and jungle in Nyang Nyang. Up for an adventure you'll never forget, or simply not enough surf for a session? Nyang Nyang Para-Gliding might be the right choice for you.
Get married at Plenilunio Villa With all of the surfing, hiking, and exploring you'll be doing in Nyang Nyang, you just might be inspired to pop the question. While it's not recommended to drop in on Plenilunio Villa like a Las Vegas wedding chapel, Plenilunio offers one of the most beautiful wedding destinations you'll find in Bali. Overlooking Nyang Nyang, Plenilunio is a beautiful alternative to your local church, chapel, or wedding venue.
Karang Boma Cliff is an Instagram addicts dream. This limestone cliff, heavily vegetated by Bali's native jungle foliage, juts out into the Indian ocean overlooking one of Uluwatu's many unsung surf spots. One of the best spots to check the sunset on the island, you might just find Karang Boma all to yourself.
What else
do I need
to Know?
Most of the staff at the accommodations you choose can give you more recommendations on adventures, jaunts, and explorations in the neighbouring Pecatu area. Uluwatu Temple, one of the more popular temples in Bali, is another great place to check out while you're in the area.
Where is Nyang Nyang?
Nyang Nyang Beach is located on the south coast of Bali at the bottom of some spectacular cliffs that you have most likely seen many photographs of without realising where they actually are.
How to get around?
The area around Nyang Nyang Beach is extremely quiet and fairly isolated with most of the land still covered in vegetation. You will want to have your own transport whether it be a car or scooter you won't encounter too much traffic on the road.